William Lee proposes on stage
Comedian proposes to girlfriend on stage
Comedy performer William Lee proposed to his girlfriend at the end of the Weirdos pantomime
The proposal was a surprise, and saw the cast and audience go wild in celebration
His partner Deanne says: "It was by far the most unforgettable thing to have ever happened to me!"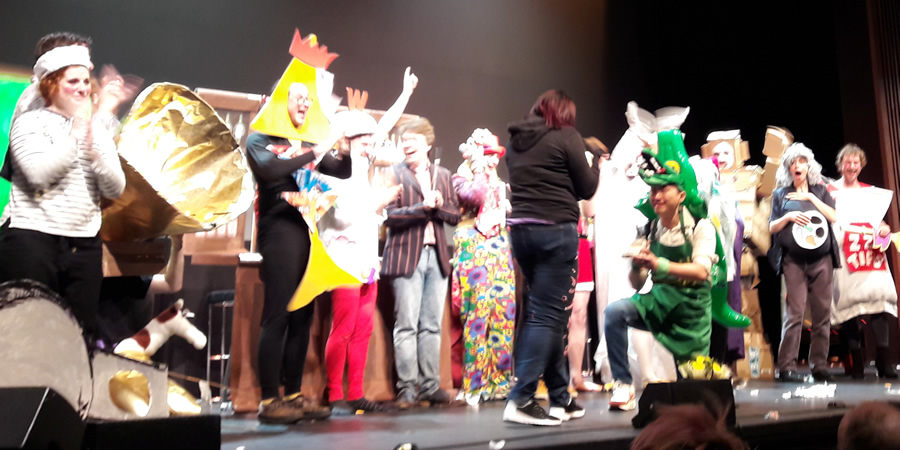 Comedian William Lee has proposed to his girlfriend on stage at the end of a comedy show.
As Weirdos Save Christmas concluded at the Bloomsbury Theatre on Tuesday (10th December), Lee - who was starring in the comic pantomime as the character 'Crocodile' - invited his girlfriend Deanne on to the stage. Bending down on one knee, he produced a ring and, in a move that was a surprise to his partner and the cast, asked her to marry him.
As can be seen in the video below, her positive answer caused widespread cheering and celebration from the audience and cast.
Talking to British Comedy Guide after the event, Lee explained how the plan came together. "The whole proposal was something that had been going through my mind for a year. I ran into Adam [director Adam Larter] during the Edinburgh Fringe and he said that the Weirdos will be running another panto. It is at this time I mentioned the idea of proposing to Dee this year, and what a perfect time the panto would be for this!
"I thought 'we will keep this as a secret for now', as it would be a nice surprise for everyone. We kept it on the down-low so well that the only people knew about it for the best part of the year was Adam and Hannah (Adam's partner).
"Alex, our production manager, only knew about it 2 weeks before the event and Matt (who played The Pub Landlord) and Robert (our tech) only found out on the day itself; to the rest it was pretty much a surprise, so the reaction of everyone on stage is 100% genuine.
"I didn't have anything prepped and, in the end, we decided to keep it simple - but that in itself isn't exactly simple! I remember Matt came up and said 'I will say my final line and hand you the mic and you can say a few lines and bring Dee up'. I just thought to myself: 'Oh SHIT!! I'm meant to say something? I have absolutely no idea what I meant to say at all!'
"So yeah, on top of remembering my lines, during the show I had to also prep in the back of my head what I am supposed to do for the big reveal! I wouldn't say I was panicking at this point, but to say everything is under control is not even close to the truth."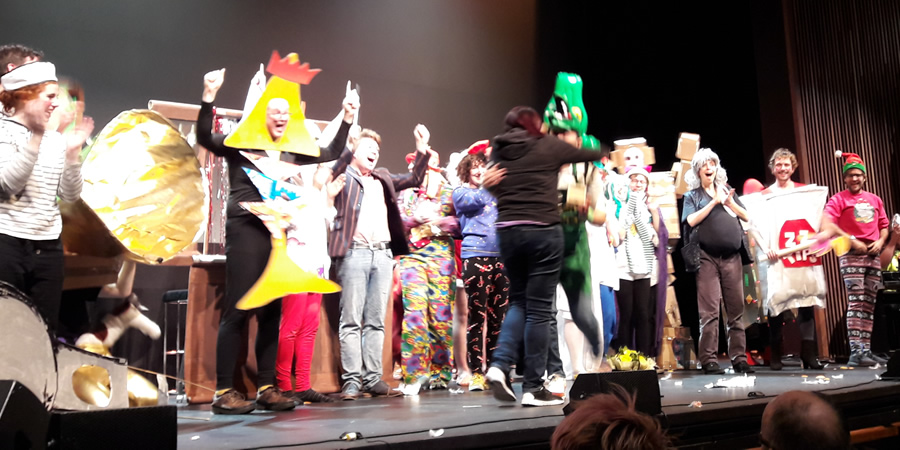 Deanne, who live streams on Twitch as The Sims Streamer, says: "This was one of the biggest surprises in my life. Both Will and I had always discussed the idea of marriage, but I never thought that a proposal would be on the cards this year as there were other plans in motion.
"I had invited my mother, brother and two friends to see Will's show and none of them - like myself - had any idea that this would be the ending to an already phenomenal evening. The moment Will asked me onto the stage, my mind went blank as I wasn't sure what to expect. But then when his voice began to shake, I knew that this was something that was going to change our lives. It was by far the most unforgettable thing to have ever happened to me!"
Here is a video of the proposal:
Lee has been involved with the Weirdos comedy collective since 2012, and regularly plays the talking crocodile character in their productions. The 2016 web series A Load Of Croc was based around his character too.
The prop-filled Weirdos Save Christmas was organised to raise funds for Great Ormond Street. It told the story of how big chain brands are threatening independent shops on the highstreet. Creator Adam Larter, writing an article in BCG recently, explained: "I think in many ways that big businesses hold more power than politicians, and aren't held accountable nearly enough".
The two night production also starred Cassie Atkinson, Helen Duff, Lucy Pearman, Joz Norris, Matthew Highton, Kat Bond, Ben Target, Ali Brice, Eleanor Morton, Michael Brunstrom, Jon Brittain, Ben Alborough, Katia Kvinge, Gabby Best, Liberty Hodes, Sam Nicoresti, Alwin Solanky, Phil Jarvis, Aniruddh Ojha, Charlie Miller, Christian Brighty, Thomas Meek, Jack De'Ath, Joe Davies and Sooz Kempner.
Share this page