Weirdos' legendary panto makes a triumphant return next week (9th and 10th December). Then some bigwigs decided we should all go to the polls a few days later. Weirdos' own party leader - Adam Larter - tells us more.
When the pantomime was first invented during Roman times the clowns of that era would don make-up and fight lions (This is where the cheer of "it's behind you" first came from). But this was not purely for the entertainment of the lords and ladies of the time; it was a political statement. The Romans used these plays to mock the establishment, the kings and queens, the land barons and the factory owners.
This establishment mocking has made the modern pantomime something very special and while the children enjoy the songs, dances and bright colours, the adults would often see the mightiest of society lampooned in front of them. From lamp-makers (Aladdin) to bean-salesmen (Jack and the Beanstalk) and of course talking cats (Dick Whittingdonton).
Skip forward to 2018, then skip forward another year to 2019. Here I am a satirist in my social bubble trying to write a fresh pantomime for our times.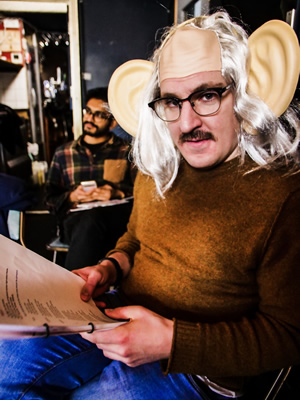 At the time I started writing this beast (run time 1hr 30 mins, subject to Joz Norris) - in September - the general public had pretty much had enough of parliament. I had already written a Brexit-themed pantomime three years ago, a brilliant story of two lovers wanting to get married but Birmingham was splitting from the rest of the country before Christmas and yes it did include the line "Brumxit means Brumxit". Even three years ago, writing about Brexit felt hack yet kind of... necessary.
But this year it was too much, I wanted to do the satire thing but in a way that felt more communal than creating any further divides. I hated the idea of people coming out of watching our pantomime and having an argument over what they have seen; much rather they come out and say "cor blimey that was LOLs, I'm going to come back and watch it on the second night too".
SPOILER: in the end I decided I wanted to make the show about the death of the British high street.
I'm someone who has worked a lot in retail and, now I work in advertising, I work a lot with small businesses. I think in many ways that big businesses hold more power than politicians, and aren't held accountable nearly enough. A small bit of satire headed their way probably won't make much difference - but if it brings some people together to laugh at them and raise a bit of money for charity then maybe the romans would be proud.
I didn't realise though that when I wrote this those cheeky politicians would be plotting an election for that very week - the week of our beloved shiny pants (panto) (pantomime). This is the current situation I face - I've written a satire not about the election in a time when that's all people are talking about?
Is that a good idea? Or a terrible idea? How am I meant to know? What's more important is - I've already made the props.
Please buy a ticket.
Merry Election.
Rehearsal photos