Morecambe & Wise writer Eddie Braben dies at 82
Morecambe & Wise writer Eddie Braben dies at 82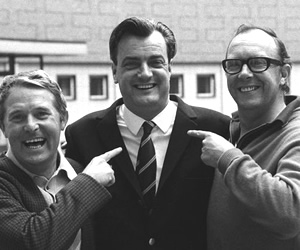 Eddie Braben, one of Britain's most notable comedy writers, has died.
His manager, Norma Farnes confirmed that he died this morning, aged 82, after a short illness.
Across his career Braben wrote for many notable comedians, including Ronnie Corbett and Ken Dodd, but it is for his contribution to the work of legendary double-act Morecambe & Wise that he will be best remembered.
Liverpool-born Braben became a full-time comedy writer in the 1950s and produced scripts for many of the major comedians of the era. He worked for Ken Dodd for 15 years but in 1969 was convinced to join the BBC by producer Bill Cotton to help Morecambe & Wise become TV stars.
Having a failed previous series on BBC TV, the stars had established themselves with a winning formula on ITV in Two Of A Kind, but were in need of a new dynamic after being lured back to the BBC in the late 1960s. It was Eddie Braben who would become the lead writer of the series, moulding the duo's personas and creating the Morecambe and Wise dynamic that is known and celebrated today.
As Braben explained in a 2010 newspaper feature: "Their [previous] writers, Sid Green and Dick Hills, had gone about as far as they felt they could with Eric and Ernie's ­material, and Cotton wanted them to try a new ­jokesmith."
Talking about joining the team, he added: "Although we all wanted it to work, I wasn't at all convinced it would, and neither were Eric and Ernie. But something magical happened that day. We liked each other. We all shared the same sense of humour. We loved the same old comedians - Charlie Chester, Jimmy James, Tommy Cooper and Dave Morris - and there was a definite spark between us.
"It was agreed I would go away and spend a week working on gags for them. However, I warned them that I would be ­writing for how I saw them, not how others saw them or ­perhaps not even how they saw themselves. I hadn't liked their stage ­persona. Eric was too gormless, in my view. Ernie was too abrasive and hard-edged."
Braben's reshaping of the double act was a big hit, and he soon became the single key member of the writing team. He went on to write many of their most famous sketches, including their 1977 Christmas special, which attracted 28  million viewers.
Farnes says: "It was Bill Cotton at the BBC who recognised the brilliance of Eddie's writing was the ideal marriage that would guarantee the success of Morecambe & Wise."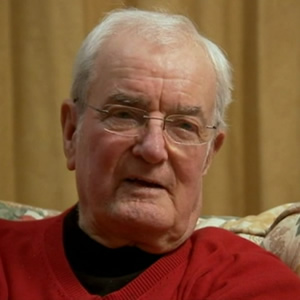 Eddie Braben most recently appeared on television earlier in the year, being interviewed for the TV programme My Hero: Miranda Hart On Eric Morecambe. Within this broadcast he admitted it was sometimes a strain working on the scripts for Morecambe & Wise's show.
He said: "The real pressure came when I was sat in front of that typewriter with all those blank pages and there was a deadline and there was nothing happening. That's when you realised there were 20 million or 25 million people looking over your shoulder - all saying 'make me laugh'."
He had also previously commented: "It's tiring making people laugh, especially if you're as much of a perfectionist as they were. They used to call me 'whizzer', because they reckoned the only sound they could hear when their show was over was me whizzing out the door to catch the train home to bed. And it was true. The pressure of a ­13-week TV series is enormous."
Many comedians have paid tribute to Braben on Twitter this morning. David Baddiel posted: "Eddie Braben: a man who, comically, played all the right notes, in the right order, all the time. RIP: and many thanks.", whilst Jack Dee added: "What a great and lasting contribution Eddie Braben made to British comedy."
Braben is survived by his wife Dee, three children and six grandchildren.
In 2010, Braben wrote a detailed article for The Daily Mail: How I made Britain love Eric and Ernie
The BBC Archive currently hosts a 14 minute video of Braben touring Liverpool, where he grew up.
Share this page