Ricky Gervais reveals new online language project
Ricky Gervais reveals new online language project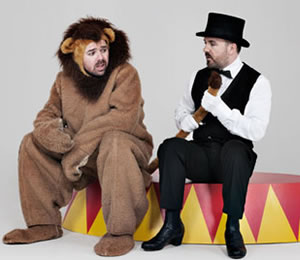 Ricky Gervais has revealed via his blog that he's working on a new internet project called Learn English With Ricky Gervais.
The comedian said he's just finished editing the pilot episode, working with Karl Pilkington. "It will be called Learn English With Ricky Gervais and it's turned out great. We hope to have it subtitled into as many languages as possible."
The Office star said he wasn't quite sure how a full series would be distributed yet. "I'm going to put out the first one free as a taster then work out the best way to distribute. Might charge a small fee or get it sponsored. Unlike the audio podcasts this actually costs quite a bit to make, but even if we charge it will still only be a couple of quid."
Gervais also indicated he'd like the show to reach as many countries as possible: "I'm thinking of making a clean version of the pilot available for download so people can put their own subtitles on it and repost it. You can do a Klingon version if you want."
After reading the blog, a fan asked the star on Twitter: "Do you really want foreign kids sounding like Karl?", to which Gervais responded: "Wait till you see it. It's more horrendous than you could ever imagine."
Earlier in the month it was confirmed that Gervais and long-time co-writer Stephen Merchant were working together on creating a one-off final episode of Life's Too Short. Warwick Davis, the star of the show, told Digital Spy: "It'll be a special that we will film next February. I just got the script the other day, and it is amazing. It takes the story further, it takes the character further. It's really funny. I can't wait for it."
As reported last week, Stephen Merchant also has a new project. He is working on an HBO sitcom pilot about an Englishman looking for love in Los Angeles.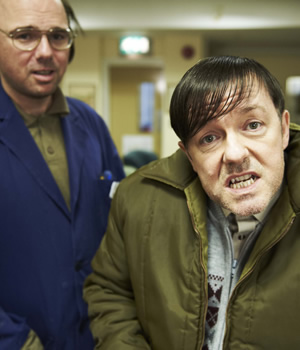 Meanwhile, Pilkington and Gervais are working on a series of Derek. Gervais posted on his blog: "Spent the week putting the final touches to the Derek scripts and scouting locations. Next week we start rehearsals and start principal photography two weeks after that."
He also recounted a tale about a medical exam Pilkington had to take. "You may have heard me talk about this on my Fame tour; actors have to have medicals for any significant filming jobs for insurance purposes. This is never extensive as they only really have to be sure you won't die in the next six weeks. Karl called me, surprised that he had to have this done at all. I said, 'it's nothing and it takes about 15 minutes.' He called me yesterday and said, 'Did he feel your bollocks?' I said, 'no, why?' Karl said, 'well he felt mine. He went 'pop your pants down', and he started 'avin a feel. It was in front of a mirror too, so I could see myself and so it was degrading'. Hahaha."
Two 60-minute specials of An Idiot Abroad: The Short Way Round - featuring Pilkington and Davis visiting the Seven Wonders of the World - will be shown on Sky1 in December.
The following trailer has been released to promote the Learn English project:
Share this page