Andy Dear stars in Life On Wheels, a comedy series documenting the life of Barry Wright, a disabled wheelchair user from Harlow, Essex. The pilot episode is available now on Amazon Prime and Vimeo.
Hi Andy. What's your background?
I've been a wheelchair-user all my life. I was born with spina bifida, which obviously led to a number of different issues, but ultimately I'm paralysed.
My background is sport. I played a lot of wheelchair basketball in my teens and 20s, and I still play it... well, try to anyway.
I played abroad in Italy and when I came home I just stumbled my way into a sports agency; that got me an advert for a disability charity. So I got into acting by mistake. Then I got the BBC One ident - the hip-hop theme before programmes, where you've got the three guys in chairs, spinning around and trying to act cool...
Millions must have seen you in that!
Yeah, I think everyone saw that. It ran for a long time; it got a lot of good feedback.
I've known [Life On Wheels creator] Simon Killick for a while. He introduced me to my acting coach. She said "Well, look, we've done a couple of scenes, I think you should come down to a couple of workshops." I ended up getting involved at quite an intense level. After weeks, months, whatever, on writing scenes and doing scenes - I found myself going for auditions. I joined Louise Dyson's VisABLE agency.
I then went for an audition for a BBC One dark drama called Apparitions with Martin Shaw, and I got it. It was an unbelievable job to get. I didn't really realise that at the time, because I was just too hell-bent on making sure I knew my lines and getting out of my current job, to do that job.
It was the best learning-curve I could ever hope for, because it was high-profile and it was with Martin Shaw from The Professionals.
And then, from that, I got another job on Cast Offs on Channel 4.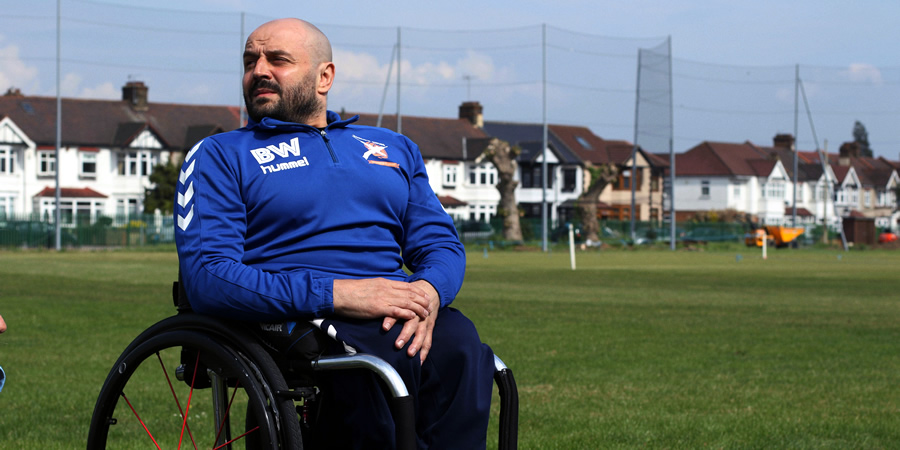 That was Channel 4's comedy drama about a fictional reality show in which disabled people are marooned on a remote island?
Yes. They had different characters with different disabilities and I went for the wheelchair-user. I didn't get that but the writer, Jack Thorne, said "we want another couple of characters within Dan's episode" and I got the role of Jim.
Then I got My Family and it just started to really happen... Obviously I'm going for auditions left, right and centre, because I'm into it. And so I found myself in acting!
A number of your recent roles have been comedies. Is that a genre you're drawn to?
Yeah. Being a wheelchair-user and having spina bifida I think I've got quite a... not funny but, aesthetically I don't look serious. Do you know what I mean? So like Danny DeVito, he's good at comedy because he's got the whole physicality of that, and I think that kind of fits with me.
Comedy was part of my upbringing, and the kind of relationship I had with my brothers and my sisters. We just had banter and all that kind of stuff, and my dad was always telling jokes, so I've naturally progressed towards that, I think.
In Life On Wheels, your character Barry manages the local six-a-side power league football team. He's a complex person.
Barry is a really interesting character. He finds himself in this melting pot of other characters where he's just dealing with them all. It all goes through Barry, to be honest.
He's a bit of a hustler really, in a good way though. He wants to help people. He runs this community project... but he's brash and bold and he tells people what he thinks, and he doesn't care.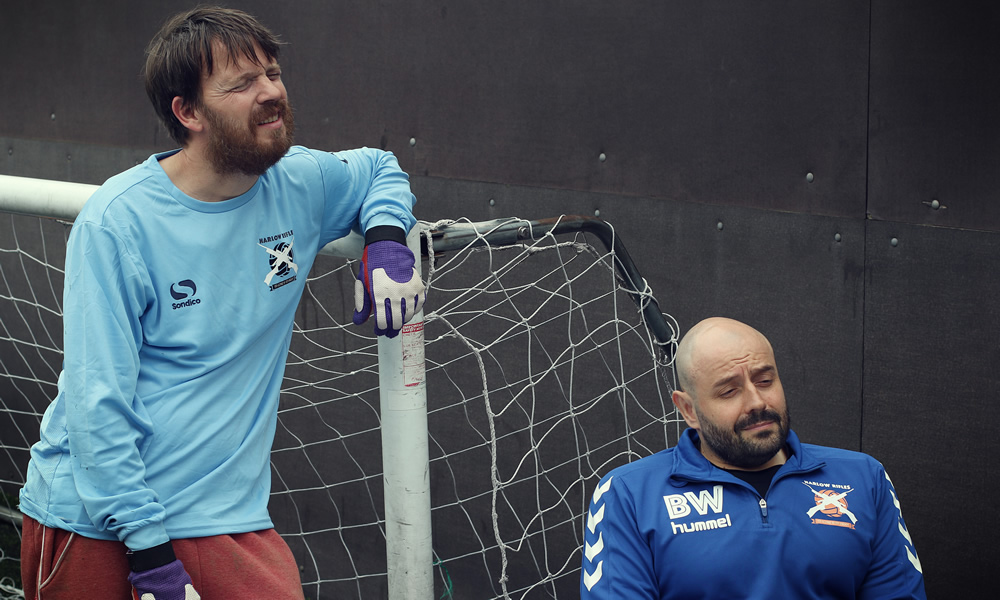 The way Barry treats Joe, the team's goalkeeper, who has become homeless, shows both sides of him? He offers Joe a place to stay... but it's just his shed.
Yeah, so he's helping him with one hand, but then letting him live in his shed in the other. Most people would go "well, look, sleep on my couch or something", but he's not like that. He'll go, "Right, I'll help you, but you've got to help yourself."
As it progresses, we see ultimately he's a really nice guy. But he's just got quite a brash exterior in how he portrays that.
It's interesting to see a comedy where a wheelchair is just incidental - it's not key to the storyline.
My relationship with Simon goes back, so he knows me and knows how I live my life. It was really important to me that this guy [Barry] just lives his life. He happens to be in a wheelchair. That is key.
Barry knows his parameters. This is where he uses people around him to help him, if he needs it, but won't ask for help, if that makes sense?
That's similar to myself. Simon knows me to a point, and this is based loosely on how he knows me. It is important because I just didn't feel that Barry was that type of person where he would go, "Oh, open the door. I'm trying to come through there. I'm in a wheelchair." It's not about that. It's about him going through the door, taking everything with it.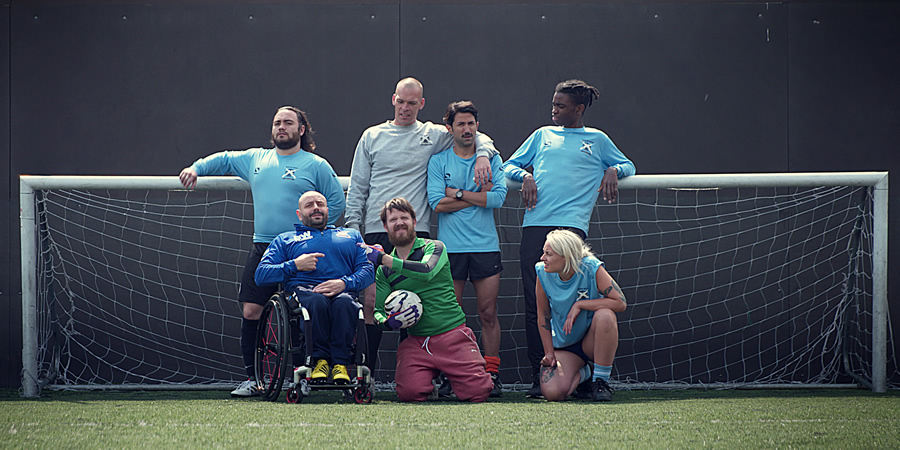 As we've touched upon, Barry manages a football team. How well do you know football?
I grew up around football. My dad [John Dear] was semi-professional. He played for Dagenham and Bishop's Stortford, and played in the last-ever Amateur Cup Final at Wembley in the 70s, so I was very heavily involved ... well, not heavily involved, but football was always part of my life and childhood because my brothers and my dad love football.
I grew up as a West Ham fan, because my dad was a West Ham fan. And my brother is too. My other brother defected though - he's a Spurs supporter!
When I was talking with Simon, about Barry, I could relate to a lot of what Barry was about, in terms of my own career as a youth worker, as a disability officer at a youth club, and then to being a football manager, because I've seen my dad in action as a football manager for a kids team, but I also run a wheelchair basketball team as an adult now. So all these things come into play, I think.
It's worth emphasising that Life On Wheels isn't just a sitcom about a football team's plight...
Yeah. This is the beauty of it, because it's not just about football and disability. These are quite secondary. It's about the relationships, the people around Barry and how they come into his life and go out of his life and whatever. It's their pathways to how they live their life. And it's a real interesting one because you can delve so far or you can just dip your toe in the water.
Do you have any thoughts on the shape of a series?
Yeah, I've got a couple of ideas. I have to refrain from calling Simon and going 'What's happening now?' I think we've spoken to a point, but I don't want to trouble him too much because the pilot's great.
If I've got notes going forward, I'll just drop them on Simon and see how he goes with it. I want Barry to go to a Cup Final. I want him to achieve stuff and get a little bit of recognition in football and then hopefully, with that football model, he gets other projects going. Because I think that's what his main goal ultimately is, to be content in getting his projects up and running.
---
You can see the pilot episode of Life On Wheels at lifeonwheels.tv