Big Field, a unique comedy show which started on YouTube, is coming to BBC Three as a series. Here we chat to director Darren Dutton (pictured above on the left, with co-creator Jonny Roberts on the right), to find out more...
Hi Darren. What's your comedy background?
Hello! I was a big Python fan as a teenager, so I saved up for a camcorder and edit suite and started making my own Python-influenced sketches.
I continued to make stuff on my own and also with Bricks, a comedy sketch group I was in with friends from Uni, and kept sending it off to different people in telly.
A few years later I won the BBC New Comedy Sketch Writing Awards (the same year that Rhod Gilbert won the stand-up), which opened some doors.
Since then, the ability to put my video stuff online has been a brilliant way of getting ideas out and having people see them. In the last few years, alongside sketches, I've been doing a lot of mash-up videos like Stephen Fry on X Factor Wagner (which was eventually shown on The Xtra Factor), and I've had a few on RudeTube too.
I've known [Big Field co-creator] Jonny Roberts for a long time, we're both lecturers in the same Creative Arts department at an FE college. We've also got similar tastes in comedy - Python, Vic & Bob, Spike Milligan, Marty Feldman and Buster Keaton are some of our favourites. We've been working together off and on for more than ten years and putting the work online.
So how did the idea for Big Field come about?
It's something I've wanted to make for a long time. I've done quite a few online videos where there's people miming to audio I've edited, and I wondered if you could do a whole show like that.
I also like the look of late 60s/early 70s comedy shows like Python, The Goodies, Marty Feldman, Q, which have a lot of film sequences shot on location in the countryside.
It was a really hard idea to try and sell to anyone in TV though, which is why we made a taster off our own back so we could demonstrate what it might be like.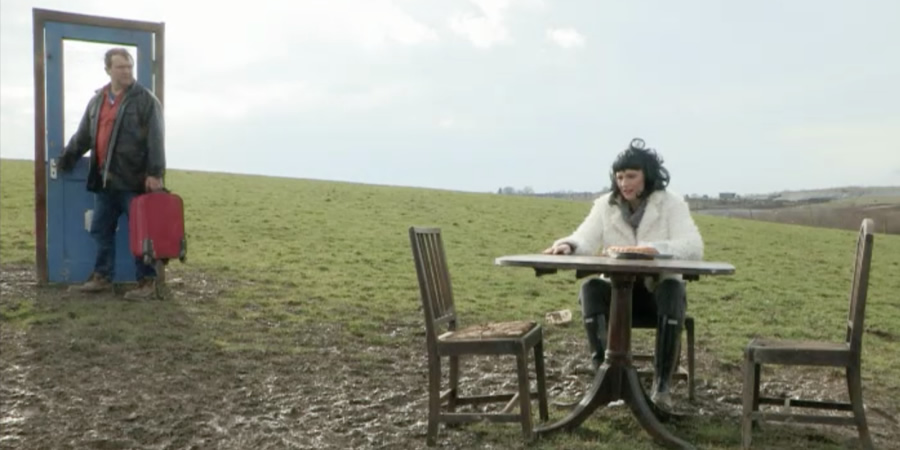 Where does the Big Field audio actually come from?
My Dad had two jobs when I was growing up - he was a bin man during the day and then Head Flyman at the North Pier in Blackpool at night (they pull the ropes for the curtains and backdrops). On his round, my Dad would often find odd things and bring them home. One time he brought an LP called Country Walking by Jack Hargreaves - some people may remember him from Out of Town and How. And it was hysterical. Over an hour of this man talking about pigs, cows, sheep. And badgers, of course.
So, years later, we've used him as a narrator in Big Field as a way of bringing you into this weird world. And we have the permission of his family, which is really nice.
In terms of other sound, we use a lot of obscure vinyl but having done mash-ups of TV shows for a few years now there was a deliberate attempt with Big Field to use audio that people would recognise, hence the inclusion of a lot of popular telly stuff.
Meanwhile you get your props from auction websites, normally bidding just 99p?
It can be a bit awkward collecting the items sometimes, particularly if the seller was expecting to get a lot more money and you turn up with a pound coin (and insist on the 1p change).
It's Jonny who goes out to get the things, often travelling for miles to collect broken hoovers and boats.
Where actually is Big Field?
Big Field is actually Jonny and his family's farm near Chesterfield. It was really easy filming the first two, as we shot them last summer in the nice weather and long days. The new bunch were made in February in the freezing cold, rain, mud and limited daylight, so it was a bit more of a challenge for everyone, particularly our actors.
You must have been very happy with the success of the first two episodes?
Yes, it's great that it went down so well. To have those comments and support from comedy heroes like Bob Mortimer is pretty amazing.
How did you come to work with BBC Three?
I've known Shane Allen at the BBC for a few years, having done a few bits and pieces for telly and one of the reasons we made the first one online ourselves was to wave it under his nose to see if he was interested. And it was brilliant timing that it coincided with BBC Three looking for short form material.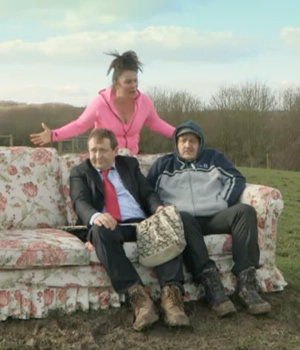 How much input did the BBC have in the new series?
The great thing about having done the first two, and those having been received well, is that they totally trusted us to get on with it. And it's been really good to have the advice and support of BBC comedy commissioning and BBC in-house to help us make it.
So what can we expect to see in the new set of episodes?
We've got more skewed versions of telly shows like Jeremy Kyle [pictured], Lorraine and EastEnders and, in terms of cast, we've been supplemented by Alex Lowe, Tony Way, Shelley Longworth and Lucy Montgomery who are all brilliant comedy performers.
There are also a couple of explosions. They were the first thing on the agenda when we got the commission. Jonny and I asked each other what we'd like to do now there was a bit more of a budget and 'blow something up' was the answer.
Presumably you'd be up for making even more?
We'd love to do more so hopefully these new episodes will go down well. We have an idea for a sketch with two Phil Mitchells living together which we'd like to do next.