Sheridan Smith to star in new BBC comedy drama pilot
Sheridan Smith to star in new BBC comedy drama pilot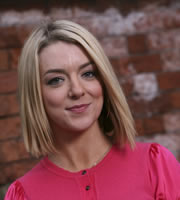 The BBC has announced it is working a new comedy drama project called Maynard.
The pilot episode of the comedy is currently in development, with Two Pints, Grownups and Jonathan Creek star Sheridan Smith (pictured) set to take one of the leading roles.
Maynard is described as "an exciting, true to life, multi-cultural comedy drama set in the heart of Brixton, telling the story of a young family man's dream, and the lives of the people in the community around him."
The show centres on the life of a man called Maynard, and the pilot episode sees a wide spectrum of characters from all walks of life come through his door (or over his back wall). The BBC is describing the pilot as a "unique project" which aims to "offer the audience multiple access points to a vibrant, sometimes chaotic and always entertaining world."
Maynard has been written by and stars Fraser Ayres, who is probably best known to comedy fans for playing work-shy maintenance man Clint in cult BBC Three sitcom The Smoking Room.
Also appearing in the pilot will be DJ Goldie and Teachers and Coming Of Age star Ellen Thomas; plus Chizzy Akudolu, Jo Martin, Roger Griffiths, Jimmy Akingbola, Gary McDonald, Robert Boulter and Ayesha Antoine.
The BBC is planning a rehearsed reading of the script at Bush Hall on Tuesday 11 May 2010 in London and is looking to invite comedy fans to come along and give feedback. For tickets to the read-through, and/or tickets to see the recording of a new Radio 4 pilot starring Will Smith, see our tickets page
Share this page