BBC's Comedy College lands first commission
BBC's Comedy College lands first commission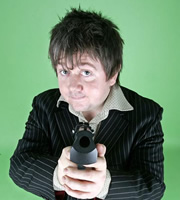 The BBC's College of Comedy, an initiative to develop comedy writers, has just won its first commission.
A sitcom script by writer John Warburton (pictured) has been commissioned for a pilot by BBC3 controller Danny Cohen and controller of comedy commissioning Cheryl Taylor.
The Inn Mates is a sitcom set in and around The King's Ransom pub where a motley group of friends and strangers regularly gather for Sunday lunch. The main characters are a son who is trying to forge a relationship with his sperm donor dad, two old women who haunt the smoking shelter, a pair of community support officers "whose dramatic fantasies will never be matched by reality", and two couples - one happily married and the other deeply unhappy.
An early version of Warburton's script was performed at a BBC Showcase event earlier in the year. The cast included Simon Day (The Fast Show) and Joe Tracini (Coming Of Age) - these two actors generated many laughs from the audience as the son tried to bond with his dad. The casting for the TV pilot has yet to be announced.
Warburton was one of the six candidates selected to take part in the first year of the College of Comedy. He is a former journalist-turned-stand-up comedian and comedy writer. Warburton has previously contributed to BBC Comedy North sketch show Scallywagga and CBeebies' sketch show Gigglebiz.
The writer says: "I am incredibly chuffed the BBC have decided to pilot this. Over the last 20 years I have spent a great deal of time drinking in pubs in the name of research and this means I can now claim the whole lot back against tax. The College of Comedy is a superlative scheme, it has been invaluable to me as a writer in terms of learning and support."
Executive Producer, and founder of the College of Comedy, Micheal Jacob comments: "This is great news, both for the college, and particularly for John, whose writing is funny, warm and very much the product of a unique voice. I hope that we'll see more original work from the first year's college writers on screen, and this year's group are well on the way to creating exciting new projects."
BBC Comedy boss Mark Freeland adds: "The aim of the scheme is to train writers for the future. To get a pilot out of the first year of the college is outstanding and makes us even more determined to get new comedy voices on air."
For more, see Micheal Jacob's blog post
Share this page