Ricky Gervais to bring back David Brent for Comic Relief
Ricky Gervais to bring back David Brent for Comic Relief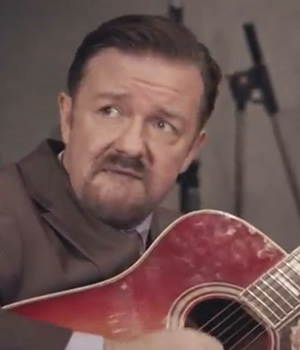 Ricky Gervais has revealed he is to bring back his most famous creation - David Brent. The comedy star will return as The Office character in a new sketch for Comic Relief.
Titled The Office Revisited, the one-off special will be screened as part of the BBC's Comic Relief night on March 15th.
The new sketch marks 10 years since The Office finished, and catches up with the ex-Wernham-Hogg manager to see what he is up to now - reportedly primarily still acting as a cleaning products salesman.
However, Brent has not given up on his dreams of breaking into the music business, and he is now working with urban act Dom Johnson to make a self-funded 'political reggae song' called Equality Street.
Johnson is played by Doc Brown - real name Ben Smith - the comic rapper who has also just appeared in an episode of Gervais' latest TV series, Derek. Also seen in the trailer is writer and actor Tom Basden.
Writing on his blog, Gervais said: "You may have heard that I'm bringing back David Brent for Comic Relief. It's been 10 years since we last saw him, so I thought it was time to revisit my most famous comedy creation to find out what he's been up to for the last decade and most importantly what he's up to now.
"In the new mini episode - The Office Revisited - we find out that David hasn't given up his dream of making it in the music business. The documentary crew find Brent selling cleaning products to offices, pubs, restaurants and anywhere else with toilets, floors and staircases. It's not a glamorous job but it funds his real passion: music. Brent is managing acts now."
Gervais elaborates: "He's passing on his wisdom to younger would-be rockstars now and is living vicariously through a young performer, Dom Johnson. Well, really he is trying to worm his way back into rock and roll. Fans of The Office will be excited to know we finally get to hear the whole of The Serpent who Guards the Gates of Hell and an amazingly cringeworthy, self-funded video Equality Street. Horrendous."
The new sketch will be the first time David Brent has appeared on UK TV since The Office finished in 2003, however Gervais has played Brent in the US version of the hit sitcom, making a cameo appearance in two episodes of the show's seventh series.
Gervais has taken part in various previous Comic Relief sketches as an exaggerated version of himself, including a much talked about 2007 sketch which shows the star filming an appeal for the charity from a TV studio rather than in Africa itself.
Below is a teaser trailer for the new 2013 sketch: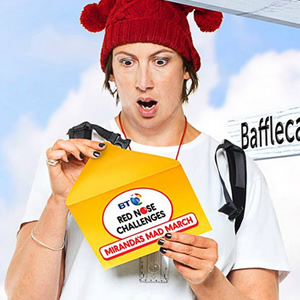 It has also been announced this week that Miranda Hart will be undertaking a series of 'madcap challenges' for Comic Relief in the run up to Red Nose Day.
The sitcom star will race against the clock in a different UK city each day for five days to complete mystery tasks dictated by the Radio 2 Breakfast Show. Viewers will be able to get updates on Hart's progress via The One Show each evening.
A spokesperson for Comic Relief says: "Whether it involves romance, sequins or animals - which it might not - she will definitely be calling upon members of the public to help her on her way."
Hart herself comments: "This year for Red Nose Day, I will be doing ... something! I have absolutely no idea what, I just hope that the good people at Comic Relief aren't too hard on me and that the British public get behind me and help me raise heaps of cash for Red Nose Day!"
The star will visit Newcastle on March 11th, Manchester on the 12th, Birmingham on the 13th, Oxford on the 14th and will be in London in time for Red Nose Day itself on Friday 15th March.
Below is a trailer: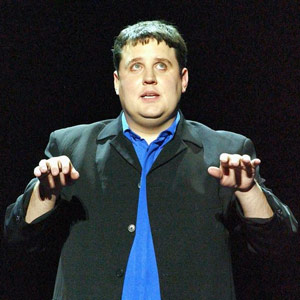 Meanwhile, popular stand-up Peter Kay has been 'sofa surfing' in a sketch spoofing the marathon efforts of previous comedy stars.
Kriss Akabusi, Brian Conley, Bernie Clifton, singer Chico, Olympics boxer Nicola Adams and Sir Steve Redgrave are amongst the celebrities who have been spotted taking part in the filming of the sketch, which will also be shown on Red Nose Day.
The Sun has pictures of Kay on the sofa
Other Comic Relief stunts announced in the run up to March 15th include a live all-night chat show from Graham Norton featuring a host of comedy stars, and a 25 hour gig hosted by Mark Watson, the latter of which starts tonight.
Meanwhile the cast of hit Channel 4 student comedy Fresh Meat are taking up challenges in universities. The actors will be visiting Newcastle, Loughborough, Durham, Leeds, Manchester, Sheffield and Nottingham universities to do "everything from serving breakfast to lecturing to raise the money."
This year's Comic Relief is the highest profile in the organisation's 25 year history, and is expected to raise a record amount of money for those in need in the UK and across Africa.
As previously reported, the Red Nose Day broadcast on BBC One will also feature sketches including Rowan Atkinson as the Archbishop of Canterbury. Presenters on the night will include Michael McIntyre, Rob Brydon, John Bishop, Lenny Henry, Jack Whitehall and Jonathan Ross.
Below is a general trailer for Comic Relief...
Share this page