New improvised character comedy chat show to be piloted
New improvised character comedy chat show to be piloted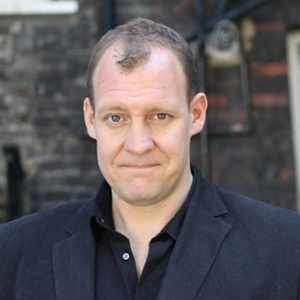 A new improvised comedy format called Chat Show Roulette is to be piloted for both radio and television this fortnight.
The show, which will be trialled by ITV and Radio 4, is described as "a brand new improvised character comedy show in the shape of a traditional chat show."
Comedy performer and actor Justin Edwards (pictured) - who is perhaps best known for his character Jeremy Lions, and as the presenter of Radio 4 Extra sketch show Newsjack, and as an actor on shows such as Harry & Paul and The Thick Of It - will host the show. Edwards has previous improv experience, having appeared on shows including the BBC's Fast & Loose.
Chat Show Roulette is presented like a traditional chat show, however all the guests are comedy performers playing characters, and the twist is that the performers won't know the character they are playing until just seconds before they appear. The names, occupations and key character traits the performers must adopt are chosen randomly from glass bowls filled with suggestions from the audience.
The format has been devised by John Stanley Productions, the production company set up by Little Britain star Matt Lucas. It has already been tested out at live comedy nights over the last six months, most recently at the Hen & Chickens in London on Monday and Tuesday last week.
The full guest list for the two upcoming pilots has yet to be announced, but it is known that Matt Lucas will take part, as will Edwards' fellow Thick Of It star Rebecca Front.
ITV is currently investing in a significant number of panel show pilots. The network is seeking out a new format to join the sitcoms it has commissioned. Panel show pilots currently in development for the channel include You Couldn't Make It Up and Oh What A Week!.
John Stanley Productions and Matt Lucas recently completed The Matt Lucas Awards Series 2, the panel show in which guests must nominate winners for obscure award categories (e.g. Ghastliest Holiday Destination). It was recorded in November and December and will be broadcast on BBC One in March.
The pilots for Chat Show Roulette will take place on Sunday 3rd February (for Radio 4) and Wednesday 6th February 2013 (for ITV) at the RADA Studios in London. To apply to be in the audience see our free tickets page
Justin Edwards is one of the guests on this week's episode of Do The Right Thing, the award-winning podcast panel show. Listen
Share this page