Clinton Baptiste: The Paranormalist Returns
Clinton Baptiste: The Paranormalist Returns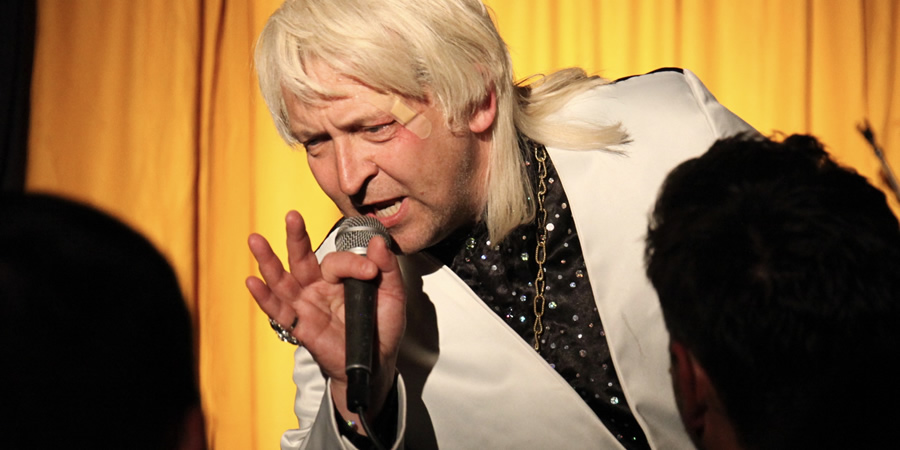 Paranormal sensation Clinton Baptiste embarks on a national tour to take audiences on a hilarious yet touching journey through his life, out the other side and beyond the Celestial Curtains.
In The Paranormalist Returns tour, Clinton gives readings to audience members up and down the land, offering advice from beyond the grave. He will predict their futures, tell them about their pasts and perform all manner of spooky stuff an' that.
But more, he tells the story of his demise, his comeback and finally... finally on this special night, he will attempt to pass over to The Other Side ... and return (before the venue throw the audience out)....with THE ANSWER!
Clinton Baptiste is the hapless, clumsily inaccurate and occasionally brutal clairvoyant medium and psychic created by the comedy actor Alex Lowe for Peter Kay's smash hit Channel 4 sitcom Phoenix Nights back in 2001. Now, some eighteen years after the show aired, Clinton returns to conjure up his extraordinary powers for a new generation.
Dates
Saturday 7 September: Maidenhead Norden Farm
Friday 20 September: Watford Watford Palace Theatre
Friday 27 September: Winchester Discovery Centre
Saturday 28 September: Canterbury Marlowe Theatre
Tuesday 1 October: Colchester Arts Centre
Thursday 3 October: Stockton ARC
Friday 4 October: Leeds City Varieties
Saturday 5 October: Halifax Square Chapel
Sunday 6 October: Sheffield Memorial Hall
Tuesday 8 October: Telford Oakengates
Thursday 11 October: Hayes Beck Theatre
Friday 12 October: Corby Cube
Wednesday 16 & Thursday 17 October: Liverpool Laughterhouse
Friday 18 October: Crewe Lyceum
Saturday 19 October: Scunthorpe Plowright
Sunday 20 October: Canterbury Canterbury Marlowe Theatre
Saturday 26 October: Worcester Huntingdon Hall
Friday 31 October: Manchester Middleton Arena
Wednesday 13 November: Northampton Royal and Derngate
Saturday 18 January: Darlington Majestic Theatre
Sunday 19 January: Newcastle The Stand
Monday 20 January: Glasgow The Stand
Tuesday 21January: Salford The Lowry
Thursday 23 January: Liverpool Epstein Theatre
Saturday 24 January: Bolton Albert Hall
Saturday 25 January: Leeds City Varieties
Sunday 26 January: Nottingham Glee Club
Thursday 30 January: Sheffield Memorial Hall
Saturday 1 February: Barnsley The Civic
Sunday 2 February: & Monday 3 February: Chorley Chorley Little Theatre
Thursday 6 February: Bradford Alhambra Studio
Friday 7 February: Kendal Brewery Arts
Saturday 8 February: Southport The Atkinson
Sunday 9 February: Lytham St Annes Lowther Pavilion
Thursday 13 February: Leicester Just the Tonic
Friday 14 February: Carlisle Old Fire Station
Saturday 15 February: Whitley Bay Playhouse
Sunday 16 February: Lincoln Engine Shed
Wednesday 19 February: Hertford Hertford Theatre
Saturday 22 February: Frome Merlin Theatre
Sunday 23 February: Cardiff Glee Club
Thursday 27 February: Runcorn The Brindley
Friday 28 February: New Brighton Floral Pavilion Studio
Saturday 29 February: Chesterfield Pomegranate Theatre
Sunday 1 March: Birmingham Glee Club
Thursday 5 March: Maidenhead Norden Farm
Friday 6 March: London Leicester Square Theatre
Sunday 8 March: Horsham The Capitol
Wednesday 11 March: Thornton Thornton Little Theatre
Thursday 12 March: Glasgow Glee Club
Friday 13 March: Thornton Thornton Little Theatre
Saturday 14 March: Walsall Forest Arts Centre
Credits