Suzi Ruffell
One random comedian, eight random questions; it's the ultimate test of funny person and fate. This week's humorous human is Suzi Ruffell, who has all sorts going on.
The Portsmouth-produced comic is currently touring the show Dance Like Everyone's Watching, which was a sell-out (in a good way) at that there Edinburgh Fringe, and ended up in our best-reviewed shows list. "The show is about happiness, love, my mother, and a trip to New York where I completely embarrassed myself," she explains. "It's an utter joy to perform."
Don't read reviews? Well you can catch her onstage work on iPlayer. In fact, Ruffell is all over the TV right now.
First up, "I'm delighted to be on an episode of Sara Pascoe's new series Comedians Giving Lectures," she says. "I am on the new series of There's Something About Movies, hosted by Alan Carr with Tom Allen, Jennifer Saunders, Josh Widdicombe, Sean Bean and Michael Sheen - let me tell you, that was a very fun day at work. And I am currently working on Harry Hill's new Channel 4 show Harry Hill's ClubNite."
Guest-star like everyone's watching. Suzi Ruffell, your Random 8 await.
Who is - or was - your most interesting relative?
My Grampy, probably, who was on the beaches at Dunkirk. He swam to a fishing boat and they rowed him back to England, where he took a couple of days off to marry my Nan.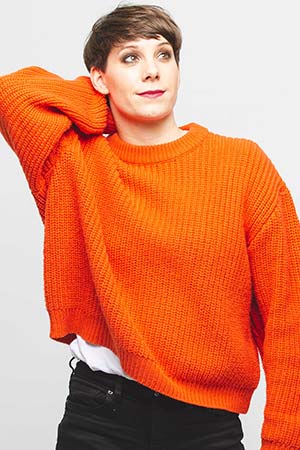 What should be Britain's next national anthem?
Let It Go from Frozen.
Ever met a surprisingly great or awful famous person?
Mickey Mouse as Disneyland Paris was a bit rude.
What was your most regrettable purchase?
I bought these beautiful oxblood red Chelsea boots, wore them on a night out, they ripped my feet to shreds and I've never worn them again. They sit in my wardrobe still, mocking me.
Is there a book or film that changed your life?
I think Alan Carr's book is part of the reason I tried stand-up, which has pretty much taken over my whole life.
What's the best room you've ever been in?
My lounge is very nice. I have just got a mustard armchair which really pops!
Which low-key law would you introduce?
Wear a hat on a Tuesday. I think everyone is improved by a nice hat (no caps).
What's the weirdest thing you ever saw?
I saw a dog riding a horse once.