Art Is The Best Medicine
Art exhibition showcasing work by comedians opens
The Art Is The Best Medicine exhibition is showcasing the art creations of many comedians
The works are on display in the Fiumano Clase gallery (in King's Cross area of London) until 20th December
Harry Hill, Jack Whitehall, Jenny Éclair and Vic Reeves are amongst the 50+ comedians involved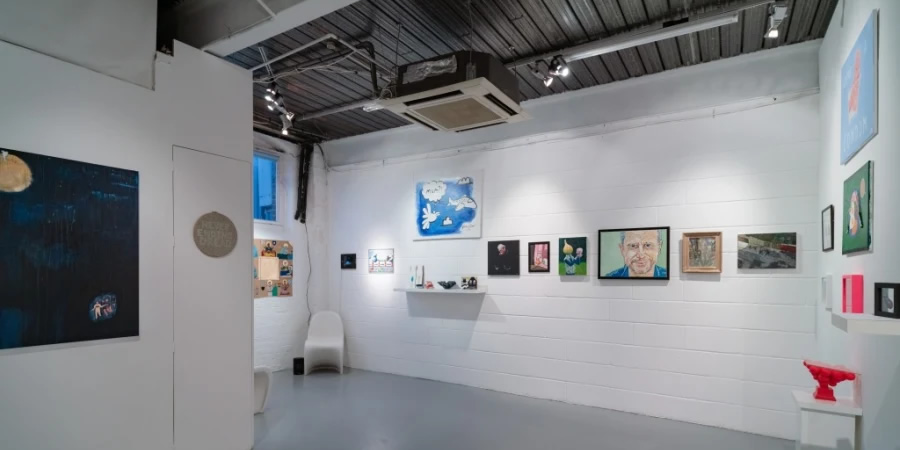 Art Is The Best Medicine, an exhibition showcasing the artwork of comedians, has opened today.
The exhibition is billed as a unique chance for members of the public to see and buy artworks by the UK's top comedians, whilst raising money for charity.
The works are on display until 20th December at Fiumano Clase, the contemporary gallery near King's Cross in London.
Alex Horne, Harry Hill, Jack Whitehall, Jenny Éclair, Jessica Hynes, Jim Moir (Vic Reeves), Joe Lycett, Josie Long, Katy Wix and Rose Matafeo are amongst the 50+ comedians who have submitted pieces.
The artworks range from drawings, paintings, digital prints and photography, to sculpture, poetry, embroidery, ceramics, and video art.
Andrew Bailie, Ania Magliano, Annie McGrath, Bec Hill, Ben Target, Chris Hayward, Dane Baptiste & Shyaam Caine, Daniela Pasquini, Daniel Quirke, Eleanor Thom, Elf Lyons, Ellie White, Hannah Warman, Helen Keeler, Holly Burn, James McNicholas, Jayde Adams, Joe Bor, Katia Kvinge, Kim Noble, Lolly Adefope, Mawaan Rizwan, Nathaniel Metcalfe, Olaf Falafel, Pat Cahill, Paul Savage, Phil Jerrod, Pierre Novellie, Rachel Stubbings, Richard Todd, Rob Auton, Rory McGrath, Rosa Robson, Ruby Martin, Ruth Bratt, Shivani Thussu, Spencer Jones, Stephanie Laing, Stuart Laws, Tessa Coates, Tom Neenan, Tom Stourton, Thom Tuck and Tim Key & Emily Juniper have also provided work.
Everything is for sale and is priced between £50 - £600, with the exception of Rob Auton's portrait of Chris Tarrant, entitled I Want To Be A Millionaire which is on sale for a million pounds.
A third of all sales will go to the charity Mental Health UK. Gallery directors Francesca Fiumano and Andrés Clase say: "We hope to raise lots of money for Mental Health UK, a brilliant charity doing excellent work, especially around Christmas, which can be a particularly difficult time for people suffering from mental health problems."
Below are some samples of the artwork.
Tom Neenan, Greta, watercolour and ink, 297 x 210mm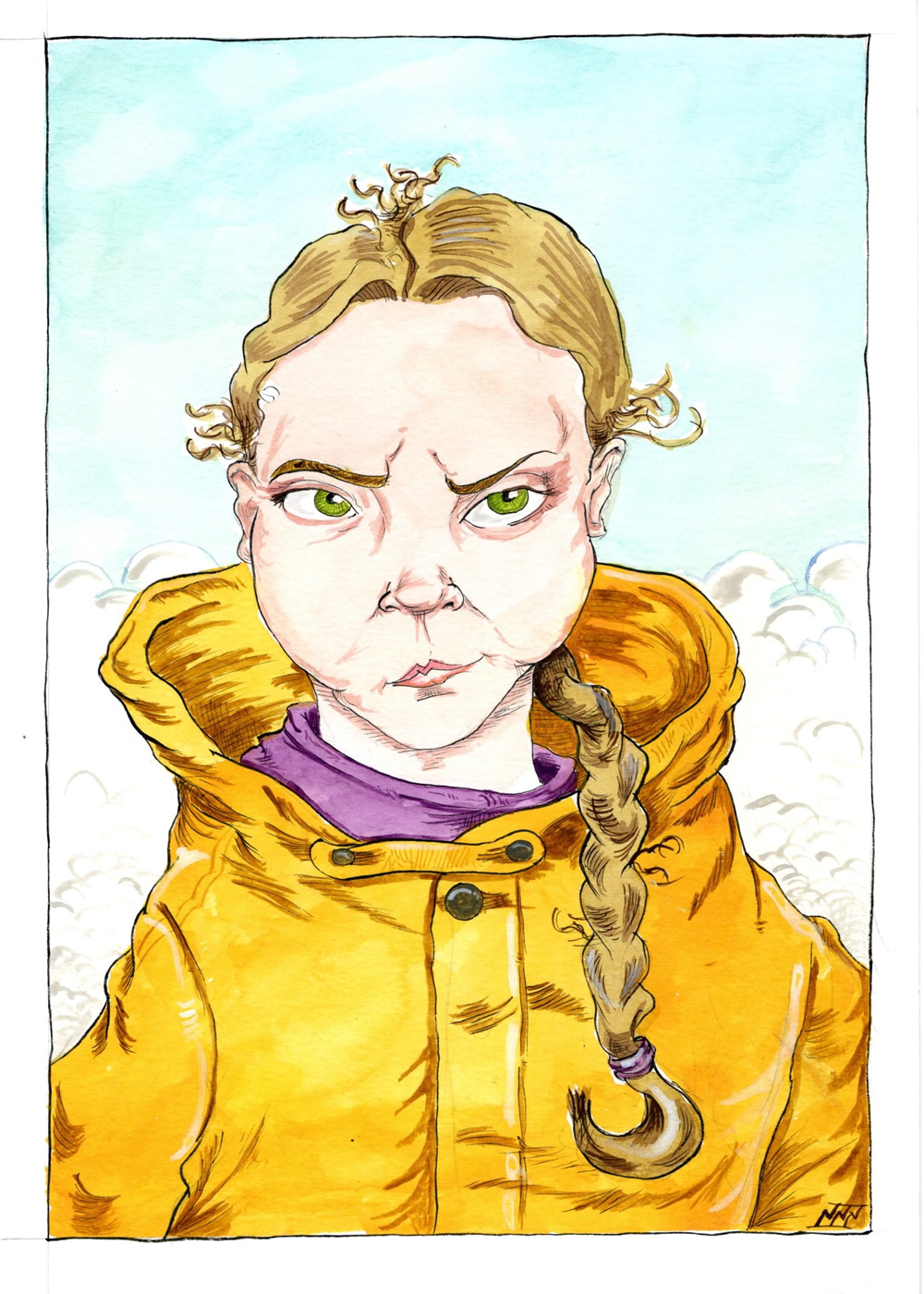 Jim Moir, Batman at Ease, Limited edition print, 17" x 17"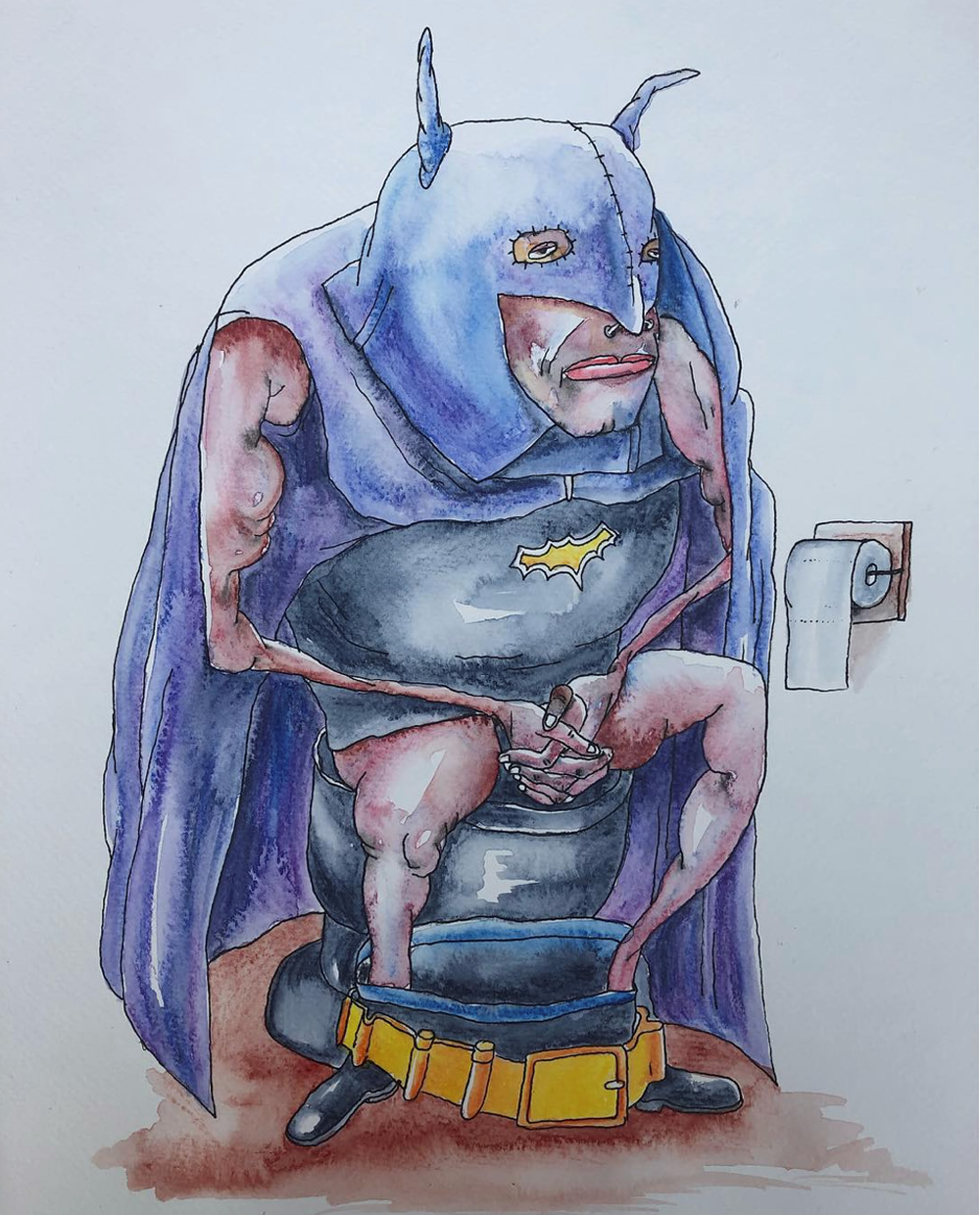 Rob Auton, Chris Tarrant's Face, Acrylic on Paper, 2014, 297mm x 210mm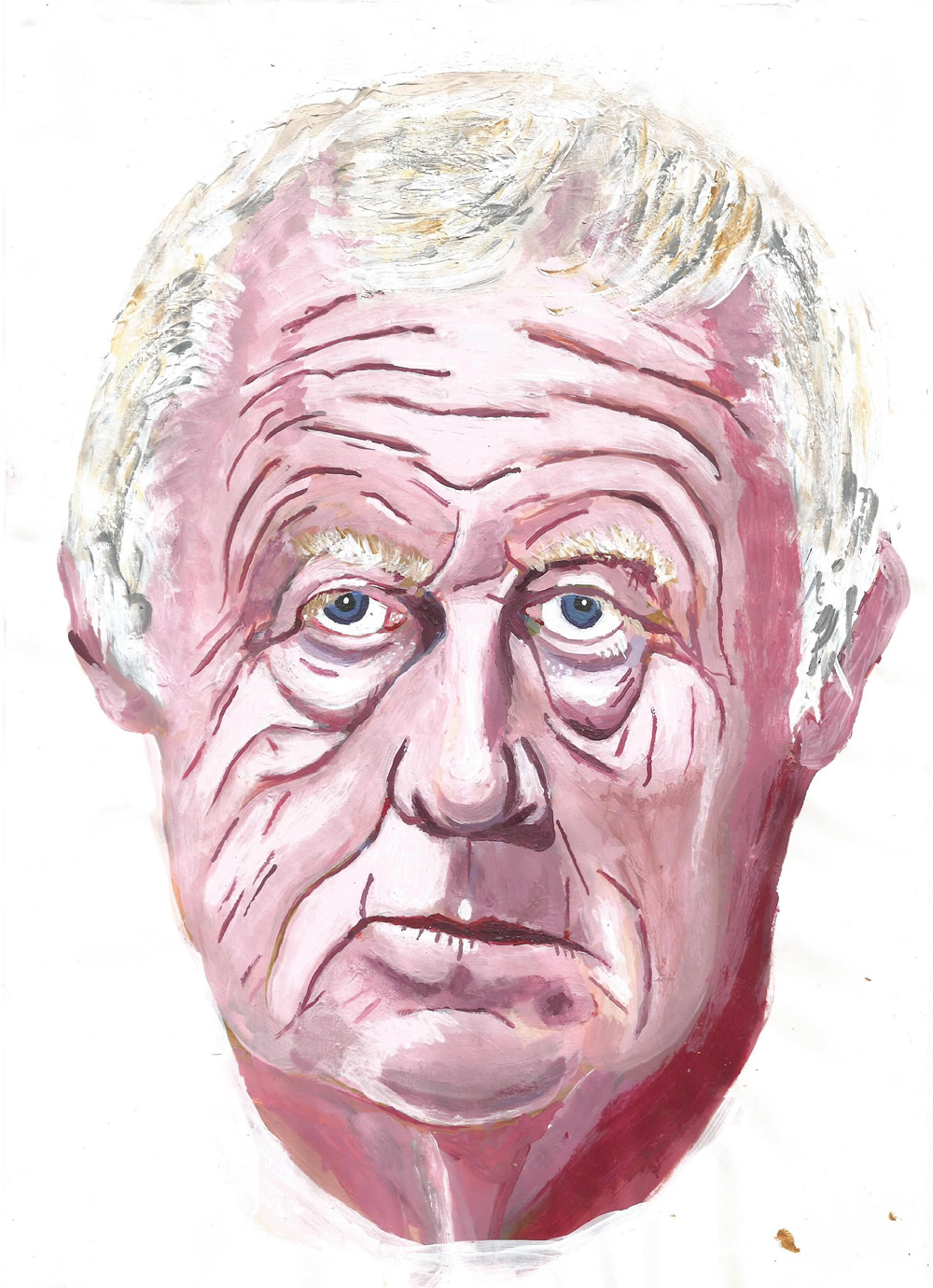 Olaf Falafel, Mr Onion and his Prize Winning Graham, Acrylic on Canvas, 40 x 30 cm, 2019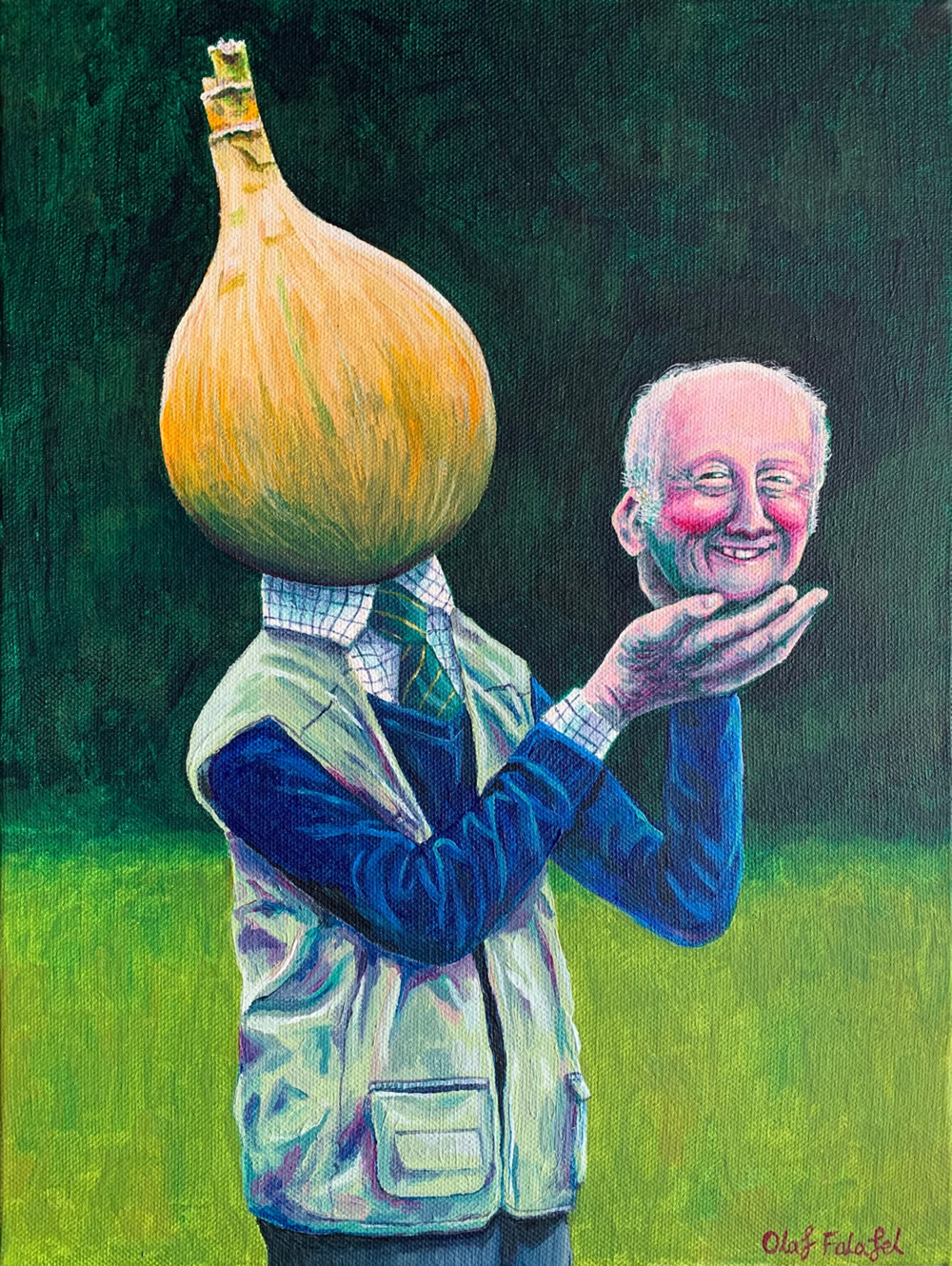 Chris Hayward, The Field, Digital Print, 2019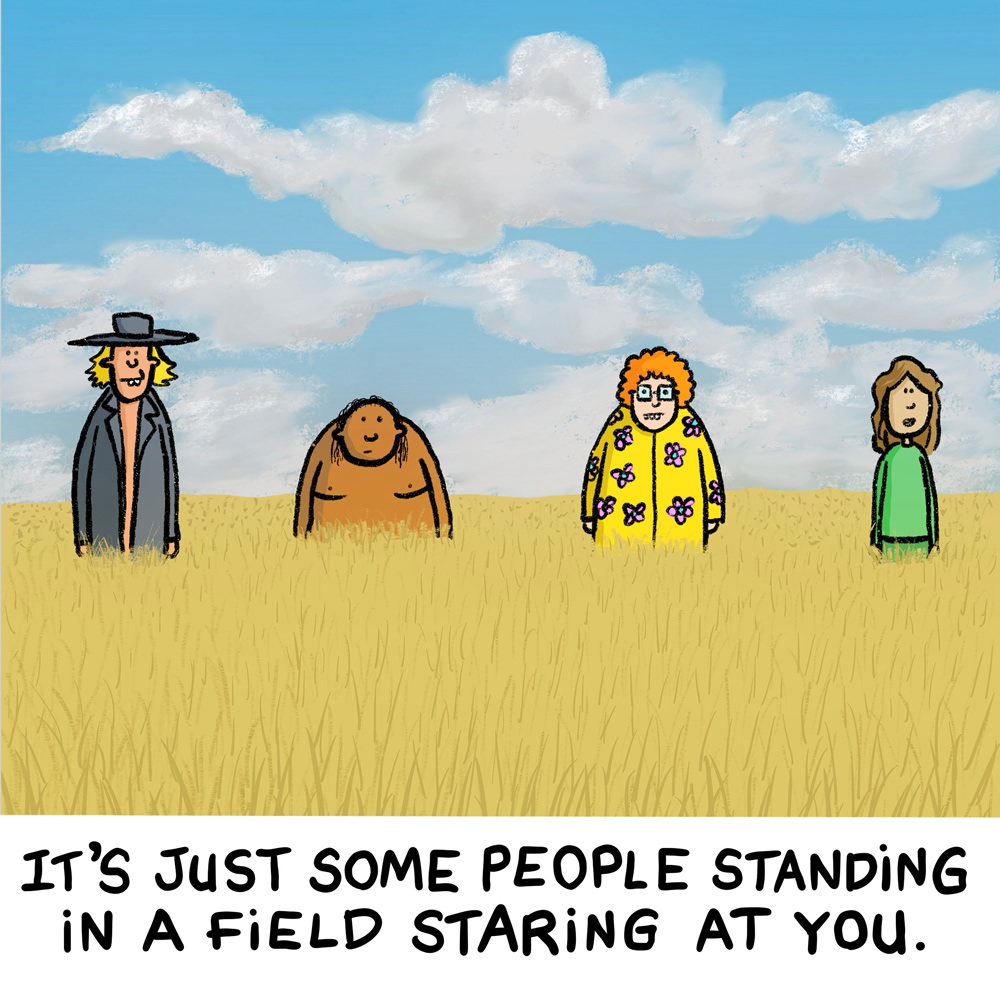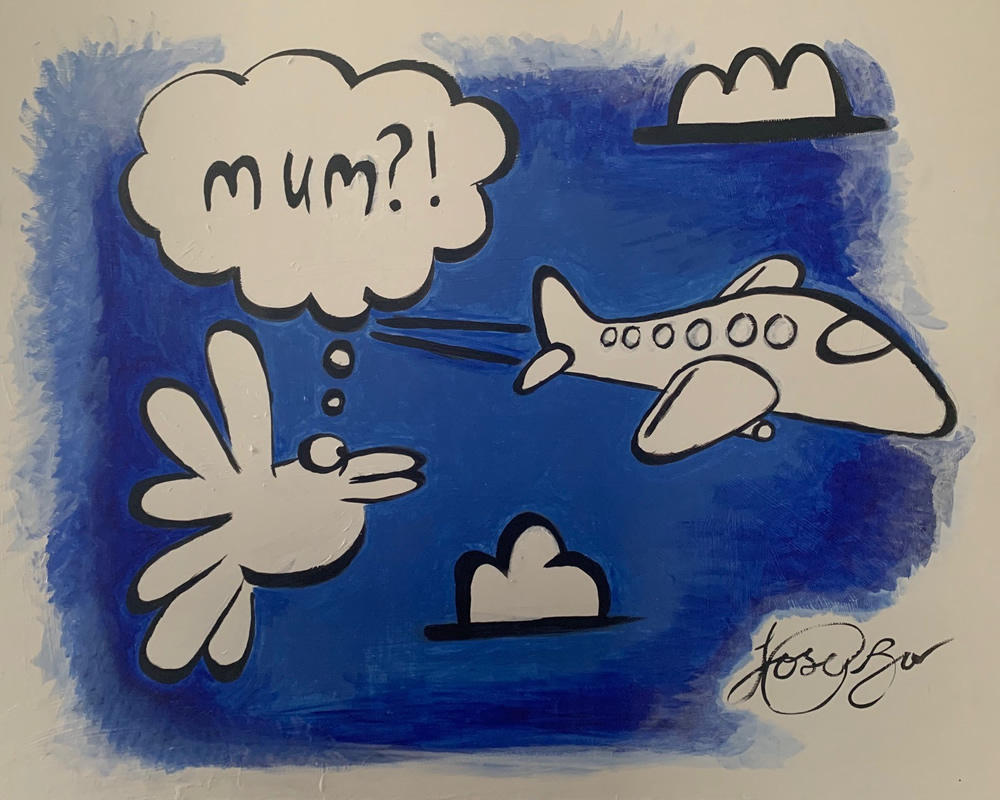 More artwork can be viewed via the gallery's website
The exhibition has been organised by artist and comedian Annie McGrath, who describes art as "an antidote to stand-up; there is something refreshing about the splendid isolation of painting. Creativity is a double-edged sword which can exacerbate feelings of anxiety at the same time as being incredibly therapeutic."
McGrath has also recently launched a podcast titled Secret Artists With Annie McGrath in which she chats to comedians such as Alex Horne, Phil Wang and Katy Wix whilst they draw or paint.
Talking about the exhibition, Brian Dow, CEO of Mental Health UK, comments: "While we've made undeniable progress in our understanding of mental illness, the work is by no means done. Too many people still find it too difficult to talk about their own experiences. That's why events like this are still so important. It shows that no matter who you are, open and honest conversations about our mental health have the power to bring real change to people's lives. I'd like to thank Annie, and everyone involved, for all of their fundraising efforts, and we look forward to a successful event."
Share this page