Shappi Khorsandi
'Ealing' and 'comedy' - two words that roll off the tongue together rather nicely, due to the legendary productions that have rolled out of the West London borough's eponymous studios over the years, from The Ladykillers and Lavender Hill Mob to Porridge, Python and modern classics like The Death Of Stalin and Darkest Hour. Ok, so that last one's clearly not a comedy. Good, though.
Ealing should be a must-stop on any comedy tour of the capital, then, and they've a tonne of today's top comics in town from 19th to 27th July - it's the 25th anniversary of the Ealing Comedy Festival, starring big-time acts like Josh Widdecombe, Jo Caulfield, Milton Jones, and our latest First Gig, Worst Gig correspondent, who knows her way around this neck of the woods (those shows are all taking place at a big top in Walpole Park).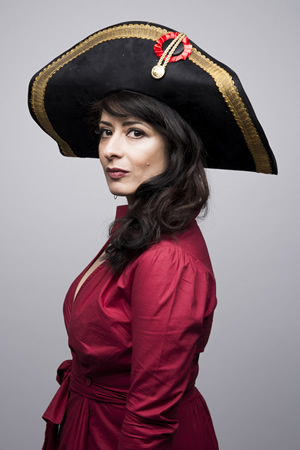 Yes, Shappi Khorsandi will be taking the short trip to the top on Friday 20th, having grown up in the area, and now moved back, as you do. The Iran-born comedian and author has come a long way in the meantime, and would certainly get a star on a Hollywood-style Ealing Walk of Fame; right up there with Ealing Studios regular Alec Guinness and local comedy footballer Peter Crouch.
Khorshandi's career is increasingly interesting, including two books - the memoir A Beginners's Guide to Acting English, and a novel, which she plugs below - and an unpredictable approach to live material. Her current tour show is Mistress and Misfit, which is about Emma Hamilton, best known for her liaison with Admiral Nelson: Shappi sheds a lot more light on a fascinating character.
But how did this fine comic get from there to, well, back there again? Let's begin a few tube stops north.
First gig?
It was at the Camden Head Pub in Islington, I was on with Brian Higgins and Stephen Merchant - where is he now? There were about 15 people in and I got paid a fiver.
Favourite show, ever?
Got to be Glastonbury, when the power went but I kept going (Lily Allen abandoned her set which was at the same time... (I'm more of a trouper with, admittedly, a much smaller audience)
Worst gig?
Has to be my first Glastonbury. I lied about having a half-hour set just to go. I had five minutes of material only, I was so new! I did eleven minutes, to hostile silence, then sort of wet myself. Not my finest hour.
Is there any red-hot local material you can work into this Ealing festival set?
I guess so... I grew up in Ealing and moved back five years ago, after decades of living in cooler parts of London.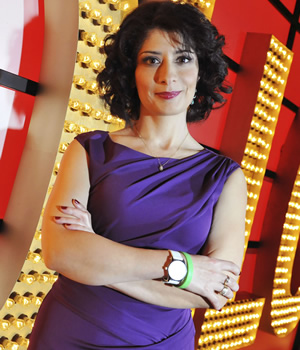 Who's the most disagreeable person you've come across in the business?
The booker of the best comedy club in London, who never gave me paid weekends there despite my three Live At The Apollo's and seeing me storm it time and time again. I won't mention his name or the central London venue (just off Piccadilly, next to the comedy pub) he runs.
Do you have a good writing spot? Spare room? Cafe? Shed?
In my old house, I had a shed... but now it's either my son's room when he's at school (it's immaculate and I've discovered where he keeps his secret biscuit stash) or a local coffee shop. I'm always on the hunt for a good coffee shop to write in.
Is there one routine/gag you loved, that audiences inexplicably didn't?
My Stormzy impression is hit and miss.
The most memorable review, heckle or reaction to your Mistress and Misfit show?
'Nelson and Emma shagged in my aunt's bedroom!' has been by far the best.
Any other upcoming projects you'd like to plug?
Yes! Read my novel, Nina's Not Ok.