Scott Bennett
If you want to really want to make an impact in the stand-up world, it's time to shed your inhibitions. Or you could just inhabit a shed.
That's certainly worked for the still-busy Scott Bennett, whose backyard lockdown show Stand-Up from the Shed has created quite a buzz, and not because he set off the strimmer or disturbed a beehive, or something. But what's Bennett like on an actual stage? Funny you should ask, as he's just gone DIY with a YouTube special.
"The show was recorded at a theatre in my hometown of Nottingham back in October 2019," he explains. "The first half is a compilation of some of my favourite stand-up routines. And the second half is from my 2018 show Leap Year, which is the story of what happened when I decided to turn my back on my career as a designer at the age of 40 to follow my dreams to be a professional stand-up comedian."
His arena dreams may currently be shelved, but Bennett is back on tour in 2021. Now let's head back to his early stages.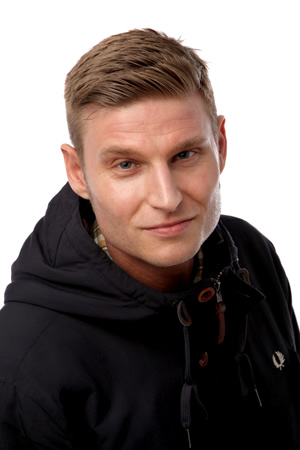 First gig?
It was a room above a pub back in late 2009. There were about ten people in the audience including my wife Jemma. It was Halloween and it was a gong show, which on paper sounds absolutely horrific.
These shows are the comedic equivalent of throwing the Christians to the lions. The audience members have the power and they can vote you off after a two minute grace period if they don't find you funny, by holding up a card, a glow stick or by slinging their pint at you. Often it's not even about if you are funny or not. They may take a dislike to your accent, the way you're dressed or simply be repulsed by your face.
There were about twenty acts on the bill, all of varying experience. I went up there with the only five minutes of material I had and, for a reason I still can't quite fathom, I won the competition. I often think that if I had died badly that night I might've never got back on stage. You don't know what a 'death' is at that point and it's not something that's easy to process.
So if you're not a fan of my work, don't blame me, blame those ten people above the Bunkers Hill pub in Nottingham for encouraging me.
Favourite show, ever?
There have been so many. I've done packed comedy tents at festivals, overseas gigs, gala shows and quirky gigs in gardens and streets, it's been such an amazing experience so far. If I had to pick one I would say it's a tie between supporting Rob Brydon on his tour and doing my first solo tour shows in little theatres around the country.
With Rob I did huge venues in York and Huddersfield (home soil for me) and the response was amazing. It made me realise what I want from this career and what I'm aiming for. With my own shows I got a taste of that. Audience members paying to see you and loving what you do, there is nothing that beats that feeling.
Worst gig?
Again there have been so many. I talk about a few in my YouTube special, but here are the highlights for you:
I've done shows at Christmas time to office parties, who have shouted, fought, danced and vomited throughout my set. I've done sportsman's dinners where the whole room has sat with their back to me, and those that did face me looked so confused. I'm quite a mainstream act, with an accessible observational style, but in front of these old men in their tuxedos I was as surreal as Ross Noble.
The worst, and the most memorable, was when I opened for the 82 year-old crooner Engelbert Humperdinck. I'm still to this day baffled by the decision to book a comedian for that. It's like a tap dancer opening for the Wu Tang Clan. That gig went as well as you can imagine. A strange stunned silence, punctuated by the faint whistle of hearing aids.
You have never seen true disappointment until you've stared into the eyes of two thousand pensioners who are expecting you to sing at any point and you never do.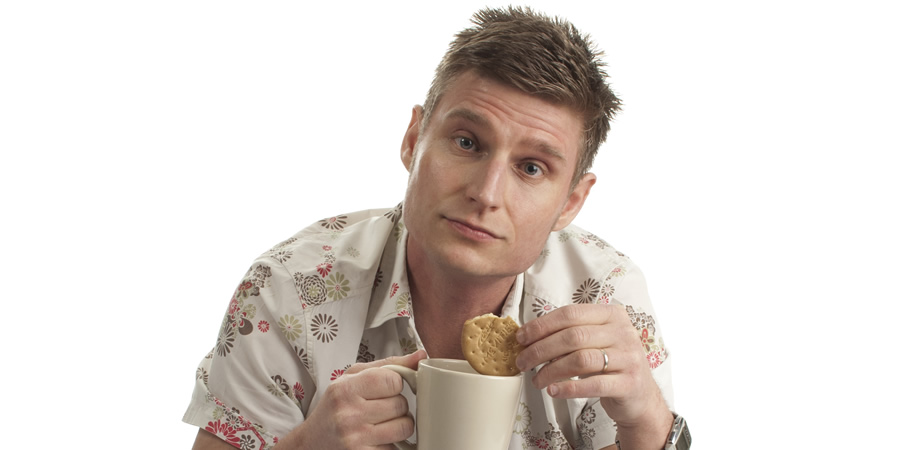 Which one person influenced your comedy life most significantly?
The cool answer would be someone like Jerry Seinfeld or Rob Brydon or Chris Morris or the beauty in the scripts of Galton & Simpson. The truth is probably my wife Jemma.
Not only is she the co-host of our Stand Up From The Shed show and podcast with me, she is also the main reason I get to do what I do. Her sacrifices and selflessness in looking after the children, while I go off gallivanting around the globe to have my ego propped up, is something I will always be grateful for. She's also a comedy fan, which helps.
We do all the festivals as a family, my children have seen some amazing live entertainment, I'm actually a bit jealous of them. Sometimes I don't even recognise who they are. When you overhear your eight year-old enthusing to her friend about the majesty of Japanese theatre and the powerful imagery in the ballet she's seen, you start to wonder if they're actually yours.
And who's the most disagreeable person you've come across in the business?
Ahhh, you won't get me on this one I'm afraid! I've been very lucky actually, I've not really encountered anyone so far who has been difficult to work with. Part of being a comic is the ability to get along with people. There are those who are socially awkward, like in any business, but I've met none who are a nightmare to be around. Maybe that means I'm a nightmare? Does it? Oh God! What have you heard? I'm worried now.
Is there one routine/gag you loved, that audiences inexplicably didn't?
In my new show Relax I do a routine about the nightmare of going out to a restaurant with your children. The idea of it is quite idyllic, the reality is essentially just eating overpriced pizza, at speed, surrounded by absolute chaos.
I talk about the shame we feel about the state we leave the table in. We walk out with our hoodies up, like sex offenders being bundled into a police van on their way to court. I joked that we leave the table the same way America leaves a war: "it's a disaster, there is oil everywhere, the staff are on their knees wailing, the only difference is, we pay the bill."
I loved that joke but it didn't get much. I think it's because political comedy, no matter how well written, jars with the more family orientated themes of my stand-up. I'm going to try it again though, because I love it!
You've written for some great acts too - do you have any tips for how to break into that?
People have asked me this a lot. There is no application process for it, it just happens organically. Work hard, do lots of gigs, write every day and the rewards come.
My first writing job came from me making notes for an act whilst they were warming up for a tour show. They were so impressed they then offered me a writing job on a show. Then all you do is build on that like you would do in any career. It's relationships that give you those opportunities and hopefully delivering stuff that is consistently of a high quality.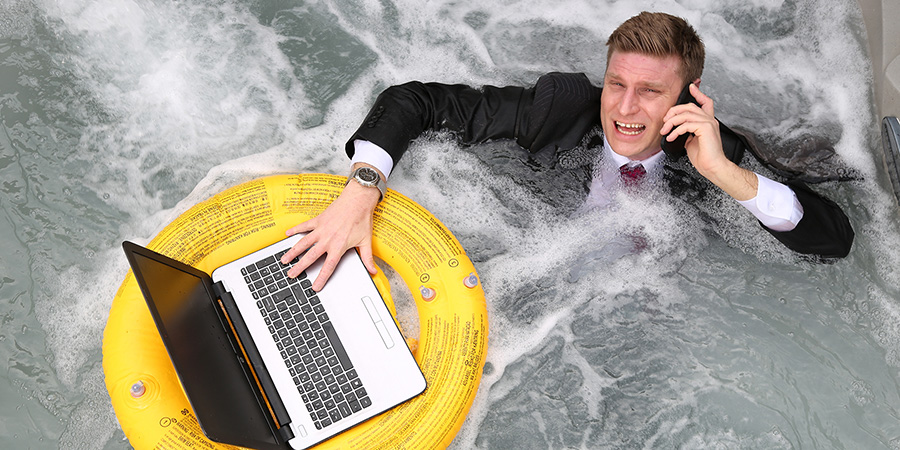 Are there particular reviews, heckles or post-gig reactions that stick in the mind?
I once got a scathing review for a show I did many years ago now. The show itself was my first hour. It wasn't perfect, but it was good, in fact it got nominated for an Amused Moose Award at the Fringe. But like all debut shows, I think now I could do it much better.
One reviewer ripped the show apart and said "there was even a routine about going to the swimming baths". I was so confused by this. Some of the greatest comedians have routines about mundane and ordinary things, that's what observational comedy is all about isn't it? He ignored all the writing and the jokes, how funny the show was and disregarded most of it on a prejudged misconception that I was a 'club comic.'
I don't mind that label, by the way, I'm a mainstream act, I do thrive in clubs and on circuit gigs, but I feel it's used in a derogatory way by some reviewers to dismiss thoughts and ideas that they would otherwise be receptive to if it came from the mouth of a comic with the right sounding accent, or from a different class of society.
In my opinion stand-up comedy needs to be funny, first and foremost. It's a beautiful, pure art form and some of the greatest acts walk onstage and pick up the mic and are hilarious from start to finish. That's a really hard thing to pull off, but there is a beauty there that I think reviewers often forget; thankfully audiences don't though.
How do you feel about where your career is at, right now?
Currently I'm locked in my shed doing punchlines into a webcam for people I can't even see. At present it's not a career, it's more like Babestation meets B&Q.
I think there have been some very unexpected benefits to lockdown. I've had a little bit of publicity from the Stand-Up from The Shed weekly livestreamed shows and podcasts. The BBC, The Now Show, Sky News and Five Live have featured the show, it does seem to be that one man's pandemic is another man's career break.
How's the rest of the year looking?
I've got a lot to look forward to, despite the momentum being lost due to Covid. I may not be taking my show to Edinburgh but we are touring it next year; it was nominated for Best Show at the Leicester Comedy Festival and I can't wait to take it on the road and build my fan base again. It's all about how humans work too hard and we need to slow down and relax, which in a post Covid world will need a re-write, but I assure you it'll still be a very funny hour and a bit.
I'm also working on a few BBC Radio 4 projects which will be aired this summer and in the autumn, so that's very exciting. On the writing side, I am working with a few acts on their tour shows and putting together a few sitcom pilots too.
I'd love to get some wider recognition for my writing and stand-up these next few years. At the age of 41, I know I've come to stand-up late. Despite that, I have big ambitions, I'd love to be the next big arena comic. It might be a bit of a pipedream but I feel with the right break and support I have the ability and the type of material to make it happen.
I feel very lucky to be doing what I do, it's a great world to be involved in, despite the current worrying climate regarding live performance. However I think if we can support the comics and the venues, when we come out of this people will need a laugh and I can't wait to be on the front line, behind the mic, with my own comedy vaccine!