Elis James
Between bouts of giddy excitement about Wales' participation in Euro 2016, Elis James lets us know exactly why he'll be touring with John Robins later this year, and what they'll be doing.
"John and I are bringing the best parts of our Saturday afternoon show on Radio X to a live audience," says James, "so there'll be no adverts, I might swear a bit, and neither of us will have to play a track if we need the toilet, we'll just call an interval. We did a live reading in London of the autobiography John wrote as a feature on the show, and the tickets sold very quickly for that so we realised people wanted to see us live."
"Also, both John and I had previously toured on our own, so we fancied having the other one around as a morale booster for when you're buying Kit-Kats at Leigh Delamere services at one in the morning. During the live reads of John's autobiography we improvised a lot, so it will be quite loose, but we have lots of things planned as well. It's such fun to write."
He told us about his onstage highs and lows too. So here goes.
First Gig?
The Mochyn Du pub in Cardiff, at the end of January 2005. The mic was just set up in one corner of the pub, and the fact most people just wanted a quiet pint in silence didn't seem to bother the promoter or other comics.
I did about five minutes, got a couple of laughs, and then couldn't sleep at all that night because of the adrenaline, and went to work the next morning with a huge smile on my face. I was convinced after coming off stage that stand-up was what I wanted to do with my life. Incidentally, I haven't since had an adrenaline rush that has come anywhere close to that night.
Favourite gig, ever?
I never, ever think about the gigs that have gone well. But I routinely think about the ones that have gone badly. That said, the first time I was on The News Quiz the other guests were Mark Steel, Jeremy Hardy and David Mitchell, and I remember feeling quite proud that I was on a panel like that. But those feelings are always very fleeting - I think it's the same for most stand-ups.
Worst gig?
There are lots of contenders for this. Lots of absolute howlers as an open spot, but as a pro comic I absolutely died on my arse at Bristol Jongleurs, on Friday August 9th 2013. I did 12 of my allotted 20 minutes to total, oppressive, indifferent silence, and when I walked off my shirt was clinging to my back with sweat, and yet my mouth was so dry I was unable to thank the compere. I decided to call it quits when a punter in the front row called her husband to ask if their son had a PlayStation 3 or 4.
Who's the most disagreeable person you've come across in the business?
The promoters who take ages to pay - and they know who they are - ruin the lives of some comics. It's disgraceful.
The weirdest gig experience?
I was doing a tour show in Penzance in 2010. It was the night of a pagan ritual in town, and halfway through my set a lady stripped off to reveal a spray-painted silver 1950s swimming costume, and then she proceeded to 'swim' around the stage with a noseclip on, whilst asking to be voted as the mayor of Penzance. She then handed out her manifesto to the audience before doing a tequila slammer. To be honest, the audience had been quite cold at the top, so it gave the gig the boost it needed.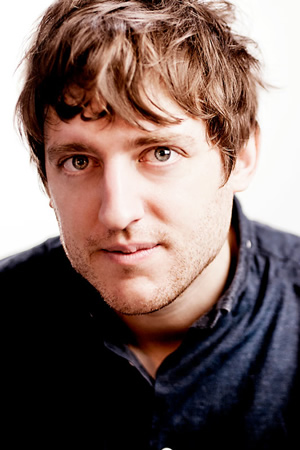 I then got started on by an England fan on my way back to the hotel - it was the night England played Algeria in the World Cup. On my way home the next morning, the train carriage I was sat in had a singalong when a guy got on at Redruth with an acoustic guitar, and then his mate showed me some card tricks. By the time the train got to Plymouth, the passengers were relatively normal.
Is there one routine/gag you loved, that audiences inexplicably didn't?
I got happy slapped by five girls - one of whom was in a wheelchair - in the Western Avenue branch of Tesco Extra in Cardiff. Every time I talk about this on stage it plays to silence, and I have given up on it now. Yet I dined out on it as an anecdote with friends for about three years.
What's your best insider travel tip, for touring comics?
For God's sake, buy your train tickets in advance, as they can go up hourly the day before a journey. The queues for any fast tickets machine in London are always huge if it's a major station at peak time, and the M1 on a Friday is unworkably busy if you leave London after 1pm.
The most memorable review, heckle or post-gig reaction?
At the Cardiff Glee last December, somebody shouted 'what's it like wearing a jumper and being short?' before I got to the mic. That's Christmas gigs for you, folks.
How do you feel about where your career is at, right now?
Very pleased. I love doing the radio show with John, and I've just finished filming series two of the Josh sitcom. Being in a sitcom has been an ambition of mine since I was about ten. It blows my mind every day that I am able to pay the bills by being a comedian. Absolutely blows my mind.
Elis James and John Robins are on Radio X on Saturdays between 1pm and 4pm. ' The Elis James and John Robins Experience' begins its tour on October 6th, in Norwich - visit www.elisandjohn.com for tickets.
Also, the Euro 2016 linked show 'Elis In Euroland' start on BBC Radio Wales on Friday. Guide