Angela Barnes
A fine example of comedy's capacity for catapulting people into a full-on career they weren't really expecting: Angela Barnes was a self-proclaimed "comedy nerd" and big Radio 4 fan - particularly The News Quiz - who took a punt on stand-up and is now hosting Radio 4 Extra's own topical show, Newsjack. Which comes with added feel-good factor.
The new-writers showcase is back this September and "I am so excited to get stuck back into it," says Barnes. "I'm so proud to be part of it because it's a genuinely brilliant way for people to get started in turning their comedy ambitions into actual broadcast material. I love reading the credits at the end of each episode, and knowing how many of those names are sitting at home, excited to hear their name on the radio for the first time. I remember what a buzz that truly is."
Which is cool, because some comics would definitely be like 'stop encouraging them! Keep the work for ourselves!' Right?
"I'm not a bitter, pull the ladder up behind me type - we all need talent coming up behind us to keep us on our toes!"
Before that, Barnes is off to comedy boot-camp, and another August at the Edinburgh Fringe. "My new show is called Fortitude," she says, "and it's about turning 40 as someone who has forgotten to do all the things a 40 year-old is supposed to do. Oh, and it's also about cold war-era nuclear bunkers."
Now let's head to a much nicer bunker, in Brighton.
First gig?
Technically my first gig was in May 2009, I did Jill Edwards's Comedy Course at Komedia, and we did a showcase at the end of it. So my first gig was to a packed Komedia, full to the brim with people who are there to support their friends/family. It was a wonderful false sense of security. So much so that I didn't want to ruin the memory by having a terrible open mic gig, so I didn't do another one until 2010!
Favourite show, ever?
This is so hard to answer. I think one of my favourite moments was performing at my first Loving Linda, which is an annual event to raise money for Target Ovarian Cancer, and it's in memory of Linda Smith, who is my absolute hero. I was so very proud to be asked to be involved, and to perform with some proper titans of comedy.
Worst gig?
Without hesitation, it was being asked to do Radio 2 Live in Hyde Park in 2012. There were 33,000 people in the audience and I had been a full-time comedian for less than a year. There were no other comics on the bill. I had to go on stage after Jessie J and before Tom Jones.
The audience were not expecting me, Simon Mayo introduced me thus: "Are you all excited about Tom Jones?!" *crowd roars* "But first..." and brings me on.
I did about six minutes with Tom Jones' band tuning up behind me before the cries of "we want Tom" became too much to bear. Luckily it was all being broadcast live on Radio 2 and streamed live to millions of viewers online. I still have nightmares.
The weirdest gig?
Apart from the above, there's the time I did a gig and it turned out an ex-boyfriend was in the room on his stag do. It was someone I went out with years ago who had no idea I was now a comic. I panicked when I initially realised, but then I remembered how much dirt I had on him, and I think his friends think much more of me now than they did when I was with him.
Is there one routine/gag you loved, that audiences inexplicably didn't?
I did a thing about an Age Concern poster that raised awareness of loneliness in old people and I would end it by saying "It's not my fault all her friends are dead; well, I used to be a nurse and wasn't that good at it, so it might me my fault SOME of her friends were dead" - and it would often get an "Oooh, no." Which just made me want to say it more...
What's your best insider travel tip, for gigging comics?
If you can't drive, learn to drive. I spent my first six years on the circuit without a car, like a loser, and I have no idea how I survived the overnight coaches and Saturday night train carriages filled with drunks like tinned twats. I love my car, and the freedom it gives me. I will never set foot on a Megabus again.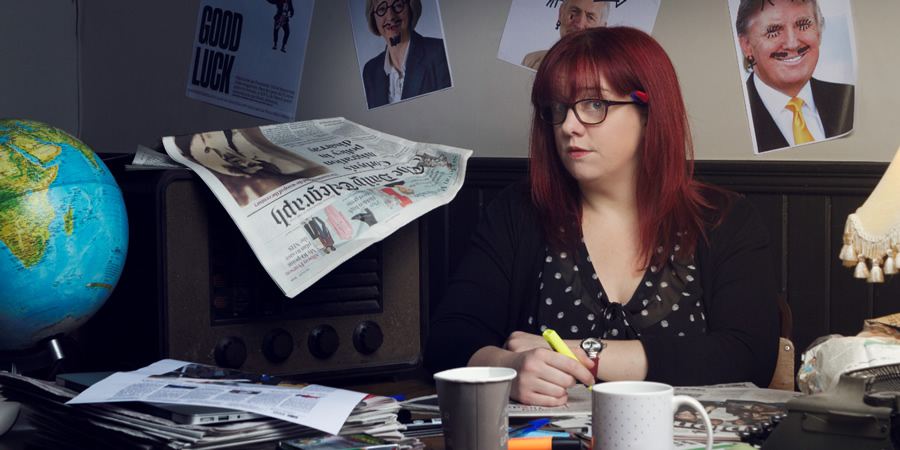 And your best insider tip for new Newsjack writers?
Submit something every week. It's amazing how quickly the producers recognise the same names coming in, and they appreciate when someone is really putting the hours in. Even if you don't get anything broadcast, if you are consistently sending in stuff that makes the recording stage, then you will get invited in to join the writers' room.
My other advice is to write jokes on the smaller stories, look at the business pages, the sports pages, as everyone is targeting the big hitters, and often, I will have covered the biggest stories of the week in the opening monologue. Also, the number of submissions does decrease as the weeks go on because people become despondent, don't be! Being a comedy writer and/or performer is about tenacity, and getting back on the horse. So keep submitting.
The most memorable review, heckle or post-gig reaction?
My favourite review is when early on someone called me a "Sarah Millican for the next generation." Sarah is one year older than me.
How do you feel about where your career is at, right now?
I'm really bloody happy. When I did that comedy course in 2009, a full-time comedy career wasn't my goal. I was a comedy nerd who just wanted to have a go, and it turns out I was alright at it. I am really enjoying the ride. I don't think I'll ever get complacent as I cannot believe my luck. And there are plenty of Twitter trolls who feel the same!