Aaron Simmonds
We are rapidly approaching the fifth anniversary of this here column, if indeed dates and diaries are still a thing, and we've plugged some novel stuff over the years, onstage and off.
This week, for example, it's a podcast about comedians and bits of super-powered people, sort of. Let's ask the hostman - by day he's the talented comic/writer Aaron Simmonds, and he's also now hosting - to explain.
"The show is three comedians talking nonsense about superheroes, in a nutshell," says Simmonds, of the Silliest Superest Heroest Podcast.
"Each of the guests has to combine different parts of different superheroes to make the ultimate hero. Some weeks it would be a genuine unstoppable crime fighting machine, most of the time it would be as useless as Wolverine taking off a bra."
Which may sound a bit niche, but fear not, it is - as the name suggests - accessibly silly. The podcast launches on February 4th and guests include fine minds like Alice Fraser, Glenn Moore, Heidi Regan, Huge Davies, Janine Harouni and Ian Smith. So what's the best mash-up he's presided over?
"My favourite body-part combo so far is having the upper body of a wi-fi tower, with the legs of a kangaroo (this is not representative of what the show usually is)."
His cinematic universe starts here. Now though: into the lion's den.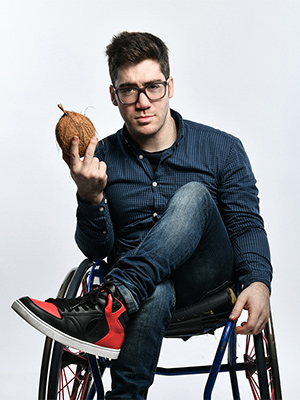 First gig?
July 2014, at the Lion's Den in Piccadilly Circus. The thing that I remember clearly is that after I did my set I was absolutely buzzing but wanted to play it cool whilst in the club, same was true when I was on the tube on the way home. It was only when I got out of the station I went downhill full pelt (I'm one of those wheelchair guys you hear so much about) screaming my head off.
Favourite show, ever?
The first show of my 2018 Edinburgh run. I was doing a free fringe venue at the bottom of the Royal Mile - and I mean right at the bottom - it was a Saturday and it was packed.
I still don't quite know how, I can only assume it's because Aaron is right at the top of the EdFringe guide (thanks Mum), but it was the first time that I fully embraced the nerd within. Making jokes that some people won't get but others love was a turning point for me.
Worst gig?
I was asked to do a gig in a tiny village in Cambridgeshire (it was so small that the barbers' name was The Barbers because they only had one). This was at a point in my career where I would have to apply for every gig, but they asked for me by name.
I got there and it was a packed long thin room, not ideal, but not the end of the world. MC (Ben Van der Velde) goes on, smashing job as you'd expect. Opening act, nails it. Then the interval, and I realise that I've got to go right by the stage for when I'm called on.
During the interval two women notice that I'm sat in front of their table and ask if I get nervous before gigs. I said "not anymore, I'm really good now." I then proceeded to die horrifically for 20 minutes.
After my set it was revealed that they had asked me to perform because they had just built a disabled toilet and they wanted me to unveil it. I thought they wanted me to perform comedy; they actually just wanted me to use their toilet.
Which one person influenced your comedy life most significantly?
Stuart Goldsmith. I started comedy because of [his long-running podcast interview show] ComComPod.
It was amazing that he wanted to do my podcast and a bit surreal, and yes, he is as nerdy about superheroes as he is about comedy.
And who's the most disagreeable person you've come across in the business?
All of the audience members who have come up to me after a gig to offer me the advice of 'you should do a joke about how you do sit-down comedy!' They have been exclusively men.
Is there one routine/gag you loved that audiences inexplicably didn't?
The first two years of my career.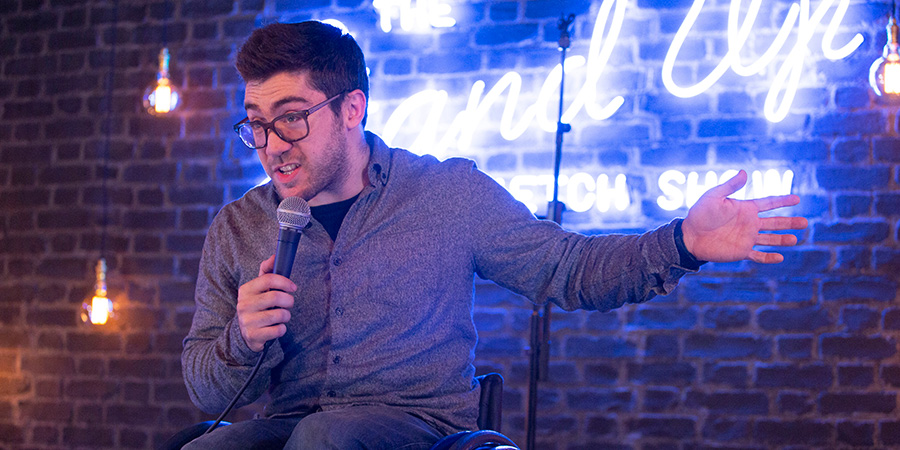 How have these lockdowns been for you, creatively and generally?
I thought Lockdown 1 was the toughest, so much uncertainty mixed in with no stand-up for six months (the longest I had gone before that was six days) but the podcast was a game changer.
Once I had something to work on I dealt with the whole thing so much better. Even if no-one listens it's still something that I would continue to do.
The bleakest moment in lockdown was when I had to do a gig on Zoom, it had all the atmosphere of a family zoom quiz and I shat myself 10 minutes before I was due on the call. Don't worry though, I got paid £4 for it, so totally worth it.
Any reviews, heckles or post-gig reactions stick in the mind?
I used to do a lot of gigs underneath a pizza place where they would sell pizza and comedy on Groupon for £8. One night there were six people in the audience; a couple in the front row, a family of four in the back row and an optimistic amount of chairs in between them.
When I came on, the couple instantly started making out and didn't stop for the entirety of my set. Once I finished, they then got up and left. To this day I don't know if this is the biggest insult or compliment I have received.
How do you feel about where your career is at, right now?
Who the fuck knows? I was very happy with where it was in February 2020. But it's impossible to know what's going to happen moving forward.
I'm very lucky to be in a position where I don't have to get a muggle job, and I'm not taking that for granted. I'm proud of what I've managed to create during this year, but most of it is discussing whether or not The Hulk would be even more destructive if he learned ballet.