And so, the dust settles on Latitude 2018. Actually dust was quite a talking point at the fine Suffolk festival this year, as the complete lack of recent moisture gave lovely, leafy Henham Park an exotic desert feel, in places.
And the forecast storms never came this weekend either - result! - just a tremendous deluge of top-notch comedy, dance, spoken word, sung words, live QI, Gardeners' Question Time, a new food stage - it was all happening.
Of course, with so much going on you do tend to miss most of the things you put a ring on - or favourited in the app - but that's one of the great joys, stumbling across something unexpected. Here are our 2018 stumbles.
Scouting for LOLs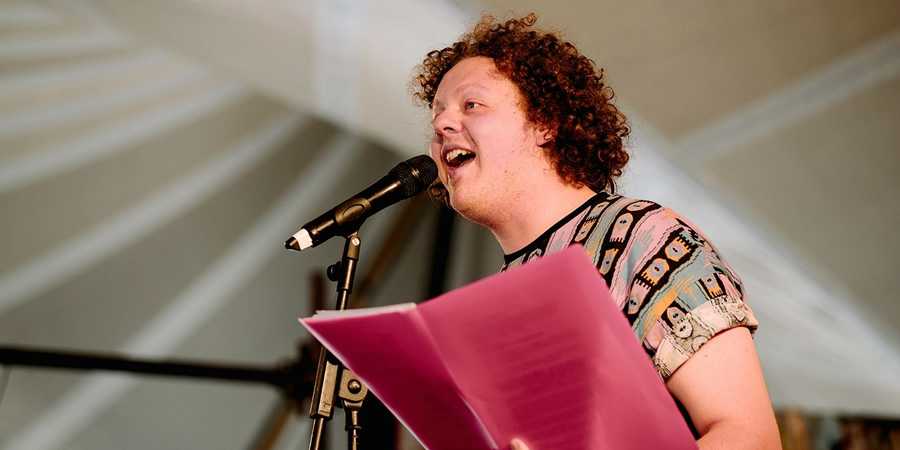 With comedy winding its tentacles across numerous stages, Latitude is the perfect place for a risk-free taster session: pop into a tent, watch the comic for five minutes, then give your companion that 'sit or scarper?' look. So this is the acid test for an act's newer material: if you can hold on to an audience with so many fascinating things happening on other stages here, you're doing something right.
The cabaret tent is the prime spot for locating interesting new LOL-givers. Sketch duo Sisters do one of those sets that impressionable kids will never forget, notably a very adult kitchen-sink drama, over a volunteer's head. Spoken word act Jack Rooke (pictured) premieres a hilarious, touching and issue-tackling new show about his romantic history, accompanied by a harpist. Then he (Rooke, not the harpist) hosts an entertaining and enlightening panel about love in the Speakeasy tent, with Joel Dommett on board).
On Friday night it's peak discovery time, with the Soho Theatre's splendidly mixed cabaret slot. Comedy-wise, Sean Patton - over from New York - rambles charismatically and keeps everyone pretty much on board, but much higher-wattage are Tash & Ellie (Natasia Demetriou and Ellie White). They soften us up with the appalling self-help duo Mum's the Word, then bring the tent down as their Sexy American Girls audition for Love Island. Absolutely sensational.
Dylan Moran goes musically off-message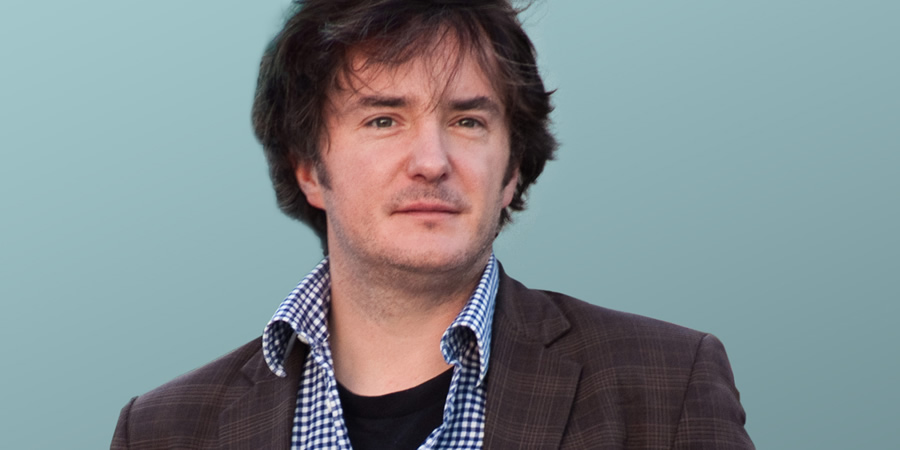 You always wonder if there's a bit of rivalry between the music and comedy stages at a major festival like Latitude, and certainly big bass-heavy bands can be the bane of an outdoor comic's performing life.
Battling against the beats isn't a massive problem here, in truth; what more often happens is that something great-sounding can make you briefly forget what you're supposed to be doing. We recall Mark Watson diverting from his book talk to do a running commentary on Chvrches' big song a few years back, while the now late, great Barry Crimmins took time out of his set last year to appreciate Glass Animals.
It happens to Dylan Moran on Sunday lunchtime this year, as he suddenly drifts off during an otherwise thoroughly enjoyable new-stuff set; there's an awkward silence, the crowd hold their breath, then Moran admits that occasionally he gets distracted at festivals, this time by what sounds like a "Guatemalan hate song."
Actually that racket is the House Gospel Choir, who are just about the most uplifting outfit you'll ever experience. Quite noisy too though: true.
...and so does David Morgan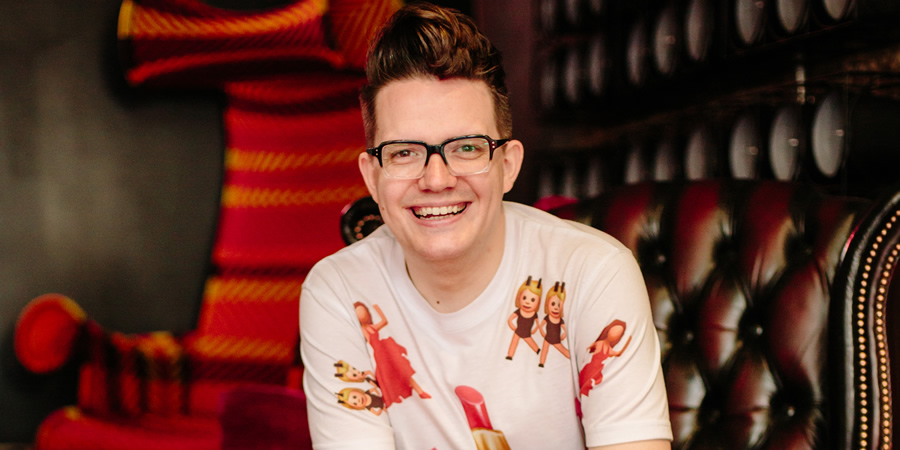 Later on Sunday, comedy stage host David Morgan has a curious dig at the music line-up (Solange! Mogwai! Jessie Ware! Wolf Alice! What more does he want?), and in particular the Saturday night headliners. "Who doesn't want to see The Killers?" he ponders sardonically, before then stage whispering. "Everyone!"
Morgan clearly did watch The Killers though, as he then recounts arguably the finest moment of unintentional comedy this year, which we missed but heard about from several sources. The Killers' glam-suited Brandon Flowers brings to the stage the big secret act from earlier that day, Liam Gallagher, who swaggers on, says hello, they can't think of anything else to do, so he buggers straight off again.
Liam still knows how to make an entrance. And exit. Although he still reminds you of Kathy Burke as Britpop Perry.
Big Stage, New Stars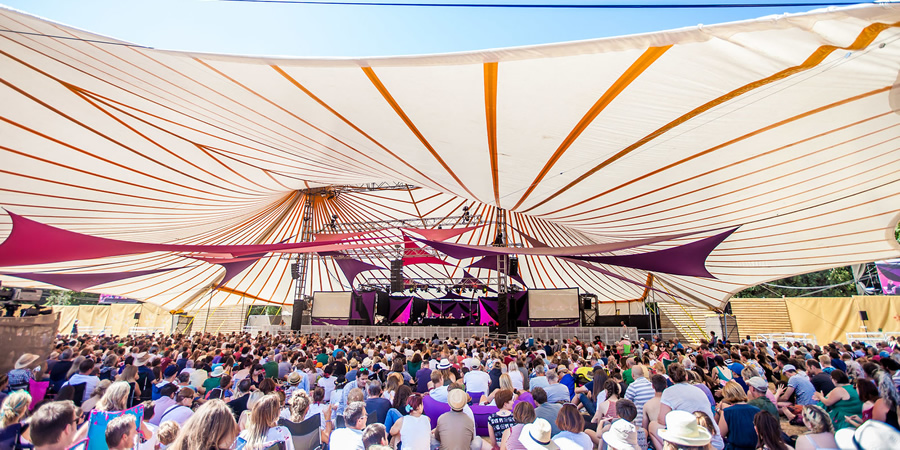 It's always good to see random tent-goers discovering new favourite acts. Spiky-tongued Aussie Rhys Nicholson is one of the big hits in the main comedy arena, his fast-talking gag-within-gag filth pretty much perfect for festival stages: one elderly woman near us laughs so hard throughout, you worry for the hygiene of her foldable chair. We're all watching her as much as Rhys.
Otherwise on Sunday there's a strong Irish contingent: either side of the aforementioned Dylan Moran is early host Jarlath Regan, who's a sure hand with the sometimes awkward crowd-wrangling, and gets a kid to say a particularly naughty swear word. Definite highlight...
Later it's the eagerly-awaited David O'Doherty, whose mix of chat 'n' songs is pretty fest-perfect too: how many other comics can throw in a couple of old classics (Life, Grand Designs) among the new stuff?
Also going down well on that stage: Darren Harriot has no probs with big beats as he just booms above them with his bouncer recollections; Lauren Pattison's sick-in-a-shop tale resonates with a tipsy crowd, although Lolly Adefope's characters were perhaps better suited to the cabaret stage a few years back. Still, she's off to do a big US TV series now, so won't be overly fussed.
Latitude, Actually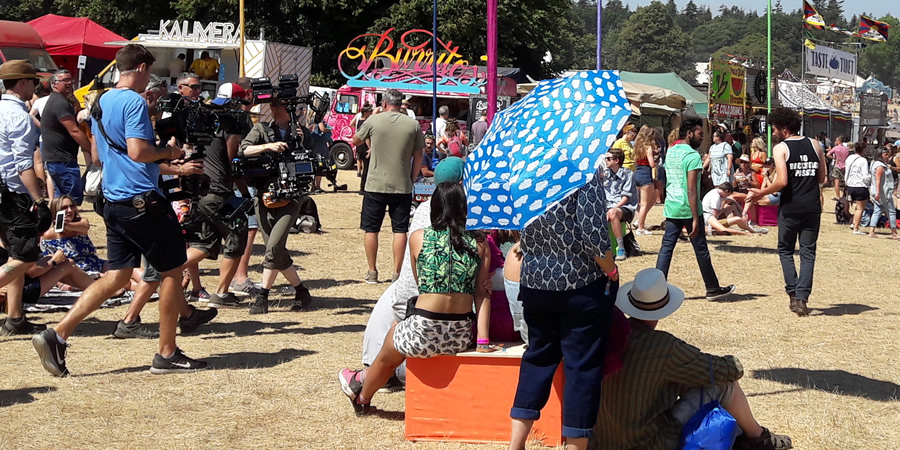 Also swirling around the site like aural dust are rumours of on-site movie sets. Idris Elba apparently filmed something DJ-related on the Thursday before we get there, then the new Richard Curtis and Danny Boyle movie is looking for extras on Saturday morning, and they're still at it around the site when we belatedly emerge from the campsite at brunchtime.
Curtis is looking impressively relaxed as Joel Fry (Plebs, Game Of Thrones) and a weary-looking Himesh Patel (Damned) traipse up and down a slope near the BBC Music stage, pursued by a phalanx of cameramen and boom operators. Of course, it being Latitude, most people don't bat an eyelid.
You get used to celebs dotted around the site, in truth: getting booked to play Latitude means you get to hang out here, too. Adam Buxton and Richard Ayoade are pottering happily together in the wilderness on Saturday evening, then go head to head on Sunday afternoon: the former on Jessie Ware's podcast in the Speakeasy, the latter being interviewed by Mark Kermode in Film and Music. They're both absolutely packed, so we'll call that a draw.
Masses of Masses
The comedy stage gets used for other stuff after dark, although at the marvellous singalong event Massaoke on Saturday night there is a surprise appearance from British comedy's Posh and Becks, our Beyonce and Jay Z - yes it's Marcus Brigstocke and Rachel Parris, giving a Grease medley great wads of gusto. They're having a lovely time.
The previous night, we made a pilgrimage to Film and Music for Oh My God, It's The Church. It's an uproarious mock holy house where a righteous dude calling himself Michael Alabama Jackson presides over two fabulously talented gospel disciples and - their secret weapon - a guy on the organ whose only words are his own name: "MORGAN!" We're all shouting it after a while, as the Blues Brothers-inspired ecclesiastical musical mayhem ensues.
Around the Park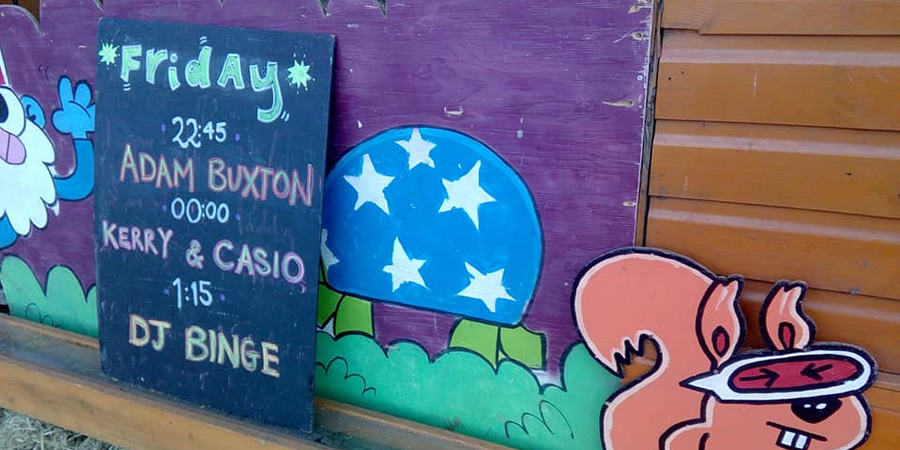 As Liam Gallagher's cameo proved, the non-comedy stages also throw up top ROFLs. Another legendary baggy/Britpop act, The Charlatans, rock the main arena on Friday afternoon, much to the delight of one middle-aged fan in front of us who does an excellent if unwitting impression of Michael Smiley's perma-dancing courier Tires, from Spaced. Absolute legend. Lord only knows how he reacted when Liam's gig was announced the next day.
One of the smallest music stages promises an aforementioned comedy hero: yep, unbilled apart from a little sign near the Disco Shed, Adam Buxton is down to DJ, and does so with evident determination, studiously knob-fiddling while random punters and ardent Buckles fans boogie to his funky punk 'n' hip-hop, and stare through his little shed window. Let's hope they don't do that at his home shed too.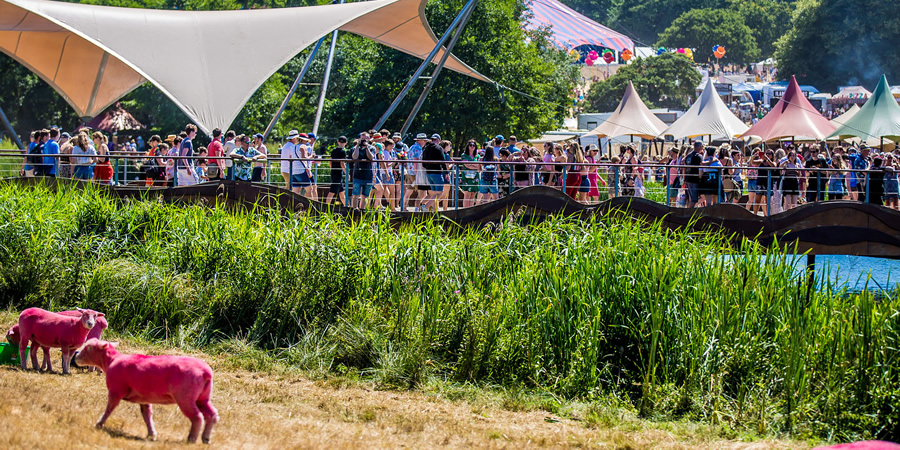 Elsewhere the breathtaking fountain holograms, leafy talks and jolly pink sheep all add to the unique Latitude experience, even the communal campsite. That arid weather encouraged a lot of ants to explore the area near our tent, which no-one minded too much - whoever does ants' PR is doing a cracking job.
Hence the chap in the tent next to us becomes somewhat infamous, as he wakes up one morning with an expired, entombed ant stuck up one nostril. Which sounds a bit un-fun for him - just think how it felt for the ant.