After finding unprecedented success with his first two hour-long offerings in 2013 and 2014, John Kearns returned to the Edinburgh Fringe this year with new show Don't Worry They're Here. He's now performing a fortnight stint at the Soho Theatre in London. We caught up with him to discuss the Fringe, the London transfer and his plans for the rest of the year.
Did you find the success of your previous two shows added any pressure this year?
You inevitably feel pressure as you want to do as well or preferably better than your last show, however you can only do your best at that time.
I'm proud that, each show I've done, I can look back and very much see who I was at that age. Once you recognise that, it then doesn't really matter how it goes, as long as it's being true to yourself in that moment. It does give the shows a shelf life though, as the person who performed my first show, for example, isn't the person I am now.
I quite like the idea of creating something knowing your older self is going to laugh and think, 'Fuck me, how did you get away with that?'
In Edinburgh this year you appeared on the Heroes Of Fringe roster, whereas in 2013 and 2014 you were on PBH's Free Fringe. How did you find that?
Without PBH's Free Fringe I wouldn't have been able to go up to Edinburgh in 2013, nor in 2008 when I did a four hander, or in 2011 when Pat Cahill and I performed Dinner Party.
I wanted to be the first act to go back to the Free Fringe after winning the Newcomer award, and I was proud that I stuck to my guns, as being in the same room I think was crucial to that show's success in 2014.
I did think about going back to maybe a bigger room with PBH, but if you want to play a room smaller than what you could probably fill, you have to take responsibility for your audience. With the Bob Slayer Heroes model, you can sell out and then not leave anyone disappointed who may have wasted their time queuing. Crucially, the door split is generous and you don't pay for the venue, in my case the best in Edinburgh - The Monkey Barrel.
What outweighs all of that though is the community feel that Heroes has. Spearheaded by Bob Slayer and with the support and love from everyone who worked at Monkey Barrel, you don't want to let them down when you play your part and do your show.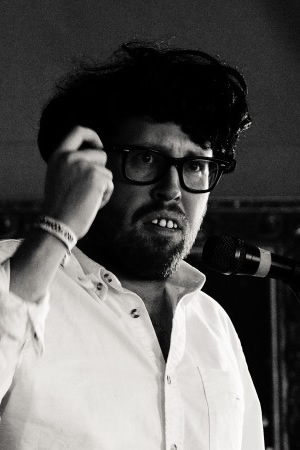 Without giving too much away could you tell us what Don't Worry They're Here is about? How did you come up with the premise?
The show is framed by a horse race I had playing on the radio back in January. I'd started to tinker with the idea of it in May but I couldn't get it to work and so ditched it until the last week of July when it was exactly what I felt the show was lacking.
It's about taking a punt and luck, from the usual stand point of an outsider looking in on the world.
I again worked with my friend Jon Brittain who directed the show. As well as co-writing Margaret Thatcher Queen of Soho he won an Olivier award earlier this year, so to have his time and council really helps knock the show into shape. I think it's important we're friends too as the unsaid sometimes spoke volumes and if I hear only him laughing in previews then I know something isn't going well at all.
Since you already have two in your pocket, obviously you weren't eligible for the Edinburgh Comedy Award this time, but the show has been well reviewed yet again... that's three for three! You must be delighted with that?
The greatest prize when you win the award is that you're out of the race. With reviews I've always read them, especially as there are a handful of reviewers who've seen every show I've put on. It's an opinion, I'm interested in it and with stand-up being such an ethereal craft it proves you were at least there.
I've always enjoyed reading criticism - AA Gill, Clive James, Craig Brown, John Lahr - it can be gossipy, bitchy, painful but I love when in Edinburgh a reviewer just gets a friend's show and shouts it from the rafters.
Were there any shows you managed to catch at this year's Fringe that really blew you away?
John-Luke Roberts' show was so full of invention and well-crafted jokes that I felt proud to be sharing a venue with him. I also thought Joz Norris and Suzi Ruffell's shows were wonderful.
What's the biggest challenge when preparing to transfer a show from the Fringe to a run in London? Is there anything you're nervous about?
Again, a bit like Edinburgh, I feel lucky in that I've held residences at the Soho Theatre before and so I know how to go about things. Jon and I have sat down and worked on how to put the show on a larger stage but there isn't much to do as, unlike past shows, this one is just me yacking on.
What's quite nice is that, up in Edinburgh, the show relied very much on the words as the stage was small and the room hot and intimate. When you get to take it somewhere else there is room to breathe and that can help make the show strut a bit.
Do you have any other plans for the show or will this run be its end?
A tour maybe in the spring, I've never done that before and it's something I'd like to do, then maybe the Melbourne and Sydney comedy festivals.
What does the rest of the year have in store?
I may be working with Doctor Brown on something in November and The Bearpit Podcast Podcast is coming back as Ewin Raffles has found his headphones.
In December, I'll be reprising my Christmas show at the Battersea Arts Centre for a week. I recorded my family's Christmas dinners in 2011 and 2012 so have spliced them over seasonal melancholy. Ironically, I didn't record any of last year's shows so I need to make sense of scraps of paper that say "Father Christmas' Belt" and "Don't say that again, that's only your family."