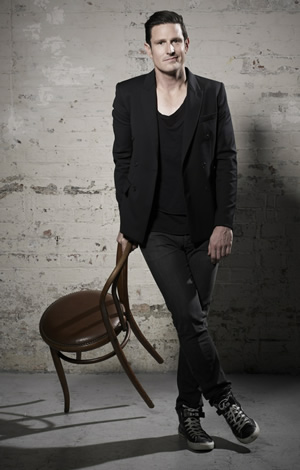 Top Australian stand-up comic Wil Anderson is currently in the UK to play some gigs at the Udderbelly festival. We grabbed him for a quick chat...
Hi Wil. You're in London to play some gigs here. The Queen has just had a fancy do. What's your thoughts?
Yes, Tuesday night at 9 after a four-day long weekend was probably not the ideal time to open a show. I was tempted to rename it The Official Jubilee Wilarious Dick Joke Performance to see if that could cash in the hype.
Perhaps I could have got Will.I.Am involved. He seems happy to do pretty much anything. Why did he sing at that concert? Is he British now? Was it a tribute to Prince Will.I.Am? Surely they could have roped all the BEP's in? Fergie could have done a tribute to Fergie, and who wouldn't have wanted to see the Taboo Tattoo?
Awesome idea! You've just come from the Cat Laughs festival. Did you have a good time?
The Irish are so welcoming. Partly because it's the first time an Australian has ever gone to Ireland for work and not the other way around.
The best thing about that festival is you get to share the stage with so many people you admire, and this year that included a few people I hadn't got to perform with before that blew me away like Milton Jones, Alex Horne and Chris Kent (who is new-ish, but I thought was fantastic).
What tempted you to come over to the UK to play the Udderbelly Festival?
My Dad is a dairy farmer who lives on the road he was born on. My Grandfather was a dairy farmer who built that road, and it is named after him. My brother is a dairy farmer one block away from that road. Me telling dick jokes in an upside down inflatable cow is as close as I can get to carrying on the family tradition.
Ha ha. Some of your material is political. Do you take your political stuff around the world, or change your set when playing abroad?
I guess most of the stuff I do these days is more personal political. I tend to talk more about issues that I find important, rather than the individuals. I find it more interesting. Plus Kevin Rudd jokes don't really travel.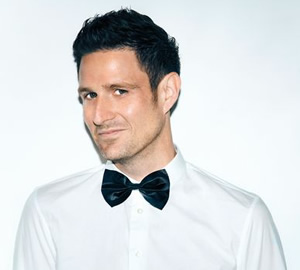 We noticed you tweet a joke about BBC talent show 'The Voice' the other week. How do you research 'local' jokes and keep things topical?
Luckily in Australia we just rip off anything that has been successful here, so it's pretty easy to make the references!
You tweet quite a lot of jokes. Shouldn't you be saving them for your show instead?
I try and keep the two completely separate. I don't really do twitter-style jokes in my act, which is a lot more long form (I think this year I only really discuss seven topics in the 70 minutes). Twitter is more for those things you might want to make a joke about in the moment, but I think I would blow my own face off if every night I went out on stage and said:
"That flashy light thing in Men In Black must work because I forget Men In Black films are shit and keep seeing them... Is this thing on?"
Have you heard of 'The Mad Bad Ad Show', which was on TV here earlier this year? It appeared to be a pretty similar format to your hit show 'The Gruen Transfer'? Did they nick the idea?
Yeah, bloody British stealing our ideas. Just like Have I Got News For You ripped off Australia's Good News Week, and Never Mind The Buzzcocks ripped off Australia's Spicks And Specks... and even worse they ripped them off years before those shows had even started.
I haven't seen The Mad Bad Ad Show, but I know a couple of the people involved and they are lovely and talented so I hope it's a big success for them.
Your show - which is much better incidently - has an odd title. What does 'Gruen Transfer' mean?
It is an odd title (although I think a little easier than The Mad Bad Ad Show which seems to have been named by someone connected with the Seuss family), which means I constantly have to explain it to people. It's actually named after a psychological phenomena that happens when you go shopping and your brain clicks over into unthinking shopping drone. Ever gone out for milk and nappies and come home with beer and a flatscreen TV? That's The Gruen Transfer. Either that, or you are just a very bad father.
We are making more, another 14 episodes this year, but I don't really love doing TV because it prevents me from being out on the road, so we try and limit it to 3 months per year.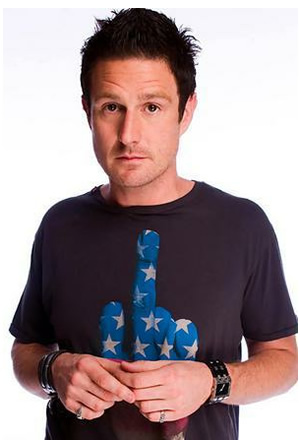 You blogged recently about starting to crack America, and in that process having to 'start your career again from the bottom'. It sounds like a huge, un-necessary thing to put yourself through?
If I didn't believe in putting myself through 'huge un-necessary things to do' then I would still be milking cows on Anderson's Rd. I think it was Kipling who said: "If you don't get what you want, it's a sign either that you did not seriously want it, or that you tried to bargain over the price." (By-the-way when I say "I think it was Kipling who said", I know it was because I googled it. I am not smart enough to remember stuff like that, my head is full of Batman quotes.)
You admit in the blog - admirably honestly - that there are occasional times you wonder whether you've made a 'horrible mistake' putting everything into breaking the USA market. Do you think you'll stick it out in the US?
As long as I feel like it is making me a better comedian, then yes. For me now all I am really driven by is to become the best comedian I can be, plus horrible mistakes are really good material for filling out blogs and festival shows.
Nice answer. What's next after London then Wil? Back to the US for more gigs?
After my Wilarious shows in London (and Set List on Friday night at the Soho Theatre) I am back to LA for three weeks of gigs and then back home to Australia for our new series of Gruen.
Cheers Wil. Thanks for all your time!
You can see Wil performing Wilarious at the Udderbelly Festival this Thursday and Saturday (7th and 9th June 2012). More info & tickets