Stand-up comedian Donny Donkins (who some people say looks like comic performer Barry Castagnola in a wig) answers a few questions.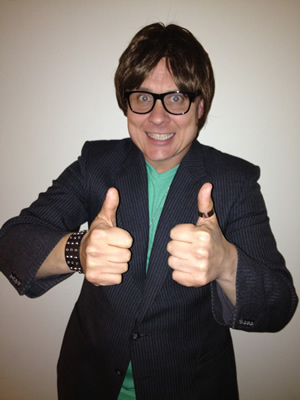 Hi Donny. Is this your first time at The Soho Theatre?
I'm dead excited that I'm doing my show at The Soho Theatre. I've only been in London for a few months and I haven't been to Soho yet. Soho is one of them places you dream of playing when you're a kid. Especially if you dreamt of being a stripper.
How long have you been doing comedy?
It seems like only yesterday I was winning the New Act Competition at the Goose and Gander in Chorley when in actual fact, it were over eighteen months ago.
And what a long way I've come. Both in distance (Chorley is 213.9 miles away from Soho according to AA Route Planner) and career-wise. Talking of which, I've also become more career wise. You have to be in this industry. I did a stand-up course when I started out that teaches you about how to be professional in the comedy world. Not just important stage techniques like how to walk confidently to the microphone (pretend the mic stand is a really good friend you are walking over to greet) and make sure you face the audience (pretty straight forward if they're all in front of you but takes some thinking about if there are people on the sides as well), but how to get gigs by bigging yourself up.
It's very hard to get booked just on the strength of your jokes. Especially if, like me, you don't really do 'jokes' in the traditional sense. I think 'traditional' 'jokes' are old-fashioned. It's hard to explain exactly what I do. It's funny alright, don't worry about that. But you can't put me in a box with a label. I'm like Stewart Lee but I also do funny surreal stories which I suppose are 'jokes' of sorts. I call them Jories (a cross between jokes and stories). I also sometimes, when something has inspired me on the news, do some really cutting edge topical stuff, which some people find offensive (the truth often hurts). Yes, it's shocking, but it's satire. I call it Shatire.
How did you start out in comedy?
I always knew I wanted to be famous but wasn't sure exactly for what. I was lead singer in a band at college but we split over artistic differences. I wanted to do original stuff but they loved the reaction they got from doing covers and they now play weddings and holiday camps as 'The Stoned Roses' (which I came up with even though I left them. And anyway, they play two Oasis songs in their set as well as at least one Beatles number so they're not really a Stone Roses tribute act).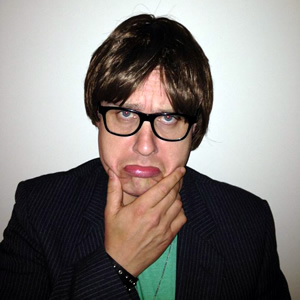 When I was a kid, I got a magic set for Christmas and on Boxing Day I did a show for the family that everyone says was really funny so I think that's where I probably got the bug but I didn't realise that until years later. I watched an episode of Live At The Apollo and I thought, 'I can do that' and then I just watched loads and loads of episodes of Live At The Apollo and Michael McIntyre's Roadshow and Dave's One Night Stand and the rest came naturally.
Who have you been influenced by?
Not so much influenced 'cos I'm really original but I suppose I've been inspired by Stewart Lee and Russell Howard and the bloke off 8 Out Of 10 Cats. Going back years ago, I was also a fan of Peter Kay. People say I'm like a cross between Bill Hicks and Noel Fielding from Never Mind The Buzzcocks.
Can you describe the show to us?
My show is pretty much the show I took to The Edinburgh Festival this year (although I've taken out most of the Scottish references including the title, Tossing My Caber).
Edinburgh is a must for any comedian. I don't understand any comedian who doesn't go to Edinburgh. I mean, sure, you lose thousands of pounds; sure, you have to flyer for hours for your own show, competing with hundreds of other shows; sure, you open yourself up for criticism from critics that can be critical to your career (note even the term critic is negative, it sounds like criticism); sure, some of the audiences can be really angry and sometimes aggressive, even shouting things like, 'You're F**king sh*t. I want my money back' and when you point out the show is part of the Free Fringe and they didn't pay, say things like, 'That's an hour of my life I'll never get f**king back so I'd say you at least owe me some money you w*nk*r.'
Any advice for people starting out?
Don't do it. There are too many people doing it already and not enough work to go around. Find something else to do.
'Where's Barry?' mixes character comedy, multi-media, stand-up, satire and farce. It's at the Soho Theatre on Monday 14th and Tuesday 15th January 2013. Details & Tickets