Phill Jupitus interview
One thing that mildly bewilders audiences at many stand-up shows is the stars doing their own off-stage introductions. Surely there's someone else knocking around who could bring them on?
Now Phill Jupitus hardly needs an intro at all, but he gets creative with the pre-show formalities on his comeback stand-up tour, Juplicity. He makes it a pre-show informality, in fact, and does something similar at half-time and after the final whistle, too.
That football terminology isn't entirely random, as we met in the reception area of TalkSport, where Phill was about to make a guest appearance on the always comedian-friendly Hawksbee and Jacobs show. Which was also fairly fitting, as Jupitus' lengthy break from stand-up was initially due to radio: the 6 Music breakfast show.
His was the first voice on that fine station, and after a five-year run he went on to write an autobiographical book about radio, Good Morning Nantwich, which I happily reread pre-meeting. Each of its chapters featured an accompanying playlist, and so - with records being a big part of Juplicity - Phill rustled up an exclusive one for this tour, which you'll find below.
After 6 Music he appeared in numerous musicals - Hairspray, The Producers, Chitty Chitty Bang Bang - before this sometimes-tricky return to stand-up. Indeed, this very week you might also catch him back on radio, as his appearance at Galway's Vodafone Comedy Carnival is set to involve an airwave hijack: more on that below too.
One poignant note before we proceed: this interview took place a few weeks before the devastating death of Sean Hughes, which is why we didn't spend the whole hour talking about Phill's old Never Mind The Buzzcocks colleague, which we probably would've. Instead, I'll direct you to our in-depth chats with the already much-missed Hughes, back in 2011 then 2015. May his after-fridge be awash with Bounty bars.
Right, back to TalkSport's lobby.
This is quite an appropriate venue to discuss the stand-up comeback - didn't you give it up to do 6 Music?
I've had very little time for regrets, but one of the few is that I stopped doing stand-up when I took 6 [Music] on. I was having to go to bed at eight or nine to be up at four. As a comedian I'd been getting up mid-morning then slouching around all day, then a weird burst of mental energy at night, and it was completely counter to that pattern. I was having to be mentally agile when I'd usually be asleep. That's where the problem came.
So the energy levels are all over the place.
It's totally fucked up. I finished 6 Music 10 years ago, so I didn't do stand-up for seven, eight years maybe.
No stand-up at all?
Nope. It's funny when you haven't done it for years and you go 'what is this? Woaah...' I quite like having poetry in my back pocket, so I can do Porky [the Poet - Phill's original onstage persona] for 20 minutes. I'm writing songs at the minute as well, which I haven't done before.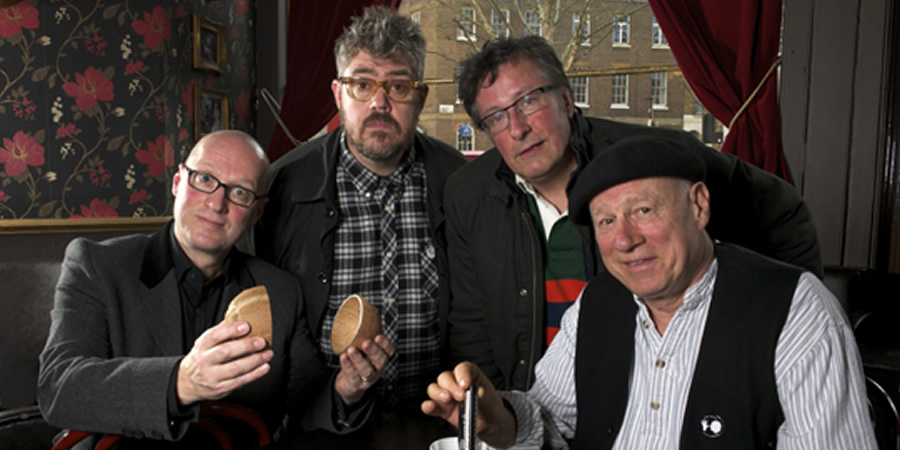 I saw you in that band a few years back with Neil Innes, Ade Edmondson and Rowland Rivron - that looked a laugh.
That's why we did it. Me, Neil and Ade would go out for lunches, drink a lot of wine, eat good food and tell crappy old stories. And then we said 'why don't we do some gigs?' So we got Rowland in as a rhythm section, and decided that we'd celebrate the comedy song. All manner of stuff: Jake Thackray, They Might be Giants, Flight of the Conchords.
But stand-up, giving it up was foolish. In your head you're still funny because you're doing stuff on Buzzcocks, QI, I was writing funny content for radio, but there's a different energy, a different speed when you're doing it live.
So what drew you back?
I got approached to do a comedy exchange, with [US comic] Eugene Mirman. So he came here, and he got the shitty end of the stick, because they gave him Up The Creek, Late 'n' Live, Friday night at The Comedy Store. The attitude of the Americans when someone says 'I'm from Britain' is 'good for you traveling all this way mate.' Whereas here it was 'Hi, I'm Eugene from America' and 'why don't you fuck off back there then?' So he had a shocking time with his gigs, where I had a lovely ride.
When I had the meeting about it I said 'I haven't got an act' - and they said 'that's the story, you coming back to stand-up', so we made it quite deliberately about that. I did a couple of 10s in Brooklyn, and they were both filmed, and I'd love to get footage of those gigs. By the second gig, I could do stand-up again. But your first thought is 'I used to do this all the time, why can't I do it?'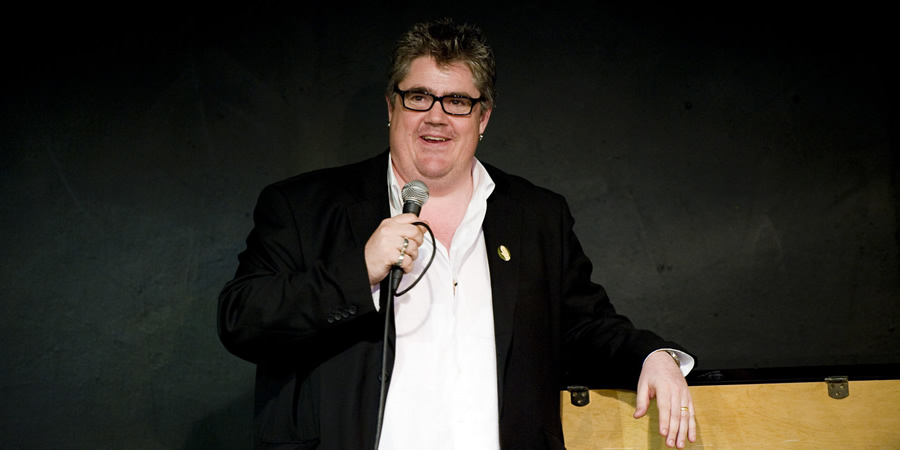 It reminds me of doing maths when I was kid - half my brain shouting 'you can't do this!'
It's that conscious thought. I was onstage in Hairspray once and the second you think 'I'm onstage in Hairspray!' you forget your lines: that happened two, three times.
But I'm doing an interesting thing on this tour: I'm onstage for the whole three hours, from when the theatre doors open until they close. So when the audience come in I'm just milling around on the stage, reading, books, I play the walk-in music on a record player. My clothes for the gig are hanging up, but I'm facing away from everyone.
How did that idea come about?
It was [Australian comic] Laura Davis, I saw Cake in the Rain in Edinburgh, and she was on stage when the audience arrived, and I thought 'we can do what we want!' You forget. I remember [Mark] Lamarr used to do a thing where he said 'show's over, go home' and he'd sit down on the stage: 'I'm not leaving until you've all gone.' His tour manager couldn't bear it, because some nights it took an hour for everyone to go. He'd sit and smoke fags.
Most comics would rather get on and get off I'd imagine.
I stand up, put on my jacket and hat, and go 'ladies and gentleman, would you please welcome to the stage...' and I just turn round; so it gets a good opening laugh. I give away the record I'm playing at the end of the gig, and the other thing I do, during the interval, is just walk around and chat with them.
So there are a couple of audience wrong-footing things: I start with Porky, which they're not expecting, then hang around and put Tunnocks teacakes and caramels out - the rush for the biscuits has got quite insane now. And I walk around with a packet of digestives: 'Want a biscuit?'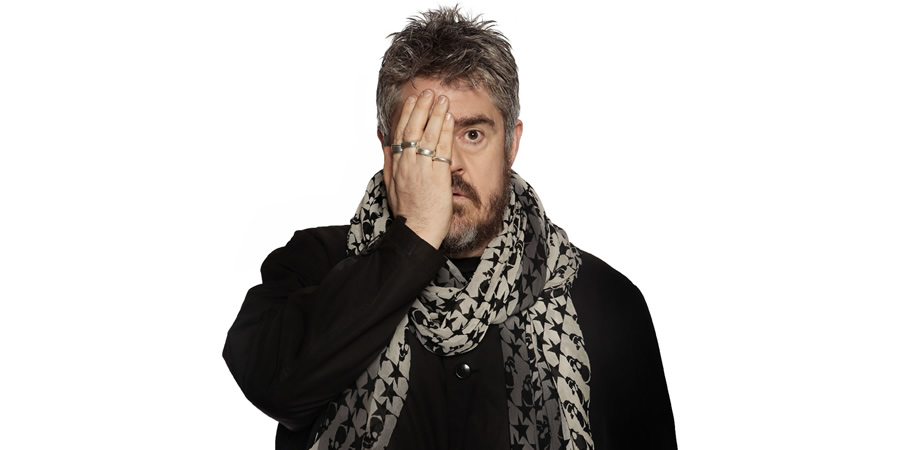 It's certainly a good way of winning them over.
But that wasn't why I'm doing it, it's playing with 'what is my role to them?' The more you go through life, Si, you're getting closer to not doing this anymore. So how can you make it different?
Doing it in that format only started with the third gig, I thought of it in between: the original plan was to have the carpet, record player and clothes onstage, then I'd walk on. Because I'm doing a second leg in the spring, a bit of me would almost like to get John Gordillo to direct the second half, just to see if it's any different.
It'd be interesting to see what he'd cut. Probably the bits you like best.
I've got a classic bit I remember that I thought would be an absolute goldmine, that I did at The Comedy Store for three nights; Stan the stage manager still mentions it. It was about how, legally, the producers of albums, if you didn't like the album, you could phone them and they'd have to come round your house and set your stereo up properly. Then I did a thing about Brian Eno setting my hi-fi up.
I thought it was fantastic, Phil Spector coming round. But the audience would just stare at me.
Perhaps a lot of people don't really know about album producers?
Who fucking knows!? But honestly, Stan didn't stop talking about it for years. I remember talking once to Frank Skinner about that, and he said 'you give it three gigs - if it dies the first time, keep your faith. If it dies three times, it was never funny.' Ha!
What are you talking about in this new show?
This is it - when Chitty finished I was quite convinced that I'd do stand-up, so I spent a year on this very phone recording voice memos of ideas. I was on tour for a year with [Jason] Manford, we're together, talking to him at night, and it's the first time I've toured with someone who had similar experiences, although he's younger: he's a dad too, and telly came along, then went.
So I was getting really fired up, recording ideas onto my phone for a year, the agent sorted some warm up dates, a tour of Australia, Europe and Scotland. Then I went to transcribe all the bits - and I'd done a software update, and it had erased all the voice memos. I know I had 37 minutes of bits on there. I couldn't remember one of them.
Oh heck
So I had no show, when I thought I had a show. But I remember talking to Stewart Lee when I was at 6 Music, 'how do I get back into stand-up, what do you do, how do you start?' And he said 'book a room at next year's Edinburgh, that's the first thing you do.' And I go 'but I haven't got a show!' and he says 'you will have now, because you've booked a room, you'll have to have one. Force yourself.'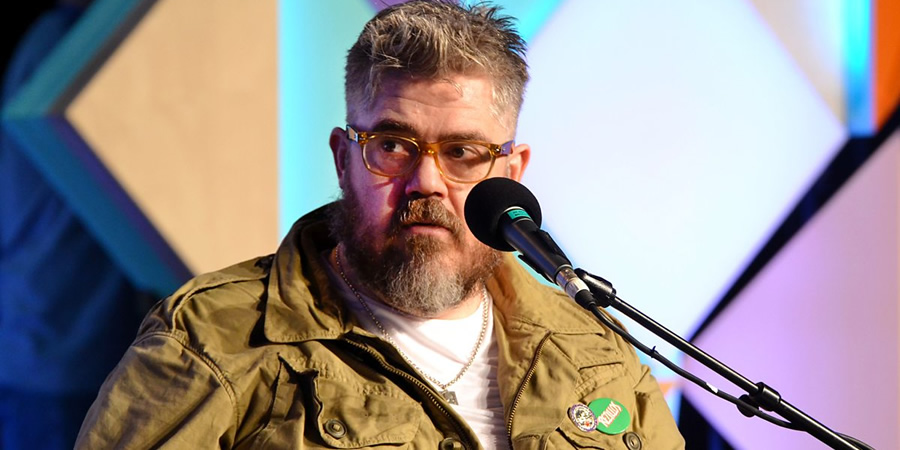 Just a quick aside here: have you done any radio recently?
I did internet radio for an Essex station, which was fun, and at the Galway comedy festival: when I do that I take over a radio show in Galway for a bit. I'll be doing that this year - the University of Galway student radio station is letting me have their morning show.
Reading that book, it's clear that you really love radio, so it seems odd that you don't have a regular show now.
The thing is, I don't like commercial radio, I don't like adverts, I think there's enough noise.
Right. Back to the phone update disaster then...
So, I've got no show, and Stewart says 'do the old show, but chip away at it, do less and less of the old show each time, replace it with new things.' And [Eddie] Izzard said the same thing: 'if you ever need to do a new act, do the old act backwards, and see what comes out. Just physically do it differently, swap the order around, make the brain work differently.'
So I did a bit of an old set, and thought of some new ideas, and I had a few older bits I've saved, wrote it all down. During the Scottish tour, I come up with a while different show: I've got three stories about things that have happened to me in Scotland, so I'd elaborate as much as I can, set yourself a little challenge, then again the next night. Then it tightens and gets good.
It's interesting how new material comes along...
I remember a mate who was convinced that he had all his best ideas at night; he'd wake up, have a great idea for stand-up, go 'I'll write that down in the morning,' then get up and forget it. So he put a recorder next to his bed, voice activated, and the plan was that he'd wake up and go 'blah blah' into it. So he did it, and he listened back to it, and it was farting. A lot of farting.
Farts are always funny. So you've got the material, the interaction, record giveaways, Tunnocks: it sounds like quite an evening.
And Porky - doing your own warm-up but doing something different, I don't know why I haven't been doing that for years. But the improv bits are nearer to the energy people have seen from me on Buzzcocks and QI.
It took me so long to realise that the secret to those shows, it's not what you say, its 'listen.' Be quiet, listen to what's being said in the room.
Because most people don't, they're just waiting to squeeze a gag in?
Most people are waiting for a gap. But this way, you enjoy your time more. TV can be a very needy medium for comedians, but the people who are good, there's no 'need' to them, they're relaxed.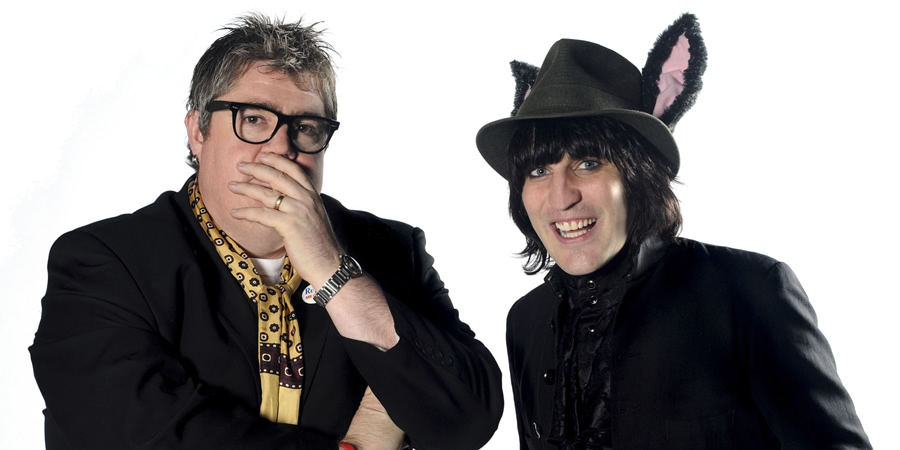 Me and Noel [Fielding, his fellow Buzzcocks captain], when Simon [Amstell] went... it had been about 'let's book someone deliberately and fuck them off,' which is definitely what happened. But me and Noel were like, 'this thing should be a laugh, we want people to have a good time.'
It used to be lots of scared pop stars going 'gimme some jokes,' so we'd then go 'you're funny - just be yourself. How's the tour been going? We're just going to have a laugh tonight, no-ones going to take the piss out of you.' Those last few series with me and Noel had a very different energy to them, and that was very deliberate.
It was a controversial show during the Amstell era.
Yeah but people loved that. They love spiteful telly, people getting voted out. But I don't.
How many episodes of Buzzcocks did you do?
I've got a thing with '250' on it, so 275, 280, something like that. There'll be a nerd who knows somewhere.
What's next after this tour then? Acting, poetry, more stand-up...?
I might actually go back to university. To do fine art. I've got the money, I've got the time, it'd be nice to go away from stand-up and come back as a student. What I like is when you go away from It, you're a different bloke. You're starting again.
Phill's Juplicity Tour Playlist
Side One
The Comedians - Roy Orbison
Where Were You? - Mekons
Out the Way - Nadine Shah
Paradise - Dr Feelgood
Magic Carpet Ride - Mighty Dub Katz (Eats Everything Remix)
To Hell with Poverty - Gang of Four
There's Gotta Be Something Better Than This - Sweet Charity OST (1969)
Sister Big Stuff - Prince Buster
St James Infirmary - Hot 8 Brass Band
God Save the Jungle - Benjamin Clementine
Side Two
(What's So Funny 'Bout) Peace Love and Understanding? - The Ataris
Business Girls - Sir John Betjeman
You Got Me - Meklit (feat the Preservation Hall Horns)
All I See Is Wagamama - Beans on Toast
He's on the Beach - Kirsty MacColl
A Case of You - Joni Mitchell
I Hope You're Happy Now - Elvis Costello & The Attractions
I Was Meant for the Stage - The Decemberists
Broadway - The Clash
I'm Gonna Be (500 Miles) - The Proclaimers