Sheeps
Sheeps: Live and Loud Selfie Sex Harry Potter
Sketch show
7pm (1 hour)
1-9, 12-24 & 26-27 Aug 2018
Pleasance Dome (QueenDome)
10 - 14
This is a 2018 show that has now finished.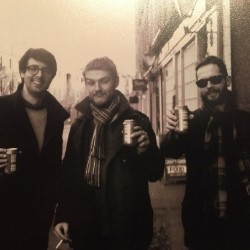 Mon
Tue
Wed
Thu
Fri
Sat
Sun
30
31
1
2
3
4
5
6
7
8
9
10
11
12
13
14
15
16
17
18
19
20
21
22
23
24
25
26
27
28
29
30
31
Everything is going well in the wider world. No crises on the horizon. Seeing that the coast is finally clear, the Sheeps three are reuniting, despite never having broken up. It will be lots of new sketches and no old sketches. So if you mainly like our older stuff then this one's not for you. But if you want to see new (wiser) sketches from some old masters (Time Out's 'Ones To Watch, 2011') then see it. 'Clever, arch and multi-layered... hilarious' (Guardian). 'The future of British comedy' (Skinny).
It's almost unfair to other sketch shows how good Sheeps: Live and Loud Selfie Sex Harry Potter is. Each of the cast could, in their own right, carry a sketch show - all three together make this a tour de force. All the contemporary elements are present - knockout sketches, layers within layers, conflict between group members and subversion of expectations across timing, topic and trope - and all are delivered with acres of skill, inventiveness and charm. If you're looking for a sketch show that feels at once both classic and cutting-edge, then Sheeps is a must-see.
Share this show
Reviews
Press coverage
This show's artwork was involved in The Comedy Poster Awards 2018
Credits