Only Fools & Three Courses
Only Fools And Three Courses
Comedy
6pm + 1 other time, see below (150 mins)
4-8, 10-15, 17-22, 24-27 Aug 2017
42.50 - 47.50
This is a 2017 show that has now finished.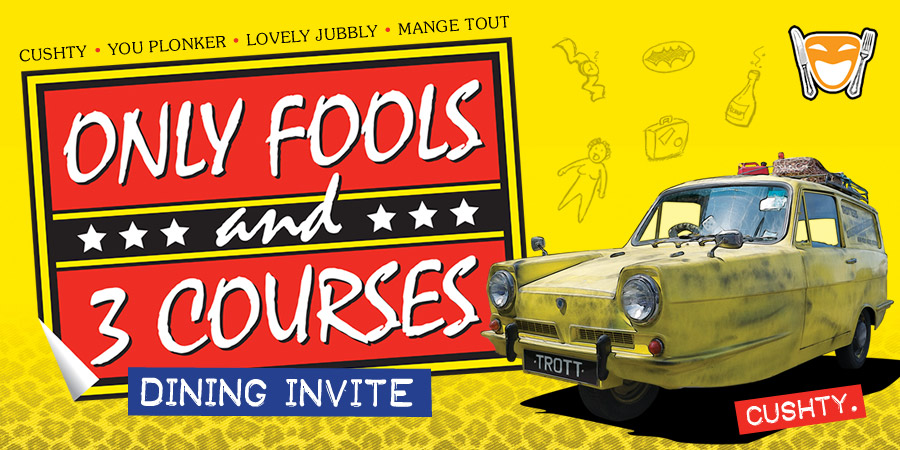 Show details
Comedy that will be performed at The Pear Tree at 6pm for 150 minutes, on the following days in August 2017.
Mon
Tue
Wed
Thu
Fri
Sat
Sun
1
2
3
4
5
6
7
8
9
10
11
12
13
14
15
16
17
18
19
20
21
22
23
24
25
26
27
28
29
30
31
The darker coloured days were at different times and/or venues. See below for information.
Other performances
1pm on 7-8, 10-15, 17-22, 24-27 Aug
Venue details
Join us for the interactive dinner event of the year combining a fine 3 course meal and top comedy action served up Only Fools And Horses style. Cushty. Marlene and Boycie are hosting a gala dinner but will things go to plan with Del, Rodney, Trigger, Raquel, Tony and Uncle Albert on the guest list? Expect a night of fun, chaos and mayhem in friendly party atmosphere with some of the finest comedy actors in the land, professionally produced to the highest standards with your enjoyment at the top of the menu. He who dares!
Share this page
Reviews
---
Four actors playing different roles throughout the evening.
BOYCIE, DEL BOY, RODNEY, UNCLE ALBERT, TRIGGER, MARLENE, RAQUEL, AND TONY ANGELENO.
Interactive dinning, so the sketches are played out around the tables, 70% of the evening is scripted; remaining is interaction with the guests, so every show is different.
The evening is based on Boycie and Marlene hosting a Gala Dinner to celebrate Tyler's Birthday: your guests are all invited!
The night starts with Marlene and Boycie mingling with the guests at the bar prior to being seated at the tables by Boycie. Once the guests are seated, Del and Rodney make an appearance dressed as Batman and Robin believing they are going to a fancy dress party; then the fun begins.
Further sketches follow, including the blow up dolls, Del Boy and his suitcase, Del and the pratfall, Trigger and his broom, Uncle Albert "when I was in the war", and much more.
Evening comes to a climax with Raquel and Tony singing "CWYING" - this will have everybody crying with laughter.
Cast mingle with the guests after the show for photographs etc.
Props will be provided for the show, including labels to stick on your water jugs: PECKHAM SPRINGS.