Vegas Nocturne
Vegas Nocturne
Cabaret
11pm (1 hour)
5-16 & 18-31 Aug 2015
8 - 12
This is a 2015 show that has now finished.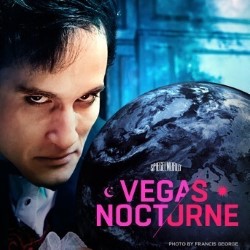 Show details
Cabaret performed on the following days in August 2015...
Mon
Tue
Wed
Thu
Fri
Sat
Sun
03
4
5
6
7
8
9
10
11
12
13
14
15
16
17
18
19
20
21
22
23
24
25
26
27
28
29
30
31
1
2
Venue details
Born in a Spiegeltent at New York's Fulton Fish Market, Spiegelworld created controversial comedy-circus hit Absinthe. It's now in its fifth sold out year in Las Vegas and touring Australia. You're welcome. (Or we're sorry). Vegas Nocturne explores the dark corners of contemporary physical comedy. Launched in Las Vegas in 2014, Vegas.com named it 'best new show'. Critics raved. What happens in Vegas... comes to Edinburgh. 'Disorienting, overwhelming and so much damn fun it feels like you must be getting away with something' (Las Vegas Weekly).
Share this show
Reviews
Full press release
From the team that brought you the controversial comedy-circus hit Absinthe, now it its fifth sold-out year in Caesers Palace Las Vegas, the Edinburgh Fringe Festival welcomes a UK debut with their latest hit Vegas Nocturne. The show comes to the Pleasance Courtyard and is sure to make a massive impact with its unique style and with some of the worlds best physical comedy performers. Prior to the Edinburgh stint the show will run at New York's Slipper Room & Union Hall in July.
The show originated at the Cosmopolitan Hotel Vegas inside a custom built venue called Rose. Rabbit. Lie for 7 months from January 2014. In its new guise the show continues to explore the dark corners of contemporary physical comedy, building characters based on two Old World families and their odd-ball friends.
The Vegas Nocturne company has been described as the finest group assembled in the world. Helming the production is John Gilkey (http://www.johngilkey.com/), a highly physical Los Angeles-based comedian who has worked with organizations as diverse as Pixar Films and created the major clown routines in Cirque du Soleil. Featured performers include Cirque Du Soliel veteran Spencer Novich (http://www.spencernovich.com/) and musician Peter Bufano (http://www.peterbufano.com/) who is, quite uniquely, an alum of both the prestigious Berklee College of Music and Ringling Brothers Clown College.
Spiegelworld produces live entertainment with their signature edgy, original humour. The productions span the genres of circus, cabaret, and burlesque and are totally unique, transporting experiences for the audiences. They have produced events like Silent Discos, concerts by artists ranging from Martha Wainwrightto Deerhoof, and special events for families, including appearances by celebrated songwriter Dan Zanes.
David Foster
Chief Executive Officer, Spiegelworld. Passionate about live pop culture, Foster has produced theatre on Broadway and Off Broadway and presented concerts in prestigious venues across Australia and the U.S. Credits include Broadway productions such as The Pee-Wee Herman Show and Kiki and Herb's Alive on Broadway, the Family Guy Sings concert featuring Seth McFarlane and the cast of Family Guy, Rufus Wainwright Sings Judy Garland at Carnegie Hall, the Off Broadway hit Puppetry of the Penis and much more.
Ross Mollison
Impresario and creator of Spiegelworld. Credits include Absinthe (Drama Desk Award Nominee for Best Special Event); Slava's Snowshow (Drama Desk Award Winner and Tony Award Nominee for Best Special Event); Desir (Drama Desk Nominee for Best Special Event) and many more.
---
Tweets by Spiegelworld