Vampire Hospital
Vampire Hospital Waiting Room
Music
1:15pm (1 hour)
7-31 Aug 2015
Free
This is a 2015 show that has now finished.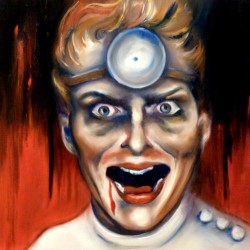 Mon
Tue
Wed
Thu
Fri
Sat
Sun
03
4
5
6
7
8
9
10
11
12
13
14
15
16
17
18
19
20
21
22
23
24
25
26
27
28
29
30
31
1
2
Venue details
The critically acclaimed 'stealth hit' **** (BroadwayBaby.com) of Fringe 2013 is back from the dead! Following a horrific car crash, handsome billionaire Arty Baldwin is trapped, wheelchair-bound and comatose in Dr. Bloom's waiting room. Unfortunately, the good doctor is distracted. Convinced that Arty is the Vampire Lord, he sets about awakening his new master so that he too might join the ranks of the immortals. A comedy B-movie for the stage, the show features live scoring and eight original songs including Let's Put the Fun in Funeral and Love is Like a Car Crash. ***** (ThreeWeeks).
Share this show
Reviews
Full press release
Cult comedy "B-musical" for the stage Vampire Hospital Waiting Room is back from the dead!
Having thrilled audiences and critics alike in just ten short shows during 2013, the Beach Comet team return to the Edinburgh Festival Fringe for a full run of everyone's favourite low-budget horror movie musical. Armed with a live score and eight original songs including Love is like a Car Crash and Let's Put the Fun in Funeral, the show follows handsome billionaire Arty Baldwin through a twisted single-act plot which finds him wheelchair bound and comatose following a horrific car crash. Luckily for Arty, he is soon wheeled into Dr Bloom's waiting room. Unluckily for Arty, the good doctor is convinced that Arty is the Vampire Lord on his long-prophesised return to power and can't help but be tempted by the prospect of joining the ranks of the immortals. To be fair, he thinks that every Wednesday. But could he finally be right?
Beach Comet was formed two years ago and is a company dedicated to staging comedy musicals at the Edinburgh Fringe and beyond. Vampire Hospital Waiting Room was their first show and, following phenomenally successful workshops which sold out in both Edinburgh (Bedlam Theatre) and London (Hen and Chickens Theatre), the show premiered at the Edinburgh Festival Fringe for a limited run. Scoring great reviews and quickly drawing crowds so large they had to open standing area at the back of the City Café the show also had three late-night extra shows at the Bedlam Theatre which had queues out the door and ticket allocations selling out over an hour in advance.
Theo McCabe devised and directed the show and wrote the score, as well as co-writing the book and lyrics with Craig Methven who also stars as Arty Baldwin. The pair first met at University where they performed as part of the long-running and prestigious improvised comedy troupe The Improverts, where they also performed alongside Joe McArdle who stars as Dr Bloom, and is also a stand-up comedian. The remainder of the cast is played by John Rushton, Abby Jackson, Martin MacLennan, Imogen Brabant and Roz Ford, who are all Fringe regulars also.
Beach Comet is currently working on a new musical with workshops due to begin in London in early 2016. Since the success of Beach Comet, a number of the performers have also begun performing non-musical productions as well. Their most recent show, Loch Ness Monster Hunter, will also premiere at this year's Edinburgh Fringe.
---
Credits
Tweets by BeachComet