Martin Croser
Martin Croser is an Evil Robot Sent from the Future to Destroy Us All
Stand-up
4:20pm (55 mins)
8-29 Aug 2015
Free
This is a 2015 show that has now finished.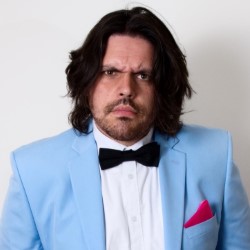 Show details
Stand-up show starring Martin Croser performed on the following days in August 2015...
Mon
Tue
Wed
Thu
Fri
Sat
Sun
03
4
5
6
7
8
9
10
11
12
13
14
15
16
17
18
19
20
21
22
23
24
25
26
27
28
29
30
31
1
2
Venue details
Happy-go-lucky nihilism from a man in a powder blue suit. 'Many moments of absolute brilliance' (Scotsman). As heard on Josie Long's Lost Treasures podcast.
Share this show
Full press release
An Hour of happy-go-lucky nihilism from a man in a powder blue suit.
Martin Croser is an Evil Robot Sent from the Future to Destroy Us All is an hour of stand-up in the back room of one of Edinburgh's better cocktail bars. Martin will be telling jokes about polyamory, the band Slayer, school huts, Marie Curie and the BHS cafe. He'll also be wilfully misinterpreting idioms because, when you boil it down, that's all that comedy really is. He makes no guarantees about whether or not the show will have any jokes about robots in it.
At last year's fringe Martin Croser performed a one off show called One Night Only for Entirely Practical Reasons. It was an all singing all dancing production that featured cameos from a Norse Druid, John Cale of The Velvet Underground and a man who claimed to be the world's leading authority on door-stops. This year he'll be doing no singing or dancing, he's fired all of the cast and he's written an entirely new hour of material.
Martin has played clubs across the UK including The Stand, Up the Creek, Comedy Knights, The Backyard and The Covent Garden Comedy Club. He is also a regular at many bespoke and experimental comedy nights such as Josie Long's Lost Treasures of the Black Heart, Alternative Comedy Memorial Society, Science Show-off, Museums Show-off and Bec Hill's Pun Run. He has written jokes for Newsjack, was a finalist in the 2015 UK Pun Championships and had a selection of his jokes printed in The Daily Mirror. He also recently made a cameo in the pilot episode of Diane Morgan's new comedy series.
---
Tweets by M_Croser