Mancunian Rhapsody
Mancunian Rhapsody
Play
9:45pm (1 hour)
6-29 Aug 2015
Free
This is a 2015 show that has now finished.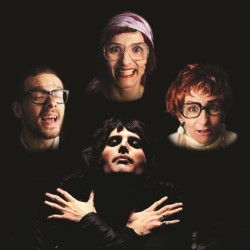 Mon
Tue
Wed
Thu
Fri
Sat
Sun
03
4
5
6
7
8
9
10
11
12
13
14
15
16
17
18
19
20
21
22
23
24
25
26
27
28
29
30
31
1
2
Venue details
What do you get when you mix Freddie Mercury with a neurotic Jewish mother and her rabbi son with a childish secret? When nerdy Michael plans to marry the Brooklyn born, alopecia-ridden, lisp-inflicted and overweight Devorah, devastating rumours ruin everybody's plans. A true-ish, Jewish musical comedy which satirises religion, musicals and Queen in one foul swoop! Religious identity, forbidden familial and sexual relationships, betrayal and the power of gossip are all showcased through parody and popular music! A show not only about the extremes of Jewish life, but also the role of musical theatre itself.
Share this show
Reviews
Press coverage
Full press release
A true-ish, Jewish musical comedy with chutzpah and heart - it's a kind of tragic!
Jewish mother of 3, Rivki has a secret - Freddie Mercury is her hero. Her nerdy son, Rabbi Michael plans to marry American, alopecia-ridden, lisp inflicted fiance Devorah, until devastating rumours emerge.
Religious identity, forbidden relationships, and prejudice are explored through parody and pop. Experience an intimate glance into a bizarre world through this documentary style production.
Inspired by ITV's Strictly Kosher, Tammer Productions was formed to develop Mancunian Rhapsody. Following a sell-out run at the 2014 Camden Fringe this is their Edinburgh Festival Fringe debut.
Debra Tammer graduated from Oxford university and studied classical acting at LAMDA. Previous credits include touring with the English Shakespeare Company, ITV's Fat Friends and Suzie Gold. She also co-wrote the mockumentary film That's For Me!, screened at Montreal Comedy Film Festival, UK Jewish Film Festival and Israeli International Festival of Arts.
Tommy Burgess is an actor, musician and songwriter. Previous credits include lead roles in How To Disappear Completely And Never Be Found by Fin Kennedy and short film The Kitchen Table. He is currently developing one-act play called All Of Me and writing Slit Throats & Petticoats, a horror musical.
Rachel Creeger directs new writing on the London Fringe, working with writers, comedians and actors to hone material and delivery. Writing credits include An Insomniac's Guide to Ambulances, Staffroom and several children's commissions. Rachel hosts comedy night Upstairs at the Adam & Eve! and is a founder member of the So & So Arts Club.
Credits