Lili la Scala
Lili la Scala: Another F*cking Variety Show
Cabaret
11pm (90 mins)
6-16, 18-23 & 25-29 Aug 2015
7 - 10.50
This is a 2015 show that has now finished.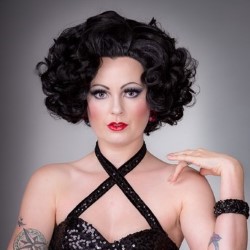 Show details
Cabaret starring Lili La Scala performed on the following days in August 2015...
Mon
Tue
Wed
Thu
Fri
Sat
Sun
03
4
5
6
7
8
9
10
11
12
13
14
15
16
17
18
19
20
21
22
23
24
25
26
27
28
29
30
31
1
2
Venue details
The hottest ticket of the Fringe is back! Treat yourself to a late night date with Lili la Scala and her glittering cavalcade of Cabarati. Previous guests include Jason Manford and The Boy With Tape on His Face. 'A riotous and scintillating evening of risqué comedy, fabulous cabaret and general impropriety' ***** (BroadwayBaby.com). 'There is no better way to spend an evening' ***** (ArtsAwardVoice.com).
Share this show
Reviews
Press coverage
Full press release
The hottest ticket of the Fringe is back! After blockbusting Fringe seasons in 2012, 2013 and 2014, and a host of five star reviews, Lili la Scala returns by popular demand to delight you with her own brand of late night cabaret spectacle and a veritable cavalcade of Cabarati.
Lili has searched far and wide for very special guests to join in with the fun, and as ever is your most esteemed host, punctuating the action with her stunning voice and spectacular couture.
Previous guests include comedians Jason Manford and David O'Doherty, silent comedy marvel The Boy With Tape On His Face, terrifying clown Red Bastard, comedian & chanteuse Lady Rizo, gentleman juggler Mat Ricardo, YouTube legends The Axis of Awesome, and mind-boggling international sensations Gamarjobat to name but a few.
Come and feast your eyes upon a veritable variety smorgasbord: comedy, magic, burlesque, music and more...
2015 sees AFVS hit the road, with tour dates at Jesterval in Gateshead, London Wonderground and a triumphant return to Pleasance Queen Dome. Don't miss the late night madness everyone's talking about.