Justin Panks
Joy is the Enemy of Progress
Stand-up
10pm (1 hour)
6-10, 12-17 & 19-26 Aug 2015
Free
This is a 2015 show that has now finished.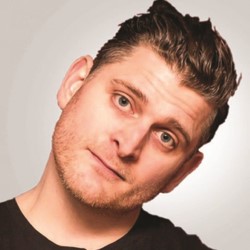 The listing for this show in the printed programme is wrong. The following details are more likely to be correct, but we suggest you independently check.
Show details
Stand-up show starring Justin Panks performed on the following days in August 2015...
Mon
Tue
Wed
Thu
Fri
Sat
Sun
03
4
5
6
7
8
9
10
11
12
13
14
15
16
17
18
19
20
21
22
23
24
25
26
27
28
29
30
31
1
2
Venue details
Are you happy? No, of course not. You're not supposed to be. The only human beings who're truly happy sit around the war memorial drinking shoe polish. Forget trying to be being happy, embrace the misery and try to enjoy the simple things in life, such as an hour of unpretentious, brutally honest stand-up comedy that's way better than you think it's going to be. 'He sees that thin line, and he runs towards it at full speed, but stops in just time to avoid seriously getting anyone's nose out of joint' **** (ViewsFromTheGods.co.uk).
Share this show
Press coverage