The Dark Room
John Robertson - The Dark Room: Symphony of a Floating Head
Panel show / Improv
8:40pm (1 hour)
6-30 Aug 2015
6 - 10.50
This is a 2015 show that has now finished.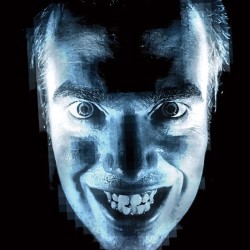 Show details
Panel show / improv starring John Robertson performed on the following days in August 2015...
Mon
Tue
Wed
Thu
Fri
Sat
Sun
03
4
5
6
7
8
9
10
11
12
13
14
15
16
17
18
19
20
21
22
23
24
25
26
27
28
29
30
31
1
2
Venue details
The world's only live-action videogame remixed with new levels, torments, Darren. Will you: A. Panic? B. Panic more? £1,000 grand prize. ***** (FringeReview.co.uk). ***** (Skinny). ***** (ThreeWeeks). Winner Argus Angel, Brighton Fringe.
Share this show
Reviews
Press coverage
Full press release
The inimitable John Robertson returns with all new, reincarnated version of cult Fringe favourite - The Dark Room. Part sequel, part reboot, aaallllll Dark Room!
Taking place in a post-apocalyptic trial to determine the future of mankind, the immersive theatre experience of 1980s text adventures is back! Rising from the ashes of the original Dark Room, the sheer intensity of John Robertson's floating head host returns.....but with blood on his hands and justice on his mind! And cyborg armour!
The world's only live-action videogame has been remixed with new levels, live music, extra torment, video projections, atomic nightmares and brain-bending audience challenges.
Is it a NEW Dark Room? It is! How can you tell, Darren? YOU'RE IN A DARK ROOM! It's a new Dark Room built from the original Dark Room. Part prequel, part sequel, part continuation, part reboot, part Soviet Thought Experiment. The Head was born in a nuclear reactor and humanity will pay. It's the Mad Max of the Fringe!
BUT YOU DON'T HAVE A CLUE...
Why? Because you awoke to find yourself in a DARK ROOM. Again!
For those who played the first one there is much more to discover as well as some classic catch-phrase moments (damn you Hope!). The first Dark Room only ever had two survivors.... this time the stakes are raised and survival will lead to a prize of £1000!
Three years ago, Australian stand-up comedian John Robertson posted a choose-your-own-adventure-game on YouTube, entitled The Dark Room. In the video, the viewer is told that they have woken up in a dark room, and have to find their way out - accompanied by some less-than-helpful suggestions from Robertson, spot lit by a torch under his chin. The various chapters of The Dark Room have been viewed more than 4,000,000 times on YouTube. Nobody has yet made it to the final exit. Online, it has been played in every country on earth, being curiously popular in Germany, France and the U.S. It has been responsible for 70 different death threats from eight different countries.
If this is to be your first visit to the Dark Room....... Mwah hahahaha!
---
Tweets by Robbotron