Jack Rooke
Jack Rooke: Good Grief
Theatre
4pm (1 hour)
6-16 & 18-30 Aug 2015
6 - 10
This is a 2015 show that has now finished.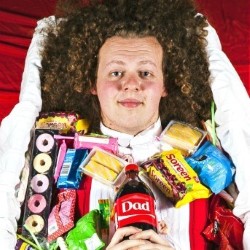 Mon
Tue
Wed
Thu
Fri
Sat
Sun
03
4
5
6
7
8
9
10
11
12
13
14
15
16
17
18
19
20
21
22
23
24
25
26
27
28
29
30
31
1
2
Venue details
With a coffin full of sympathy snacks, Jack Rooke and his 85-year old nan invite you to their weird and wonderful world of bereavement. Blending comedy, film and storytelling, Rooke's debut hour examines how we treat bereaved people, and challenges proposed 2016 welfare cuts for grieving families in Britain. Using humour to break down the awkwardness of discussing death, Good Grief aims to celebrate lost loved ones and finding happiness after tragedy. 'Rooke's anecdotes are hilarious' (BroadwayBaby.com). Featured on BBC Radio 1's Guide To Happiness. So You Think You're Funny 2014 semi-finalist. thegoodgriefproject.com
Share this show
Reviews
Press coverage
Full press release
"Statistics suggest that 1 in every 1 people will eventually die. So milk it! After Dad died I got a free degree and a discount in Harvester."
On the same day as his Dad's funeral, the town Jack Rooke lived in was voted 'The Happiest Place To Live In Britain'. He was 15, in the middle of his GCSE's and after ruling out becoming an X Factor sob story, Jack decided to use his grief to get whatever he wanted out of people and life.
Co-written with Jack's 85 year-old Nan, Sicely Rooke, Good Grief aims to provide a range of perspectives to losing a loved one.
"People ask me more about my friends who've died than my son. I want to talk about him. It doesn't upset me. I want to remember."
With a coffin full of comfort food and a copy of Jack's 'Dead Dad Diary', Good Grief blends comedy, storytelling and film to explore how we treat the bereaved, whilst protesting against 2016 welfare cuts for low-income grieving families and celebrating finding happiness after tragedy.
Bio & Show Info
Jack Rooke is a performer, comedian and campaigner from Watford.
He is the resident on-air expert in bereavement and suicide for BBC Radio 1's Surgery and an ambassador of male-suicide prevention charity CALM (Campaign Against Living Miserably) curating their Save The Male comedy fundraisers and becoming Deputy Editor of the quarterly lifestyle magazine, CALMzine.
Jack also hosts award-winning stand-up poetry night Bang Said The Gun, and has performed at Soho Theatre, Roundhouse, Royal Court, Trafalgar Studios, Latitude, Bestival and the Edinburgh Fringe.
At 16 Jack landed work experience with DJ Rob Da Bank at Bestival and now hosts The Guardian Literary Institute at Camp Bestival and The Arts Amphitheatre at Bestival. From Bestival he joined the Roundhouse Poetry Collective under the guidance of spoken-word artist Polar Bear and has since become a resident artist at Roundhouse and Soho Theatre's Comedy Lab.
Last year Jack was featured on the cover of The Independent On Sunday's New Review magazine, as one of five creatives in their 20's tackling mental health and was also featured on BBC Radio 1's Guide To Happiness documentary.
At 21 years-old, Good Grief is Jack's debut hour at the Edinburgh Festival Fringe, with artistic support from Underbelly, Roundhouse and Soho Theatre.
The performances at Underbelly are also in conjunction with 'Death On The Fringe', an initiative set up by Scottish bereavement organisation 'Good Life, Good Death, Good Grief', a charitable campaign aiming to raise awareness of bereavement issues in Scotland. The show will also be supporting the work of the Childhood Bereavement Network and their current lobbying against government cuts to Widows Parents Allowance, a welfare payment for low-income bereaved families. This is currently under threat and may result in thousands of bereaved families struggling to make ends meet.
Good Grief is also part of the Plan-If Campaign, to encourage more parents to make plans for their children if they were to die unexpectedly.
In 2015 Jack is curating 12-months of performances for BBC Radio 1's Spoken-Word Season on The Surgery, a series of social action programmes aiming to use poets to spark nationwide discussions on youth issues. He will also be taking Good Grief to Bestival & Shoreditch Town Hall this autumn.
---
Credits
Tweets by jackrooke
Visitor reviews

George Raeburn
Having seen Good Grief in Shoreditch I found it both very humorous and touching, having recently lost three brothers within a two year period, the show brought it home to me that although I have my own family there was still this feeling of being alone. Well done Jack Rooke for helping me with this grief that I had. george.raeburn@virginmedia.com