In Cahoots
In Cahoots: Two White Guys
Sketch show
7:15pm (1 hour)
5-31 Aug 2015
8.50 - 10.50
This is a 2015 show that has now finished.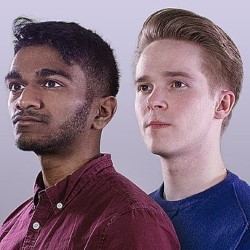 Mon
Tue
Wed
Thu
Fri
Sat
Sun
03
4
5
6
7
8
9
10
11
12
13
14
15
16
17
18
19
20
21
22
23
24
25
26
27
28
29
30
31
1
2
Venue details
Join In Cahoots for an hour of sharp, silly sketches as they take on life's greatest mysteries and mundanities. A thrillingly fast-paced, uniquely British sketch comedy show from a hotly tipped duo, and there's only one white guy - thank God. As seen on the BBC. 'Simply hilarious' ***** (ThreeWeeks). 'Raucously funny and massively varied sketches' ***** (BroadwayBaby.com). 'Ingenious' ***** (EdinburghReporter.co.uk). 'Endlessly entertaining' ***** (Black Diamond FM). 'Edinburgh, you are in for a treat' ***** (ThePublicReviews.com).
Share this show
Reviews
Press coverage
Full press release
In 2013, In Cahoots' debut Free Fringe sketch show was a massive word of mouth hit with consistent full houses and a slew of five-star reviews.
Packing nuanced naturalism and cartoonish parody in equal measure, this exciting and fresh young sketch act is one of the circuit's few multi-racial comedy acts; and they excel at holding a mirror up to modern British culture.
With frenetic sketches which cram in a colossal assortment of characters and ideas, In Cahoots are fast building a reputation for inspired and raucously funny performances, as they slyly shift from subtle sketches to warped pastiches with a fierce energy and zero props.
After going down a storm at the Free Fringe for the past couple of years In Cahoots are now Pleasance bound and set to whip up a whole storm of silly. They are bold and contemporary and about to win you over with their sharp insights into the everyday.
Writer/performers Paul G. Raymond and Luke Manning are In Cahoots, a hotly tipped and uniquely British duo, tackling life's greatest mysteries and mundanities all within an hour of fast-paced, astute, off-the-wall, and immensely varied sketch. The pair affectionately poke fun at our peculiar little island, through inventive and vividly imagined worlds.
Taking assumptions and lazy thinking to their illogical comedic conclusions, these two fresh talents have a breathless energy and a critical eye for what we take for granted. With their wry perspectives, they mine the everyday for the absurd comedy of the seemingly ordinary, that the rest of us so often miss.
Paul and Luke have worked together for six years, most notably as two fifths of London's acclaimed improvised comedy troupe, Shoot From The Hip. They have numerous fringe theatre credits, with six Edinburgh Fringes between them. Additionally, Paul starred in Channel 4's Sit.com, written by David Baddiel, and Luke has improvised in current affairs show Freshly Pressed for LAStheatre, alongside some of contemporary comedy's rising stars.
---
Credits
Tweets by InCahoots