Glory Pearl
The Naked Stand-Up
Stand-up
11pm (50 mins)
6-15 Aug 2015
8 - 10
This is a 2015 show that has now finished.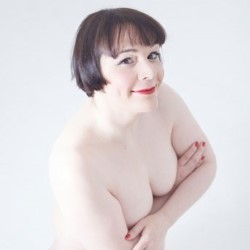 Show details
Stand-up show starring Emma Mitchell performed on the following days in August 2015...
Mon
Tue
Wed
Thu
Fri
Sat
Sun
03
4
5
6
7
8
9
10
11
12
13
14
15
16
17
18
19
20
21
22
23
24
25
26
27
28
29
30
31
1
2
Venue details
Live and undressed, join London Cabaret Award 2015 nominee Miss Glory Pearl, in her sell-out one-woman show. The Naked Stand-Up is a funny and heartfelt exploration of the body in the 21st century. Join Glory on a journey through legal absurdity, feminist cliché and the impossible beauty standards that leave us all feeling a little bit crappy about ourselves. If you've ever looked in the mirror and thought 'Ugh!' this show's for you. She's frank, she's funny, and she isn't wearing any clothes. 'Funny and genuine ... feel-good comedy at its best' **** (BroadwayBaby.com).
Share this show
Reviews
Press coverage
Full press release
Glory Pearl - The Naked Stand Up makes a return to the world's biggest arts festival this August with her TOTALLY NAKED one woman show.
It's been a busy year for the ex-school teacher turned stand-up comedian, Glory Pearl. Since debuting The Naked Stand Up at Edinburgh Fringe 2014, Glory has taken her one woman comedy show to venues and festivals across the UK, including Brighton Fringe, Guildford Fringe, and LAMBCO Fringe, as well as a Sold Out run at London's Mimetic Festival.
Earlier this year Glory was nominated for a London Cabaret Award, shortly after she performed to over 500 people at The British Naturism Annual General Meeting - to an entirely naked audience!
Glory explained where the idea for the "revealing" show came from: "I have spent over six years working on the alternative cabaret and burlesque scene. So often after performing one of my burlesque routines (where I usually end the act in some state of undress) women would come up to me and tell me how brave they thought I was. I wanted to write a show that asked "what's so brave about being naked, and why are so many of us ashamed of our bodies?" and I figured that if I was going to stand on stage and say that I thought that there was nothing wrong with being naked, really I should put my money where my mouth was. So I decided I would perform the whole show in the nude."
Glory - who worked for many years as a secondary school teacher but later left her vocation to pursue a career in alternative cabaret - was the first female comic to perform an entire stand-up show at the Edinburgh Fringe completely naked. In the buff. Rocking her birthday suit. Baps, bum and bush well and truly out. The response from both critics and audiences was overwhelmingly positive, with the heart-warming show being described as 'feel-good comedy at its best' by Broadway Baby.
This year's Naked Stand Up show features new material from the bare-faced cheeky comic. Glory explains: "I've been working with comedy guru, Logan Murray to develop the show. The novelty of my nakedness wears off in the first fifteen minutes so I've been working really hard to make sure that the show does what it says on the tin. I'm naked. And I'm a stand-up. I want people to leave the theatre having enjoyed a really good laugh"
When asked if she gets nervous about being naked in front of hundreds of strangers, she replies with a wry smile: "Not really. I'm aware that being naked in a room full of strangers is some people's worst nightmare, but once you've handled a room of unruly kids or a boozy audience in a late night cabaret venue, telling a few jokes with your muff out is a walk in the park."
About Glory Pearl
London Cabaret Awards 2015 nominee (Best Alternative Performer), Glory Pearl lives in Tonbridge, Kent, is an ex-school teacher, advertising executive, and trained pole dance and trapeze artist. She began performing burlesque in 2008 and has appeared at many international burlesque festivals. Following serious injury in 2011 she had to re-evaluate her relationship with her body, and became increasingly frustrated by contemporary discourse on beauty, body image, and our relationship with our physical selves. Pearl describes herself as a feminist - something she believes is entirely compatible with taking your clothes off for a living. She is also the producer of Naked Girls Reading, London - part of a global network of events set up by Chicago-based burlesque artist, Michelle L'Amour, that calls on the timeless tradition of celebrating the female form in a way that exalts her as artistic muse whilst marrying her image to texts of high intellectual, cultural and social value.
---
Tweets by MissGloryPearl