Forget About It
Forget About It
Theatre
5:50pm (45 mins)
24-30 Aug 2015
4 - 6
This is a 2015 show that has now finished.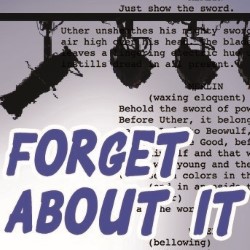 Show details
Theatre performed on the following days in August 2015...
Mon
Tue
Wed
Thu
Fri
Sat
Sun
03
4
5
6
7
8
9
10
11
12
13
14
15
16
17
18
19
20
21
22
23
24
25
26
27
28
29
30
31
1
2
Venue details
After rehearsing for months, one actor still has a bit of trouble remembering the production, let alone the lines... Going off-script and off-story, how will the cast keep up with a show that just keeps getting weirder?
Share this show
Reviews
Full press release
A play about actors, acting and a koala.
Forget About It is an original comedy about a dysfunctional group who are rehearsing for a production of Romeo and Juliet. But arrogant actors, a kinky koala and a deluded director are pointing towards a tragedy far beyond fair Verona. Will they be able to hold it together come opening night?
... Probably not.
This is Imperial College Drama Society's second year at the Fringe, and the first year bringing original material. The society is best known (when it is known at all) for convincing an audience that a group of science and engineering students can, in fact, act.