Video: Neil Henry proposes on stage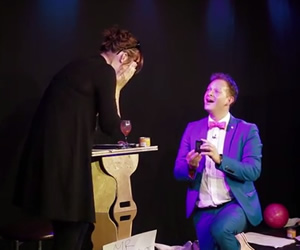 Comic magician Neil Henry has proposed to his girlfriend on stage, via a trick.
The performer surprised his girlfriend Charlie by inviting her up to help him with his alphabetty spaghetti trick. After pulling the letters 'MARRY' out of his mouth, he said "having you in my life is real magic and I never want that magic to end", before getting down on his knee to formally propose. A tearful Charlie replied "of course I will".
Neil Henry is at the Fringe to perform Magical Mindsquirm. His show, at the Pleasance Dome until the 31st August, is described as containing "mind-melting magic and brain-bending impossibilities."
Here's the moment in full, captured on video: