Morro and Jasp Eat their Way through Edinburgh
We find ourselves, two Canadian clowns, in the great land of Scots and the remarkable city of Edinburgh. We're performing our show, Morro and Jasp do Puberty, and need to find some great places to eat and keep us going. Our plan was to eat healthy greens all month long but with the festival ups and downs, our plans... have changed slightly. More often than not we want the kind of food that gives us a warm cosy encouraging hug. These are our favourite food hugs so far:
MAKI AND RAMEN - for when you feel Homesick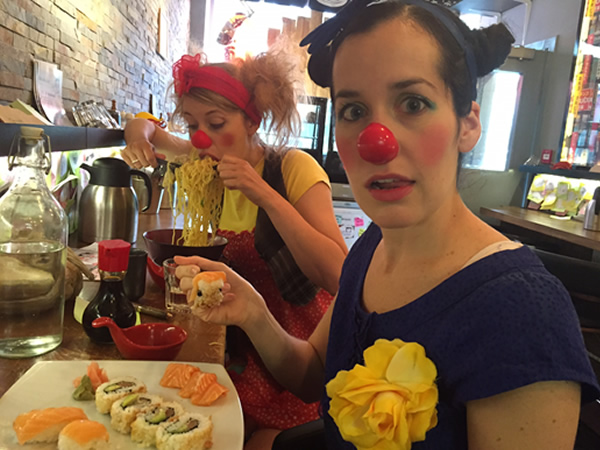 Maki and Ramen reminded us of home where some of our favourite places are Japanese restaurants... and maybe Jasp had a crush on the guy on the street who recommended it. We sat in swivel chairs and ate facing the wall, which is covered in little notes written by previous customers. We thought we should try the best they had to offer so Jasp had Maki and Morro had Ramen (we didn't want either food to feel left out). Jasp had the salmon special. Morro thought this was pretty boring because it was basically all the same thing cut in a different ways, but whatever.
The fish was buttery and delicious and clearly very fresh. "It gave me the lift I needed for a hard day's work." Morro had the ramen with veggie gyoza. It was hot, cozy and with long luscious noodles that were perfectly chewy especially when you are eating them all in one mouthful with your hands because the toothpicks that Morro thought were mini chopsticks were not quite strong enough (Morro is not the most delicate eater). "It made me feel like I was eating happiness until I added the hot sauce and then I couldn't stop crying... maybe they were happiness tears?" Morro added A LOT of hot sauce, like basically dumped in half the jar.
THE BAKED POTATO - for when you need to feel strong and special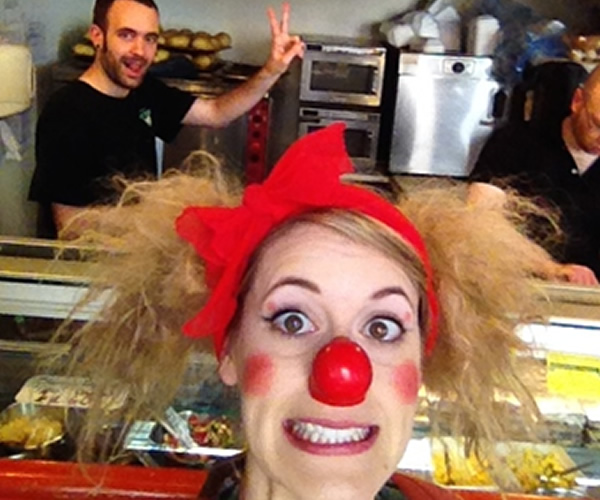 Before flyering on the Royal Mile (the most happening and bustling place ever) we needed something that would give us courage and make us feel like superheroes: The Baked Potato. Now, these baked potatoes are not your standard baked potatoes - there is magic in them.
We got three potatoes (we wanted to try as many toppings as possible): vegetarian haggis (yes that is a real thing - TVP makes anything possible) with sour cream; veggie chilli with cheese; and Greek salad. The salad was refreshing, but the warm toppings had our hearts (Jasp was pretty scared to try Haggis but it quickly grew on her like a pubescent pimple) because they let the potato shine. We soon found ourselves sitting on the sidewalk in pain from eating way too much potato, but gosh did we feel strong.
MUMS - for when you really need to meet the definition of 'comfort food'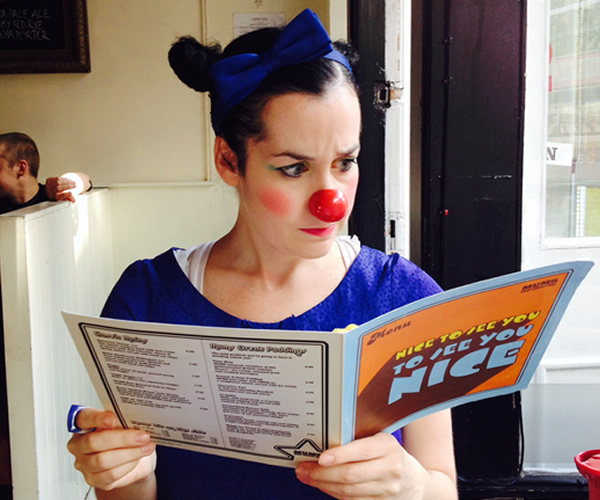 We headed to Mums for comfort food, because we had been rained on (not surprising here). We cosied into a table by the sunny window and shared vegetarian haggis (they have meat too if you are into that) and a wellington. Comfort food indeed.
The wellington pie crust was flaky and oh-so-buttery and the ooey gooey cheese made our hearts melt. It came with a salad with syrup as dressing (unique), and crispy golden delicious "chips" (we're still getting used to calling them chips). The veggie haggis (different than the one at The Baked Potato - more beans and grains here) came with a tomato gravy, which Morro wasn't so sure about at first. But then, something in her changed and then she couldn't get enough tomato gravy. Soon, everything she ate was covered in tomato gravy and she decided it was like "ketchup with attitude." She ended up just pouring the rest into the bowl and eating it like soup.
For dessert we had a classic Scottish dish, Cranachan, which is like thick cream mixed with oats and raspberries. Just to give you an idea, it's pretty much like eating heaven. Jasp said she was only going to have a couple bites but couldn't stop herself from having a few more than a couple... and Morro licked the bowl... yes literally. We were stuffed by the end and definitely warm.
We are excited to keep eating our way through this great city. It feels like whenever we need a pick-me-up, there is a restaurant waiting to give us the love we need. We also can't get enough of City Restaurant and Mosque Kitchen (we'll write about them next time). And from now on we'll eat healthier... or at least we shall try.
'Morro and Jasp Do Puberty' is at 8pm at Gilded Balloon until the 31st August. Listing