Ari Shaffir answers 10 Edinburgh Fringe Questions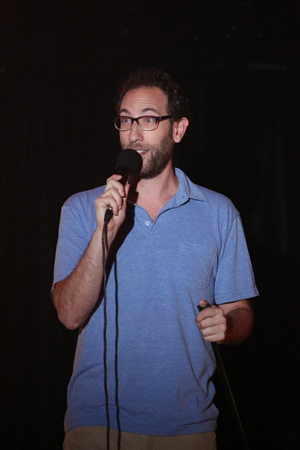 American stand-up Ari Shaffir is bringing his hit Comedy Central storytelling TV series This Is Not Happening to Edinburgh...
1. Tell us about your career so far. Are you happy with where you're at?
I'm completely happy where I'm at. I've somehow managed to circumvent the system. So now I have the luxury of doing whatever I want creatively all the time. I started in May of 1999. I graduated from the University of Maryland and I didn't want to get a boring job. I almost got hired working on the website for the Discovery Channel, which would have been cool. But unfortunately, jobs require experience, so they didn't hire me. Instead I went to Los Angeles to chase my dream of being creative and not owning an alarm clock.
I found the Comedy Store. It instantly became my home for the next 12 years. All my friends, all my time, all my development was centered around that place. And it was a place for losers. None of us were working in Hollywood. All we cared about was being funny on stage. It hurt that we weren't invited to the party, but we couldn't do anything about it. So we kept plugging until we got better or failed out. And Hollywood still didn't call. We were going broke. All of us. One or two found a way in to the system. Bobby Lee, Steve Rannazzisi. But that was about it. The rest of us got on stage and ate cheap meals.
2. Describe your show in exactly 23 words.
It's comedians telling true stories. We pick a different theme each show and two comics and I each do a story on topic.
3. Why are you putting yourself through this famously stressful experience?
It ain't gonna be stress for me. I'm just in it for the fun. Awards are for people who think art can be ranked. I'm just looking forward to seeing a bunch of great shows, seeing a lot of Scotland, and enjoying this comedy experience. And I love doing my show. I love seeing the stories other comics tell. This opens up a new continent of people to see. I'm really excited for it.
4. Any cunning plans to get more punters in?
I do not know what a punter is.
I just looked it up. A guy who hires prostitutes? Do I have any plan to get more guys who hire prostitutes in? That can't be right. Anyway, I'm done with hookers. It's the most boring sex in the world.
5. How much money do you think you'll lose/make this year?
I'm guessing I lose 3,000 Euros.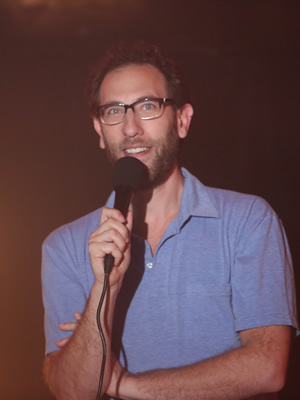 6. What are you most looking forward to about your first Edinburgh Festival?
Seeing new comics, Scotch tasting, playing St Andrews, rain, Scottish chicks.
7. What other shows are you hoping to see?
Man, I don't even know who else is gonna be there yet. I can't find a damn lineup of shows that I can understand.
8. If you took over programming a venue, what would you perfect line-up of comedians be?
I'd do a Kinison/Stanhope show and let them go back and forth for 12 minutes each.
9. Name the one person you'd rather not bump into during the festival.
I feel like if I met my mother there, it'd be uncomfortable. I plan on drinking and doing some drugs. Just knowing she's wandering the streets would make it very uncomfortable.
10. Why should audiences pick your show over the 1,700+ other comedy offerings at this year's festival?
God damnit. I hate self promotion. My show is really fun to watch. It's personal and funny and revealing. It's honestly my favorite show to watch in Los Angeles. The stories are real. You get to know the comics while they entertain you. And you see some guys do real departures from their normal stage personas. Just come once. You'll want to come to every show.
'Ari Shaffir: This is Not Happening' is at 11pm at Pleasance Dome on 6-9, 13-16, 20-23, 27-30 August. Listing