Abi Roberts answers 10 Edinburgh Fringe Questions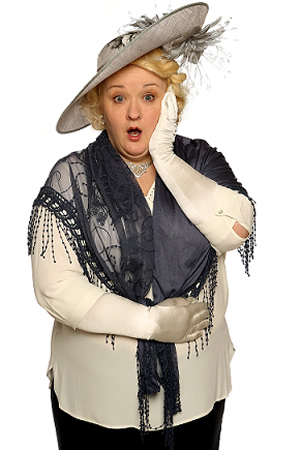 Abi Roberts has come up with the great title Downtown Abi for her show. Let's find out more from her...
1. Tell us about your career so far. Are you happy with where you're at?
I used to be a session singer and performer and in the past I've done cabaret too - you know, singing songs in a cabaret show. I took my first steps into pro stand-up in 2011 and did some big competitions - mostly coming as runner-up. I've been doing stand-up for about four years and it's really taking off for me - I now play weekends at all the major UK clubs - Glee, Komedia, Jongleurs and most of the independents.
2. Describe your show in exactly 23 words.
I come from a posh background, my mother is like Hyacinth Bucket and wanted me to be an opera singer... but my father was working class from the Welsh Valleys and was a session guitarist. The show is about how I ended up becoming "downtown" - attracted to the seedier side of life. Not singing opera but singing in bands and doing really, REALLY silly things.
3. Why are you putting yourself through this famously stressful experience?
I love stand-up. Doing an hour is a great way to stretch one's comedy wings... away from the strictures of doing 25 minute sets in clubs. And you come out of Edinburgh sharp as a pin, with loads of new material which is road tested.
4. Any cunning plans to get more punters in?
Ah, you will have to wait and see! I packed out every night of my work in progress show last year, and this show Downtown Abi is the finished version...and there is a surprise finale!
5. How much money do you think you'll lose/make this year?
I made money last year, albeit in coins which I was still taking to the CoinStar in December.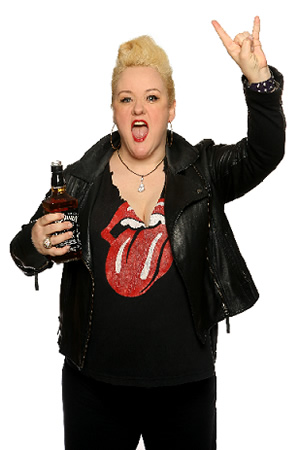 6. What's your weirdest past Fringe experience?
Being heckled by a lady when I did my rant about jazz... she took exception to it as she was a huge Miles Davis fan. Other than that, I once had a dog puke up in my show... poor thing.
7. What other shows are you hoping to see?
I shall be seeing the shows of: Angela Barnes (she's been a preview partner of mine this season and I love her stuff); Christian Reilly, Aidan Goatley, Stephen Carlin, Charlie Baker, Doug Anthony All Stars, Gary Colman, Matt Crosby, Nathan Caton, Hardeep Singh Kohli, Morgan Berry, Aisling Bea and loads of others. It's very important to see as many shows as you can! If Carey Marx were in Edinburgh this year, he'd be first on my list.
8. If you took over programming a venue, what would you perfect line-up of comedians be?
... and myself of course!
9. Name the one person you'd rather not bump into during the festival.
My ex-husband... for obvious reasons!
10. Why should audiences pick your show over the 1,700+ other comedy offerings at this year's festival?
It's not like any other stand-up show. I've been described in the press as "More than just a stand-up" - I do impressions, voices, tableaus and I'm very VERY physical. I do proper jokes - I don't deconstruct anything... I just make people laugh hard. I heard one stand-up say that "jokes don't matter, neither does laughter"...absolute bollocks. It's comedy mate. Try doing that in a proper comedy club - people have paid out to be entertained and that's what you should give them as a stand-up. Give them laughs and you can say what you like.
I've also been described by GQ as one of the top 10 newer stand-ups to see in 2015, so I'd take their word for it.
'Abi Roberts: Downtown Abi' is at 4:15pm at The Voodoo Rooms on 8-17, 19-30 August. Listing