Doctor Bubble
Remember Doctor Bubble - the Bubble Magician
Kids
1:30pm (50 mins)
6-31 Aug 2015
3.50 - 9.50
This is a 2015 show that has now finished.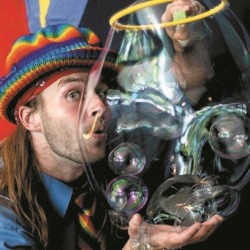 Show details
Kids performed on the following days in August 2015...
Mon
Tue
Wed
Thu
Fri
Sat
Sun
03
4
5
6
7
8
9
10
11
12
13
14
15
16
17
18
19
20
21
22
23
24
25
26
27
28
29
30
31
1
2
Venue details
Breathtaking bubbles, square bubbles, monster bubbles, magic bubbles, amazing bubble colours, even people inside bubbles. A bubble show wrapped up in a children's play. The legendary Dr Bubble and Milkshake the Clown bring their bubbles into the lives of all, and will leave you bubbling with joy. Let your life be invaded by bubbles in this magical fairytale all about never taking yourself too seriously. 'A spectacle of pure, bubbly joy' (AdelaideNow.com).
Share this show
Reviews
Visitor reviews

Narelle Murray
I saw Dr Bubble in Adelaide earlier this year and was completely enchanted. Never a dull moment with the action jumping from dancing to tricks, to bubbles, lots and lots of bubbles fantastically produced by Dr Bubble. And funny! Some of the props were so simple and witty in their inclusion like the spitting hand puppet and a squeaky toy voice of the Bubble Guru. The antics of Mikshake the Clown were so artfully done in the true pantomime style that there were times when I nearly cried laughing. But don't take my word for it. Take the children along and see what they think of this little gem.