Degrees of Error
Murder, She Didn't Write
Improv
6:25pm (1 hour)
7-11, 13-18, 20-25 & 27-29 Aug 2015
8.50
This is a 2015 show that has now finished.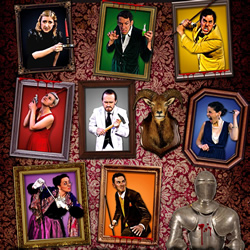 Mon
Tue
Wed
Thu
Fri
Sat
Sun
03
4
5
6
7
8
9
10
11
12
13
14
15
16
17
18
19
20
21
22
23
24
25
26
27
28
29
30
31
1
2
Venue details
Move over, Lansbury! You become the author in this original and hilarious improvised comedy! Each night Degrees of Error presents an unplanned, unscripted and never before seen murder mystery play based on your suggestions. Watch as the dramatic events you and your fellow audience have helped to create unfold live on stage! The motives are mounting and the evidence is everywhere ... but will you guess whodunnit before the suspects are called to the drawing room? 'Unrestrained bursts of joy' ***** (BristolTheatreReview.com). **** (FringeReview.co.uk). **** (ThreeWeeks). **** (BroadwayBaby.com). **** (FringeGuru.com).
Share this show
Reviews
Full press release
"One hour to invent a brand new murder, watch it happen and then solve it"
Move over Angela! In Degrees of Error's Murder She Didn't Write, you become the author and watch your very own masterpiece unfold on stage. In "one of the funniest [evenings] you'll have in some time" (Ed Fringe Review), Degrees of Error allow you, the audience, to unleash your literary prowess to create an original and hilarious improvised murder mystery. They use your title suggestions, evidence ideas and for one lucky member even the murderer and victim, to create a never before seen, unscripted murder mystery, which promises to dazzle, enthral, and delight. Will you work out whodunnit in time?
Degrees of Error is a Bristol based improvisation group, formed in 2010, and have been performing together in some form ever since. Collectively, Degrees of Error represent some of the best improvisers in the South-West, and are currently the in-house company of the Bristol Improv Theatre. Their various local weekly shows (Murder She Didn't Write: 2013-2015, Word:Play:2012-2013, The OH Show: 2011-2012, and Only Humour: 2010-2011) have been hits throughout Bristol and the South West, including the Bristol Old Vic. Fringe experts, they have been awarded the 'Fringe Sell-out' award three years running, and consistently receive four and five star reviews.
Think improv equals Clive Anderson and some very questionable 90s fashion choices? Think again! Come and spend an evening as a sleuth, and help uncover the sinister evidence and motives of this fabulous 'whodunit?' Whether you take your lead from Poirot or Marple, Holmes or Dupin, the cast of Murder She Didn't Write promise to sweep you up in "unrestrained bursts of enjoyment" (Bristol Theatre Review), and leave you in unbridled fits of laughter!
Improvisers
Lizzy Skrzypiec (Violet), Andy Yeoh (Gold), Caitlin Campbell (Scarlet), Peter Baker (Green), Stephen Clements (White), Olivia Griffiths (Blue), Tom Bridges (Orange), Sara Garrard (on piano).
---
Credits
Tweets by DegreesOfError