Clayton Jones
A Mixed Race Mind
Stand-up
1am (1 hour)
15 & 16 Aug 2015
Free
This is a 2015 show that has now finished.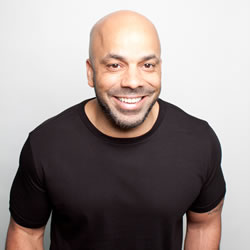 Show details
Stand-up show starring Clayton Jones performed on the following days in August 2015...
Mon
Tue
Wed
Thu
Fri
Sat
Sun
03
4
5
6
7
8
9
10
11
12
13
14
15
16
17
18
19
20
21
22
23
24
25
26
27
28
29
30
31
1
2
Venue details
Brochure note
This show was not listed in the official Fringe programme so you may not find details elsewhere.
Clayton's comedy is about being mixed race and from living in London to living in the northwest. A comedy adventure about things in life we do and don't realise we are doing them!!!
Share this show
Full press release
My 60 min show includes a special guest followed by my own comedy outlook from growing up in London being mixed race to moving to the North West of England, from being married and having children.
My comedy focuses on every day subjects including holidays, text messages and growing old. My comedy has been a success so far due to me covering a vast array of subjects and my ability to engage the crowd.
CLAYTON JONES ACCOLADES;
Finalist at Southport New Comedian of the Year 2014
Finalist Manchester New Comedian of the Year 2014
Finalist Liverpool New Comedian of the Year 2014
Performed at 40 plus venues including The Stand (Newcastle), The Glee (Birmingham), The Arc (Stockton on Tees), Frog & Bucket Comedy Clubs (Preston and Manchester) and The Comedy Store (Manchester and London).
I am an up-and-coming comedian and would like you to join me. There's Black Comedy and White Comedy now there's MIXED RACE COMEDY!