Charles Booth
Charles Booth: Deer in the Spotlights
Sketch show
5:20pm (50 mins)
6-17 & 19-30 Aug 2015
4 - 6
This is a 2015 show that has now finished.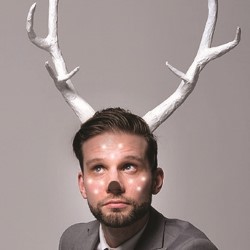 Show details
Sketch show starring Charles Booth performed on the following days in August 2015...
Mon
Tue
Wed
Thu
Fri
Sat
Sun
03
4
5
6
7
8
9
10
11
12
13
14
15
16
17
18
19
20
21
22
23
24
25
26
27
28
29
30
31
1
2
Venue details
Don't be frightened, little deer, be fabulous! Charles Booth (one of Time Out's Character Comedians to Watch and graduate of Second City) returns to Edinburgh with a brand new, one-man sketch show. Deer in the Spotlights is a wild solo extravaganza full of wit, warmth and some wondrous ballet. Expect an hour of dazzling originality and sweeping variety - there might even be a unitard involved! 'Booth's acting range is mightily impressive' (Time Out). 'A masterclass in restrained comic performance' (Chortle.co.uk). 'Utterly convincing and with genuine range...There's a TV show in this one' (LondonIsFunny.com).
Share this show
Reviews
Press coverage
Full press release
Introducing the one man sketch comedian Charles Booth, who after two years of Edinburgh shows on the Free Fringe is ready to put his many hats up above the parapet this year with his new show entitled Deer In The Spotlights. He first performed an hour-long show in Edinburgh in 2013 with We Cool? following it up last year with Go Thank Yourself! This year Charles has appeared in the film 45 Years alongside Charlotte Rampling and Tom Courtenay.
This is a wild solo extravaganza that is full of wit and warmth. Expect an hour of dazzling originality and sweeping variety from Time Out's Character Comedian To Watch - there might even be a unitard involved!
Having graduated from university with a degree in German, the funniest of all languages, Charles was clearly destined for great things in the world of comedy. After realising that a German degree was not the route to success in his chosen profession, Charles moved to Toronto to study at the widely respected improv school and theatre called The Second City whose past students include Tina Fey, John Belushi, Mike Myers, Steve Carell and Joan Rivers.
Charles Booth: Deer In The Spotlights will include many unique sketches that include 'The Sperm Dance' - a madcap interpretive ballet entitled "Behind The Pink Curtain", the 'Transracialist' - a man who grew up in Guilford as a skinny, pale, white boy, though in his heart he is a black, muscular, six-foot-tall Nigerian Man from Jigawa. The 'Thoughts of a Dying Allergy Sufferer' - a deathbed soliloquy of a major allergy sufferer who has decided to eat a cashew nut even though it will cost him his life. 'Breaking Free' - a disjointed pop anthem about a woman who is moving on, not holding back, breaking free, flying high in the sky like an eagle, roaring like a lion and many other clichés besides.
Videos
10 minute character reel
20 minute character reel
---
Tweets by charlesdbooth