About Comedy
About Comedy: Stand-Up Comedy Courses
Stand-up / Workshop
12pm (noon) (270 mins)
8, 11, 15, 18, 22, 25 & 29 Aug 2015
Free
This is a 2015 show that has now finished.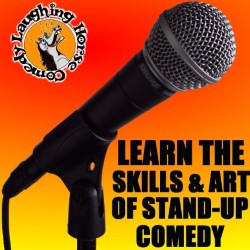 Show details
Stand-up show / workshop performed on the following days in August 2015...
Two-day course, ticket is for nine hours over two consecutive days. Ticket date is 1st day of course.
Mon
Tue
Wed
Thu
Fri
Sat
Sun
03
4
5
6
7
8
9
10
11
12
13
14
15
16
17
18
19
20
21
22
23
24
25
26
27
28
29
30
31
1
2
Venue details
Learn the skill and art of stand-up comedy performance on this two-day intensive comedy training course. Our tutors are professional comedians and writers, and the course includes a graduation performance in a Fringe show. All of the subjects during the two-days are covered with lively and interactive sessions. The subjects covered include material generation, joke writing skills, what makes comedians work, finding material, history of comedy, technical and general skills, market information, and preparation for the first open spot. Further course information is available at: http://www.laughinghorsecomedy.co.uk. Two-day courses: 4.5 hours of teaching on each day.
Share this show
Full press release
What makes a good Stand-Up Comedian? Is it a natural talent? Or can you learn how to be a Comedian?
There are many common misconceptions as to how this is done
Laughing Horse have been teaching a comedy course for over 8 years that guides you through a proven process that professional comics use to write, perform and approach Stand-Up Comedy.
This course is not taught by theorists, lecturers or people that have never set foot on a stage. It is delivered by professional comedians who are currently performing Stand Up several times a week.
They have huge experience in teaching this art form and giving valuable feedback, problem-solving and encouraging students to develop their routine. They have a wide-ranging knowledge of the industry and how to make career progress.
The beginners' course is best suited to people who have never performed stand up comedy before, or for new comedians wanting to get a good grounding knowledge of how stand-up works.
The course is very practical and spread over a weekend with a graduation show on the Sunday evening open to friends, relatives and the public is advertised to the general public.
Over the 2 days you will cover:
* Where material comes from and how to make routines of your own continuously.
* How to write material
* Practical writing exercises
* Learning how professional comics deconstruct comedy by watching and discussing current comedians
* Editing and performing material written
* Microphone and performance Technique
* How the industry works
At the end of the course students perform on stage doing a 5 minute set at the graduation show.
Immerse yourself in Stand Up Comedy for a weekend (There will be homework).
Previous students from the Laughing Horse Comedy include:
All appearing regularly on TV, National tours, Live DVD's
As well as many working comedians around the circuit both in the UK and in America at all levels from open mic to professional.
Take the first step on your stand up career - sign up to the course.
---
Tweets by freefringefest