Malcolm Hardee Award Winners 2014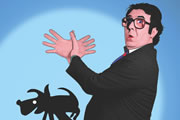 The winners of the Malcolm Hardee Awards 2014 were announced at a ceremony at the Edinburgh Fringe late last night (Friday 22nd August).
The awards, set up in the honour of "one of the most anarchic figures of his era", aim to recognise comedians at the festival who are taking part in the 'true anarchic spirit of the Edinburgh Fringe'.
---
The Malcolm Hardee Award For Comic Originality went to Candy Gigi.
The 25-year-old comedian, who has previously been a Hackney New Act of the Year finalist, is performing a show at the festival described as a "frighteningly eccentric one-woman show based on her life as a lonely Jewish maniac."
Gigi, who has received multiple 4* reviews for her show which is taking place at the Heroes @ The Hive venue, accepted the award in person. She appeared on stage wearing a pig snout, and gave her acceptance speech while spitting out an apple.
The other contenders involved in this award were The Birdmann and The Human Loire.
---
The Malcolm Hardee Cunning Stunt Award - given to someone who has found a unique way to plug their show - went to Christian Talbot this year for his 'creative flyering'.
The judges explain he won the award "for getting his 12-year old daughter Kate to wander up to strangers in the street, looking sad and distraught, asking them 'Have you seen my daddy?' then, if they say 'No', handing them a flyer with details of where they can see his show - which is called Hello Cruel World."
The other contenders for the award this year were Luke McQueen for tricking an audience into seeing his show and Mark Dean Quinn for ' bringing originality to the vital yet under-rated art of flyering'.
---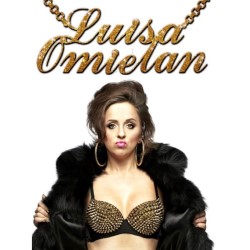 The Act Most Likely To Make A Quid Award, which the criteria of which is perhaps self-explanatory, was awarded to the "amazing crowd-pulling" Luisa Omielan.
For the second year in a row, Omielan has been picking up very strong reviews at the festival. Her show this year, Am I Right Ladies?!, received a rare five star review from the comedy website Chortle during this festival.
---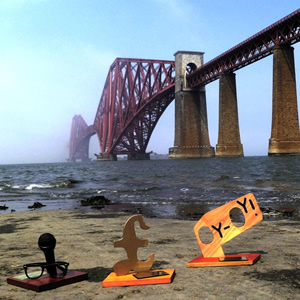 The awards show, which itself fitted the anarchic theme, was hosted by Janey Godley and Miss Behave. Entertainment included a mute magic trick from Doug Segal; Sharnema Nougar singing a song while being carried by three men from the audience; Frank Sanazi singing It's Raining Men dressed as Vladimir Putin; Miss Behave setting fire to organiser John Fleming's head; and an impressions contest based around the comedian Lewis Schaffer.
The awards show also featured The Scottish Russian Egg Roulette Championships, involving acts smashing eggs into their heads. The contenders were Juliette Burton, Doug Segal, Richard Herring, Miss Behave, Janey Godley, Tim FitzHigham, Lewis Schaffer and John Fleming. Janey Godley - who did not actually want to take part - beat Juliette Burton in the final.
The Malcolm Hardee Awards will run until 2017... because that's the number of trophies that have been made. To find out more about the awards and see a list of the previous winners visit www.malcolmhardee.co.uk