Women of an Uncertain Age
Women of an Uncertain Age
Sketch show
2:30pm (1 hour)
31 Jul; 1-7, 9-14, 16-21 & 23-26 Aug 2013
8.50 - 9.50
This is a 2013 show that has now finished.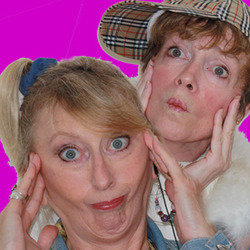 | Mon | Tue | Wed | Thu | Fri | Sat | Sun |
| --- | --- | --- | --- | --- | --- | --- |
| | 30 | 31 | 1 | 2 | 3 | 4 |
| 5 | 6 | 7 | 8 | 9 | 10 | 11 |
| 12 | 13 | 14 | 15 | 16 | 17 | 18 |
| 19 | 20 | 21 | 22 | 23 | 24 | 25 |
| 26 | 27 | 28 | 29 | 30 | 31 | |
Venue details
Middle Aged Women: an endangered species. See them in their unnatural habitats and marvel at their ingenious use of camouflage. Are we too old for careers, sex, a social life? Who says? Through sketches, song and dance, Flip (Cabin Pressure) and Maggie (Topping & Butch) share what it means to be thirty plus ... well all right, 30XL in the 21st Century. 'A comic triumph' (Scotsman). Sell-outs at Theatrefest and Ignite 2012. 'Dynamic, entertaining and borderline inappropriate' (FringeSecrets.com). 'Superb script and acting' (phonic.fm).
Share this show
Reviews
Full press release
Girls just want to have fun - even when they're over fifty! Judging by the comedy available on TV and elsewhere, one would think that having a laugh, let alone creating one, was the preserve of the young. Writer/performers Flip Webster and Maggie Bourgein, both Fringe veterans - Flip 'Flipside' ('tragi-comic triumph' Scotsman) and Maggie with Topping and Butch, prove that comedy, and in particular the sketch show, isn't just a young man's sport - and their humour appeals to all. 'Appreciated by all audiences, including us males!'
'Hilarious. I don't often see sketches from a more mature perspective!'
'Laughed A LOT!'
'Hugely entertaining.'
Middle-aged women: an Endangered Species. See them in their unnatural habitats and marvel at their ingenious use of camouflage. Through sketches, song and dance, Flip and Maggie share coffee ice cream, hip hop moves and what it means to be thirty plus ... well all right, 30XL in 2013.
Sold out Theatrefest & Ignite Festivals, 2012.
Flip, a veteran improviser, has worked on TV and radio with comedy's John Finnemore, Marcus Brigstocke, Punt & Dennis, Paul Merton and with Graeme Garden. Films include Harry Potter and the Goblet of Fire and TV dramas Wallander, Silk and New Tricks. She has just returned from filming The Three Musketeers in Prague. Maggie Bourgein started her career in the D'Oyly Carte Opera Company and has since been in numerous theatre comedies and musicals. She runs her own voice-over company.
Possibly the oldest (and funniest) female double-act at the Fringe.
---
Credits
Tweets by flipandmags
Visitor reviews

jan moran neil
Is there life over sixty? Maggie Bourgein and Flip Webster give us a strong sketch show packed with a passion and energy for Post Menopausal Woman. Watch out for the pathos and poignancy of 'getting the almost retired woman back to work'. Maggie's 'A Change of Diet' is as beautifully balanced as the observation of her restaurant menu. And 'Flipissima' - a sensual approach to the kitchen - had us rocking with laughter in the aisles. (Soon to be performed as Best of Fest.) If you are in Edinburgh rush to Gilded Balloon Teviot at 2.30pm any day but Thursday. Women of an Uncertain Age. Jan Moran Neil www.janmoranneil.co.uk
MikeG
It's women behaving badly, often very badly. There's more than a nod to Wood & Walters in this sketch show about the issues facing older women. Flip & Maggie are experienced and very funny performers, and though the changes between the sketches could be tightened up, there's lots of laughs here, even for a man. While much of the humour is very broad brushstroke aimed at familiar targets - Flip's massively over-endowed Nigella, Maggie's belligerent but enjoying every minute-of-it granny, there's serious thought in the writing which stays with you.
Gillian
A thoroughly enjoyable show - inspiring wry smiles through to full belly laughs - strong writing and performances - a must see for all audiences - not just for women of uncertain age!
charmian hoare
5 star show, great performances, made me laugh and thought provoking as well. Wonderful sketches particularly the policewomen and Flip Webster's Italian chef. Don't miss it!!!