Tig Notaro
Tig Notaro: Boyish-Girl Interrupted
Stand-up
6:45pm (1 hour)
16-25 Aug 2013
14 - 15
This is a 2013 show that has now finished.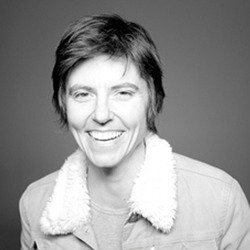 Show details
Stand-up show starring Tig Notaro performed on the following days in August 2013...
| Mon | Tue | Wed | Thu | Fri | Sat | Sun |
| --- | --- | --- | --- | --- | --- | --- |
| | 30 | 31 | 1 | 2 | 3 | 4 |
| 5 | 6 | 7 | 8 | 9 | 10 | 11 |
| 12 | 13 | 14 | 15 | 16 | 17 | 18 |
| 19 | 20 | 21 | 22 | 23 | 24 | 25 |
| 26 | 27 | 28 | 29 | 30 | 31 | |
Venue details
Tig is a favourite on NPR's This American Life, and on Conan. Her album Live, sold over 100,000 units in just six weeks. She has guest starred on shows like NBC's The Office and Community along with HBO's The Life and Times of Tim. Her podcast Professor Blastoff recently peaked at No.1 on the iTunes Comedy Podcast Chart. 'One of the best stand-up sets I ever saw' (Louis CK). 'Notaro's resounding strength makes this album something that lifts the soul of the listener as much as it entertains' (Time).
Share this show
Reviews
Press coverage
Full press release
Finally the awe inspiring US comic Tig Notaro makes her UK debut at this year's Edinburgh Festival for just 10 nights. She brings her show Tig Notaro - Boyish Girl Interrupted to the Gilded Balloon Nightclub.
On August 3rd in 2012 at Largo Theater in Los Angeles, Tig Notaro made a seemingly nonchalant detour in her stand-up routine to announce that she had breast cancer, just days after being diagnosed. Her blend of humour and matter of fact approach left comedy fans riveted, many in both tears and laughter. Wrote Louis CK to his twitter followers: "In my 27 years doing this I have seen a handful of truly masterful performances. One was Tig Notaro last night at Largo." This set was recorded, and became Tig's sophomore album Live (as in, want to live, not perform live). Live encompasses the previous four months of Tig's life leading up to that night at Largo. The juxtaposition of career highs like never experienced before with personal lows that many human beings may never experience in a lifetime.
Live has now gone on to sell over 100,000 units, which is unheard of for comedy albums these days. During 2012 and this album release, Tig has been reviewed and profiled by The New York Times, The Los Angeles Times, The New Yorker, Entertainment Weekly, Vanity Fair, GQ Magazine, Rolling Stone and Time Magazine amongst many others. Live was also ranked #1 comedy album of 2012 by Entertainment Weekly, New York Magazine and The Onion AV Club and Tig herself was recently ranked #21 on Rolling Stone's "50 Funniest People in the World Now" list. Furthermore, in 2012 Tig booked supporting roles in feature films such as In a World opposite Lake Bell, Shreveport opposite Ryan Phillippe and Walk of Shame opposite Elizabeth Banks. Tig has guest starred on such shows as NBC's The Office and Community along with HBO's The Life and Times of Tim, has written for The 2011 Emmy's and 2010 MTV Movie Awards, and toured nationally and internationally at the most reputable comedy and music festivals. In addition, Tig closed a book deal with Ecco, an imprint of Harper Collins. Her popular podcast Professor Blastoff has also garnered Tig a great deal of attention, recently peaking at #1 on the iTunes Comedy Podcast Chart.