Moving Family
Moving Family
Play
3:20pm (1 hour)
1-12 & 14-25 Aug 2013
9 - 10
This is a 2013 show that has now finished.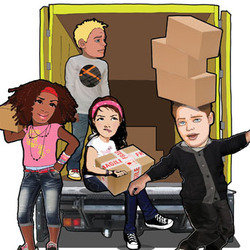 Show details
Play performed on the following days in August 2013...
| Mon | Tue | Wed | Thu | Fri | Sat | Sun |
| --- | --- | --- | --- | --- | --- | --- |
| | 30 | 31 | 1 | 2 | 3 | 4 |
| 5 | 6 | 7 | 8 | 9 | 10 | 11 |
| 12 | 13 | 14 | 15 | 16 | 17 | 18 |
| 19 | 20 | 21 | 22 | 23 | 24 | 25 |
| 26 | 27 | 28 | 29 | 30 | 31 | |
Venue details
A sharp new comedy from double Fringe First Award-winning writer and star of BBC2's Ginge, Geordie, Geek, Paul Charlton. An honest look at prejudice in modern Britain through the eyes and words of its future generation. Set in the back of a moving removal van two sets of siblings must sort their differences before they start their life together as a step family. A play full of laughs and hope. 'A sharp piece of writing.' **** (Guardian on Crush). 'An absolute joy' **** (Scotsman on Love, Sex and Cider).
Share this show
Reviews
Full press release
Moving Family is a sharp new comedy from Paul Charlton - double 'Fringe First' award winning writer and star of BBC Two's forthcoming sketch show The Ginge, the Geordie & the Geek.
The play debuts at this year's Edinburgh Festival at Just The Tonic's Fancy Room after starting life as a short play commission for Live Theatre, Newcastle. The play takes an honest look at prejudice in modern Britain through the eyes and words of it's future generation. Set in the back of a removal van on a journey to their new home, four disgruntled teenagers must not only sort out their petty differences, they must also tackle the underlying bigotry that threatens their new future together as a stepfamily. The play promises to be full of laughs and fill the audience with hope.
The story follows 'posh' siblings Kieran and Stef Fletcher along with council estate siblings Carl and Lauri Wood. Together they are to move into a three-bedroom semi, meaning a step down for the Fletchers and a big step up for the Woods. They are an unwilling stepfamily that has obvious differences, but for a confused, wannabe- someone, like Kieran: gaining a mixed race sister like Lauri is something you need like 'John Terry needs another court case'.
Can the siblings see past the labels and embrace each other on a basic human level before the van arrives at their new home. In 60 minutes the play examines issues of class, race, identity and modern bigotry, asking the difficult questions that young people face in a constantly evolving cultural landscape.
Writer Paul Charlton was born in County Durham and trained in acting at the Royal Scottish Academy of Music and Drama. His most recent play was long listed for the Bruntwood Award. He is part of the comedy group The Ginge, The Geordie & The Geek, after a fourth consecutive sell out at Edinburgh they can be seen on BBC Two from July this year.
Director Emma Roxburgh is the newly appointed participation facilitator at Northern Stage. Emma trained as an actor at Live Theatre in Newcastle/Northumbria University graduating with a commendation for her MA research into the role of the theatre director. Most recently she directed Amazing Grace (North East tour to over 3,500 people including Durham Gala and Customs House) and Keep it Simple (Manchester 24:7 festival). As Assistant Director: Inheritance (Lisa Goldman, Live Theatre); Scarborough, Mam Dad Monkey and Me (Deborah Bruce, New Writing North); Five Kinds of Silence (Marin Wylde, Live Theatre); Testimonies (Max Roberts, Live Theatre); Home by Now (Steve Gilroy, Live Theatre.) As Design Assistant: The Mill City of Dreams (Madani Younis & Omar Elerian, Freedom Studios).
Paul and Emma founded northern Nomads earlier this year with the aim of making theatre that is intelligent without being intellectual. In the face of deep arts cuts their hope is to discover, develop and create opportunities for emerging talent, especially young people from a working class/less affluent background. They will be announcing plans for a mentoring scheme involving high profile industry figures in the near future along with other initiatives and hope to use their debut production, Moving Family, as a spring board for their ambitions.