Big crowd for Russian LGBT gig organised by Mark Thomas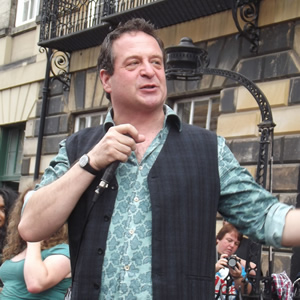 A large crowd turned out for the free gay rights support gig Mark Thomas organised in Edinburgh on Thursday.
The gig came about because, as the basis of his current show, Thomas has set himself the task of 'committing 100 Acts of Minor Dissent' in a year. For his 26th act, he chose to organise a free LGBT comedy gig outside the Consulate General of the Russian Federation in Edinburgh in response to Russia's new anti-gay rights laws.
Amongst the gay, lesbian and bisexual stand-up comedians performing at the gig were Joe Lycett, Zoe Lyons, Susan Calman and Chris Coltrane.
With loud cheers from the crowd, Stephen K Amos said at one point: "Do you hear that Russia? If you expect fear, we will bring you fear. We will not take this lying down."
The event proved to be hugely popular, with the audience growing to the extent that the street the Consulate General is on was taken over by people (pictured below).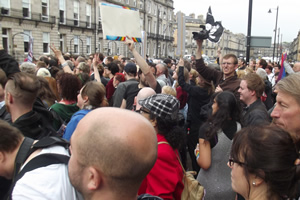 Speaking before the event, Equality Network spokesman Scott Cuthbertson said: "Every day LGBT people in Russia face rising levels of violence and discrimination as a direct result of the actions of the Russian State. LGBT people in Russia have asked the world to support them in their fight for equality and human rights for all.
"What Mark and other comedians are doing to draw attention to these issue is incredibly important. As the Edinburgh Festivals celebrate the widest range of cultural and social diversity during the largest show on earth what better way than to use this opportunity to draw attention to that fight."
Marina Menezes headed to Melville Street to capture the following videos for BCG:
Mark Thomas introduces the gig, although he initially has some problems with the cycle-based power source feeding the microphone:
Susan Calman talks about growing up gay in Glasgow, and gives an emotional speech to thank the crowd for turning up:
To view more of Marina's photos of the event visit Flickr